Weekend Ahead: November 5 – 8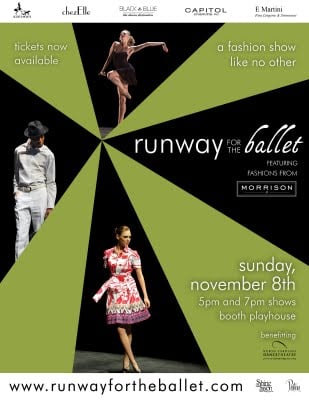 We have been hard at work putting our December issues to bed over at Charlotte Mag and where Charlotte headquarters, so our big plans this weekend include lots of sleeping. Those of you who still do have an ounce of energy left in you would be well served to check out one of these fabulous happenings:
PRINT THIS COUPON – Sale at Chezelle
Step One: Go here – www.scoopcharlotte.com/content/uploads/2009/11/chezelle-coupon3.png
Step Two: Print.
Thanks to Scoop Charlotte for sharing this great coupon with us so we could share it with you! Chezelle at the Morrison Shops is offering 25% off of your entire purchase now through Saturday. That includes sale items! What are you waiting for! Fire up that printer and get this bad boy clipped out and in your wallet.
Thursday Nov. 5 through Saturday Nov. 7
NIBBLE FOR A NOBLE CAUSE – A Taste in NoDa at The Neighborhood Theatre Music, wine tasting, food samples and a silent auction are just some of what is on tap for this evening event to benefit children with AIDS. In case you haven't noticed – the local restaurant scene in NoDa and nearby Plaza Midwood is, in a word, DELICIOUS. So the food samples alone are reason enough to attend. For more information on the bands that will be taking the stage and some of the items up for bid in the silent auction, go to neighborhoodtheatre.com.
Friday, Nov. 6, 6 p.m. at The Neighborhood Theatre
PUT ARTS AT CENTER STAGE – Runway for the Ballet That tag line was an attempt at bringing the movie "Center Stage" into this post. I am sure there are other movies about ballet that I could have mentioned, but lets be real, "Center Stage" is the seminal dance movie of our time. There is a chance that some of the gorgeous dancers who will be appearing and performing at this event on Sunday actually got into dance because they saw that movie. It's that good. This is fashion-fabulous runway show (coupled with some performances plucked from the NCDT's "Innovative Works" show) benefits the North Carolina Dance Theatre. Do it for the ballerinas!!!!
For more info and to purchase tickets, visit runwayfortheballet.com Sunday, Nov. 8