Weekend Craft Beer Releases & Events (March 2-5)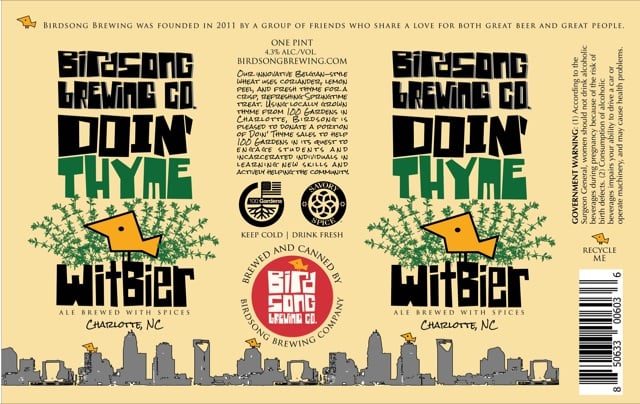 A number of local breweries have new and returning beers out this weekend, and that's not to mention Olde Mecklenburg, which released its spring seasonal, Früh Bock, this past Monday. NoDa Brewing also has the return of Imperial Coco Loco on Thursday, while Free Range Brewing's I Knead You, a sour IPA brewed with sourdough bread from Duke's, is back as well. Here's a look at some others:
THURSDAY
–Birdsong Brewing is welcoming the warmer weather with its annual release of Doin' Thyme, a Belgian wheat brewed with coriander, lemon peel and fresh thyme. The brewery also teamed up with 100 Gardens (who will supply some of the thyme), and is working with the company to donate some proceeds from the beer's sales to help the nonprofit, which helps set up and teaches about farm programs to local schools as well as juvenile detention facilities. Fellow local beer writer Daniel Hartis wrote an excellent piece on the partnership that's worth your time (no pun intended).
Once again, Birdsong has canned Doin' Thyme (this year with a new label that includes the 100 Gardens logo) and will have cans for sale in the taproom beginning at 3 p.m. Of course, the beer will also be on tap at Birdsong, and you'll be able to find cans at local craft bottle shops over the next couple weeks.
FRIDAY
—It's hard enough to keep up with all of the Charlotte breweries than also mentioning the area ones, but when one of those comes in to a city festival and grabs top prize it demands your attention. Such is the case for High Branch Brewing in Concord, which won the best brewery award at the 2017 Queen City Brewers Festival. And there's no time like the present to check them out if you haven't yet, especially since the brewery has three cans out for release on Friday beginning at 4 p.m.
Promise Ring is described as a hazy IPA, the style many can't get enough of, featuring Azacca and Citrus hops. Pounder is a bit lighter but retains the haze, as this 5.2 percent ABV pale ale has Citra, Centennial and Simcoe hops. Those looking for something a bit meatier will enjoy High Branch's Yucatan Stout, brewed with cinnamon, habanero peppers and vanilla. Each can is 25.4 ounces and there is a limit of two per person per day. Promise Ring and Yucatan Stout are $8 each, while Pounder is $7, and there is a $1 discount per beer if you buy multiple styles.
SATURDAY
–Unknown Brewing's latest can is all about the smell. The brewery used a process referred to as "hop bursting" to create a bountiful amount of aromatics that waft from the beer while also maintaining an easy-drinking beer. Presenting Scratch and Sniff, and this IPA will be released in cans and on draft but only at Unknown's taproom, beginning at noon.
–Three Spirits Brewery's first bottle release last year was King Rassafassa, and now it is having an entire festival surrounding the beer this year. The Belgian saison named after a character owner Tabu Terrell's grandfather created is returning Saturday beginning at noon, with bottles selling for $12 each. There will also be raffles taking place all day, along with local musicians, artists and vendors as part of the brewery's local-focused Crafts and Drafts, which takes place from 4 p.m. to 7 p.m.