Weekend Finds
Antiques, rare vegetables, and terrariums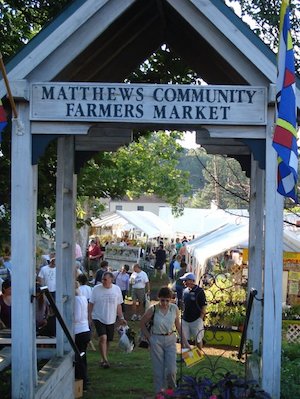 Take some time for yourself this weekend. Below are three activities for the first weekend of the new year.
Matthews Community Farmers' Market. The market is one of several in the Charlotte area with winter hours (for a list of others, click here). The market is open every Saturday through March from 8 a.m. to 10 a.m. If you've never been to a winter market, don't expect to see summertime staples. Vendors will have mostly root vegetables and greens. Unusual offerings sometimes pop up. New Town Farms should have French breakfast radishes at the Matthews market this week. The heirloom variety is red and white with a mild, spicy flavor. A couple of farmers are expected to bring sunchokes. Also known as Jerusalem artichokes, these edible tubers come from native sunflowers. For inspiration on how to prepare them, visit Heritage Food & Drink in Waxhaw where Chef Paul Verica currently has a small plate of sunchoke chips on the menu.
Vintage & Antiques Show. This four-day show is in town once again at the Metrolina Expo on Statesville Road. With more than 1,000 vendors, the show has a variety of merchandise including glassware, furniture, weaponry, jewelry, pottery, and fine art. The $5 admission fee covers all four days. Hours: Friday-Saturday, 9 a.m. to 5 p.m.; Sunday, 10 a.m. to 4 p.m.
Terrarium Class. Pike Nurseries in Ballantyne holds a free class on Saturday at 9 a.m. Participants will learn how to create their own indoor ecosystems in glass containers. The miniature gardens have become popular design elements. They're also ideal indoor plants because they require little maintenance and don't make a mess.