Weekend Happenings
The First Friday Gallery Crawl tonight in South End, Saturday markets, and yoga in the garden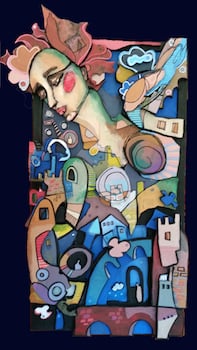 For those in town this holiday weekend, the city and surrounding area have plenty of activity.
The South End neighborhood celebrates the first Friday of the month with its Gallery Crawl. Extended hours, exhibit openings, and food trucks, of course. Ciel Gallery introduces a new exhibition called "Collaboratus," which is Latin for collaborate. Artists have worked together to create the pieces, mixing media and techniques in the process. The free opening takes place tonight (July 3) from 6 p.m. to 9 p.m.; light refreshments will be served. The month-long exhibition includes collaborative happenings involving drawing, dance, painting, poetry, and music.
Many of the farmers markets are open on Saturday, July 4th. The Matthews Community Farmer's Market (8 a.m. to noon) should have sweet corn, tomatoes, peppers, and berries. In addition to fruits and vegetables, pick up all the necessary provisions for your weekend festivities, including eggs, cheese, bread, pastries, and meat. The market includes a cooking demonstration and live music, as well. The Davidson Farmers Market will be open (8 a.m. to noon) with fish, cheese, eggs, bread, pastries, flowers, and plenty of fresh produce. A watermelon-eating contest will also take place.
Daniel Stowe Botanical Garden in Belmont starts the day with Saturday Morning Yoga at 9:30 a.m. Beginners and intermediate students are welcome to find their center. Call 704-829-1294 to register. Cost is $40 for five classes or $12 for drop-in (discount for garden members). Then that afternoon from 1 p.m. to 2 p.m., join the horticultural staff for a Horticulture Highlight Walk to learn about what's in bloom and receive seasonal gardening tips. The walk is included in general garden admission.