Weekend Happenings at the Galleries, Shops, & Museums
5 opportunities to explore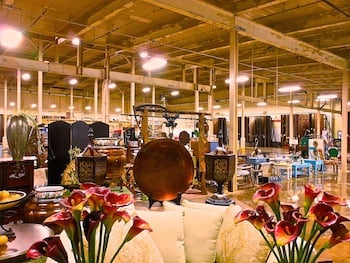 September's first weekend is full of events and happenings to explore area art galleries and antique venues and maybe even make a few purchases.
The first Friday of the month means it's time for South End's Gallery Crawl. Stroll through the neighborhood, grab a bite to eat from the food trucks, and pop into some of the galleries. The informal, floating event is a good time to check out several places in one evening. Hidell Brooks Gallery will hold an opening reception from 6 p.m. to 8 p.m. for David Kroll's solo exhibition. Kroll, a Seattle-based artist who focuses on nature-inspired paintings, will be in attendance. The Charlotte Art League will also have an opening reception from 6 p.m. to 9 p.m. for its September exhibit, "Childhood Memories."
Friday night also marks the opening of the Tree Party at Ciel Gallery. Ciel partnered with TreesCharlotte to put on the national exhibition juried by local artist Andy Braitman. A Giving Tree will have 6-by-6-inch works donated by artists nationwide; the pieces will be sold to the public for $25 each. Ciel will donate all proceeds from the Giving Tree and all donations it receives during September to TreesCharlotte, an organization committed to preserving and enhancing Charlotte's tree canopy. Friday's opening reception begins at 6 p.m. and continues until 9 p.m.
On Saturday, the 10th-annual Potters Market Invitational takes place at Mint Museum Randolph from 10 a.m. until 4 p.m. More than 50 North Carolina potters will sell their wares on the museum's lawn. The event includes pottery demonstrations, food, and live music. Tickets are $10. Ticket holders also receive a free pass (valid for 48 hours) to see the ceramics-focused exhibition "Beyond Craft: Decorative Arts from the Leatrice S. and Melvin B. Eagle Collection," which opens at the Mint Museum Uptown on Saturday.
The International Collectibles & Antiques Show returns to the Metrolina Expo this Friday, Saturday, and Sunday. More than 1,000 vendors will set up to sell antiques, furniture, silver, glass, toys, and fine art. The shows' hours are 9 a.m. to 5 p.m. Friday and Saturday, and 10 a.m. to 4 p.m. on Sunday. Five dollars covers admission for all three days.
When you finish at the Antiques Show, head north on N.C. Highway 115 to Mooresville and continue antiquing at the recently opened Main St. Antiques & Design Gallery. Located inside the former Burlington Industries mill, the antique mall includes booths from local vendors. Main St. Antiques is open Monday through Saturday, 10 a.m. to 6 p.m., and Sunday, 1 p.m. to 5 p.m.