Weekend Social Events and Parties, Nov. 10 to Nov. 13
A slate of weekend parties should help cure your Election Day hangover.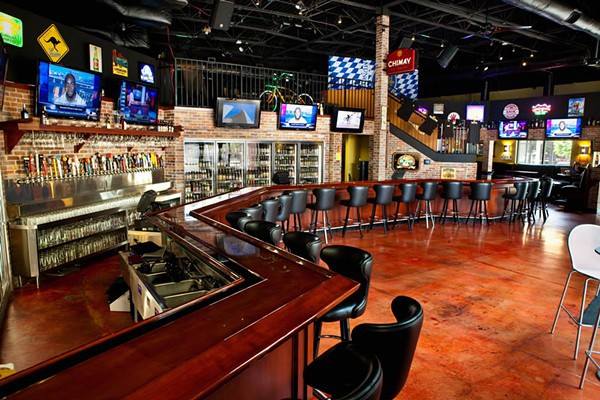 Well, Election Day, well, it didn't go the way, uhh, many of us thought it would. We'll leave it at that. For surviving Election Day (no word on the next four years, though), reward yourself with this slate of weekend parties and social events. See y'all out there!
Thursday, Nov. 10
Psychic Tea
We could have used this before Election Day, but that's beside the point. Have your fortune read from a fortune teller with three decades of experience and sip high tea. This event runs from Wednesday until Saturday, each day from 1 until 5 p.m. at the Ballantyne Hotel and Lodge, 10000 Ballantyne Commons Parkway. Tickets cost $40 per person or $50 per person if you want to order your own "Your Fortune" cocktail. Reservations are required, and you can make one by calling 704-248-4100.
#TBT 2.0: Connect to Disconnect
Leave your phones at the door and get ready to turn back the clock tonight to the '80s. The idea of the evening is to raise money to increase technology access for Charlotte kids by reminding partygoers what life was like before everyone had a piece of technology in their pockets. A ticket to the technology-free evening costs $30 and includes appetizers, beverages and, of course, '80s music. The party is at Earl's Grocery, 1609 Elizabeth Ave., from 6 p.m. until 8 p.m. Buy your ticket here.
Vida Six Year Anniversary Party
Vida Cantina is celebrating its sixth anniversary, and you're invited to this fiesta featuring $5 El Jimador and $3 Modelo. There's no admission fee to this party that begins at 210 E. Trade St. at 5 p.m.
Friday, Nov. 11
You Want Fries With That Champagne?
If you answered "no" to that question, let us emphasize that these are truffle fries that accompany your four champagne samples from around the world. Oh, and your ticket benefits the Ronald McDonald House Charities. Bubble, 210 E. Trade St., is throwing this party from 7 p.m. until 10 p.m. A ticket costs about $54, and you can buy one here.
The Hungry Games
Whisky River kicks off its canned food drive for Second Harvest Food Bank tonight with this event. If you bring in a canned good, you get a raffle ticket. The more you bring in, the more raffle tickets you earn. The evening also features corn hole, Bar Pong and more. There's no admission charge to this event starting at 7 p.m. at 210 E. Trade St.
Southern Christmas Show
The annual Southern Christmas Show is a huge deal for holiday lovers, and it runs Thursday through Nov. 20. Show features vary, as do the hours and prices, but rest assured, if you can't wait until Christmas, this is your go-to event. Find out more here.
Saturday, Nov. 12
Apple Pressing and Cider Day
If you can find something more autumn-worthy than this event, be our guest. Red Clay Ciderworks, 245 Clanton Road, stages two live apple pressing demonstrations today at 2 p.m. and 5 p.m. in addition to a live band, a food truck and kits to brew your own cider at home. There is no admission charge to this event.
Asheville Brew Crawl
This is an all-day brewery crawl in Asheville that starts and ends in Charlotte (transportation provided!). Tickets cost about $64, but they include brunch before you leave, dinner during the crawl and transportation to and from each brewery along the way. The bus leaves for Asheville at 10 a.m. at Piedmont Social House, 2135 Ayrsley Town Blvd., and returns to the same spot at midnight. Buy your ticket here.
BarkHappy BARKsgiving
Dog-loving Charlotteans, this one's for you. Helles & Dunkel, 222 E. Bland St., is throwing this "pawsitively" perfect "pawty" (c'mon!) with free dog treats, a "doggy pumpkin treat-eating contest," giveaways, dog-themed drink specials and $1 hot dogs. Tickets cost about $6 for this party that starts at 4 p.m. Buy one here.
Queen City Shootout and Casino Night
Poker players tonight battle it out to earn a spot at the Colossus II poker tournament. The evening starts at 5 with a Texas Hold 'Em competition, followed by a dinner buffet, entertainment and raffles. Following that, from 8 p.m. until 11 p.m., the Casino Night gets underway with blackjack, roulette, craps, slot machines and more. The event is at The Big Chill, 911 E. Morehead St. Tickets cost about $103 and include a whopping $10,000 in chips to play during the evening plus dinner and a drink ticket. Buy your ticket here.
Pawsitively Matthews
If one dog-themed event isn't enough for you today, you're in luck. This dog-friendly event features 50 to 60 pet-themed vendors with food trucks and more. The event is from 10 a.m. until 4 p.m. at Stumptown Park in Matthews. There is no admission fee.
Guys with Ties Casino Night
And if one casino-themed night isn't enough for you, well, you're also in luck. This annual event features unlimited appetizers and cocktails, a silent auction, casino games and more. The event begins at 8 p.m. at the Harvey B. Gantt Museum, 551 S. Tryon St. Tickets cost $80. Buy one here.
Sunday, Nov. 13
Fairy Fest
The Daniel Stowe Botanical Garden hosts this fairy-filled day, featuring crafts, music, fairy house building, food trucks and more. The event is from 11 a.m. until 3 p.m. at 6500 S. New Hope Road in Belmont. Tickets cost $45, and you can buy one here.
Verify dates, times, prices, and other info at the web addresses listed for each event.
Be sure to bookmark www.charlottemagazine.com/Blogs/Dusk-Till-Dawn to stay plugged into Charlotte's nightlife and social scene. Click here to sign up to receive the weekly Dusk Till Dawn e-newsletter.
Want your event featured in Dusk Till Dawn? Follow me on Twitter @Jared_misner and let me know about your event, or send me an email at dusktilldawnblog@gmail.com.