Weekend Top Picks for Dec 16-18: A Not-to-be-Missed Movie and More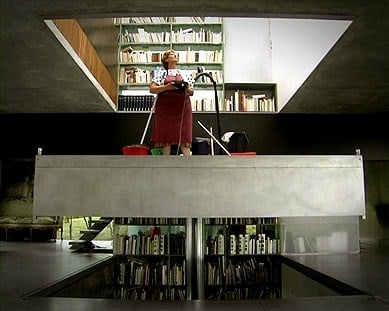 Sit down. Take a load off. You've been out there fighting the crowds at the malls. Wrapping gifts. Attending parties — some of which you didn't want to attend. (Admit it.) Give yourself a little gift this weekend, and head to one of Charlotte's best cultural bets — one of which has absolutely nothing to do with Christmas.
Koolhaas: Houselife. The Bechtler Museum of Modern Art's Architecture + Film series is packin' em in one Friday each month. This film promises to be the best of the lot they've screened all year. It's the tale of a famous modernist house in Bordeaux designed by the uber-cool Rem Koolhaas, as told from the point of view of the housekeeper. Friday. Cocktails at 6 p.m.; screening and discussion at 7 p.m. Get the scoop.
But, if you insist on some sort of holiday-themed concert or theater experience, there are several worthy ones …
A Charlie Brown Christmas with pianist David Benoit. Let's face it. The Christmas season can be as melancholy as it is joyous. The holiday music from Peanuts captures that dichotomy perfectly. And David Benoit is the living musician most associated with Linus, Lucy, and company. The five-time Grammy nominee is sure to play songs from his Here's To You, Charlie Brown: 50 Great Years. Dec 17 at Halton Theatre at CPCC. Details
JiJJJiJ Jim Brickman. Mr. Christmas himself. Two-time Grammy-nominated pianist Jim Brickman is like a latter-day Barry Manilow. Smooth, romantic, and a complete perfectionist. And, they both got their start writing commercial jingles. Dude practically owns Christmas. Sunday at 3 p.m. Learn more.
The Birth. If you're tired of the commercialization of Christmas and want to get back to the real reason for the season, this is the play for you. Details.