Weekend Top Picks for Dec 30-Jan 1: Spongetones, etc.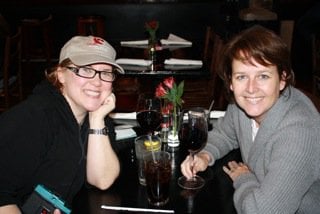 Me? Oh, I'll be going to visit one of my BFFs in Savannah and doing what we usually do for New Year's weekend: Planting ourselves on her sectional sofa and practically taking root. On New Year's Day 2010, we got off the couch and out of our PJs only because the delivery guy was there with our Chinese takeout — for dinner — and we thought it bad form to still be in our pajamas. So, we changed into something much dressier: sweats. But generally, elastic waistbands are our attire for the weekend.
Sharon and I will get off the couch this weekend for two reasons. One is to get more wine. (Preferably, one of her kids will walk by right as we need a refill, and we'll get them to do it. But, they're not always reliable.) The other is to get a massage. Sharon's husband good-naturedly welcomes me every New Year's Eve. He must secretly hate the thought of the slug who comes to camp out in his living room for days on end, but he never lets on.
I prefer to think of this weekend as a chance to "recharge my batteries." That makes it sound as if the laziness has some higher purpose. Sharon and I will share a blanket and catch up on everything that's transpired in both our lives over the past twelve months. We will laugh uncontrollably and talk — once again — about the monkeys we can't get off our backs. I will swear that this will be the year I'll stick to my diet and exercise regime. And she will encourage me and tell me she'll support me fully but then she'll remind me about the burger and tater tot place down the street that's only open a few days a week.
One year, her precious diva of a daughter, Kate, dressed in a princess gown for our outing to the burger joint. Sharon and I kept on our sweats and put baseball caps on our greasy hair. "We look like truck drivers," she said. She had a point. Five-year-old Kate, pink wand in hand, looked like she was mortified to be seen with us.
But, if I weren't going to Savannah for my annual thoroughly lazy, self-indulgent, mostly supine weekend? Why, I can't even imagine. But, here's what I think I'd do if I were sticking around town on Dec 31.
The Spongetones at The Double Door. End 2011 on an upbeat note with the local power-pop legends at the little club they helped make famous. I've been going to the Double Door and listening to Jamie Hoover and the boys since I was old enough to have a fake ID. I love the club even more now that it's smoke-free. If those walls could talk … Details
Rock of Ages. If you loved the big hair, tight pants, and power ballads of the 1980s, this is the loud, rockin' show for you. Don't miss the fun. Learn more.
Widespread Panic. The heir to the Grateful Dead's jam band throne. Tickets, showtimes.
No matter how hard you rock this weekend, I hope you'll also take time to "recharge your batteries" … in whatever form that takes.