Weekend Top Picks for Nov 11-13: Brandi Carlile, Mummies, and More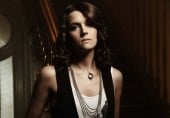 Oh, yes. It's almost time for the BFD of the month … and it may just be the cultural highlight of my year. If you don't have a ticket yet for the nearly sold-out show, check out Brandi Carlile on iTunes or Youtube. And, then vow to see her the next time she comes to town. Her solo, acoustic show is Friday at Knight Theater.
Zombies (the undead) get all the press, but mummies (the actual dead) may be even more interesting. They invade Discovery Place this weekend — and with a lot of fanfare. Mummies of the World contains 150 real human and animal specimens and authentic artifacts from South America, Europe, Asia, Oceania, and Egypt. It's the largest exhibition of real mummies and related artifacts ever assembled. Opening Nov 11. Find out more.
The Charlotte Symphony and Oratorio Singers join forces to perform one of the most powerful pieces of music ever written. Mozart's Requiem was the last work he wrote before his death. Eternal rest and final judgment are its main themes. Find out more.
N.C. Dance Theatre performs their first ballet in their intimate new home. With just 200 seats, the audience will feel part of the action of Innovative Works. Get the details.
Blockbuster exhibitions, ballet, live music, and mummies. There's a little something for everyone this weekend.