Weekend Top Picks for Oct 21-23: Movies! (And, More)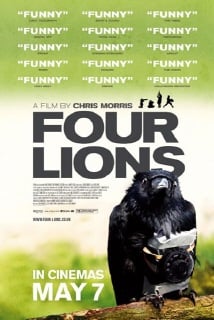 I'm not talking about cineplex fare. Although, my hope is that all four of you reading this have seen Drive, or as I call it "The Best Movie of 2011." No leading man has ever looked cooler than Ryan Gosling, toothpick dangling from his mouth, in the unnerving opening scenes. I'm talking about movies not playing on thousands of screens across the country.
The Bechtler's Architecture + Film Program. A Friday night movie is almost always my idea of a great way to unwind after the weekly grind. So much the better when that movie is an undiscovered one I couldn't have seen at the megaplex in Charlotte. Accompany the movie with a cocktail reception and the chance to talk about it with an expert afterwards, and I'm likely to actually get out of my sweats, off the couch, and over to the theater. In this case, the theater is the wonderful Bechtler. And, the flick is Infinite Space: The Architecture of John Lautner. Friday at 6 p.m. Get the scoop. And, check out the trailer.
Charlotte Film Society. The folks in the know say this may be their favorite movie of an especially strong 2011 line-up. Four Lions is a comedy about terrorists. They're a gang of morons. Colin Covert of the Minneapolis Star Tribune calls is "a dark farce sitting somewhere between Dr. Strangelove and Duck Soup. It will blow you away." Saturday at 3 p.m. and 7:30 p.m. Stick around for the discussion led by Queens prof Jennifer Bratyanski, who is a huge fan of this movie and will make the discussion lively. Deets.
Sam Bush. The guitar and mandolin virtuoso plays the U.S. National Whitewater Center on Saturday evening. Here's the deal.
KnightSounds: Bearden 100, Celebrating the Man Through Music. Surely, the Romare Bearden action figures cannot be far behind. Charlotte hasn't gotten this excited about objets d'art since the late Ramses the Great came to The Mint with all the loot he'd been buried with. And, that was 1998. Music was a theme in many of Bearden's paintings and collages, so it follows that musicians would want to complete the circle. Friday at 7:30 p.m. Find out more.