Weeklong Charlotte Celebration of James Bond, 'Skyfall' Kicks Off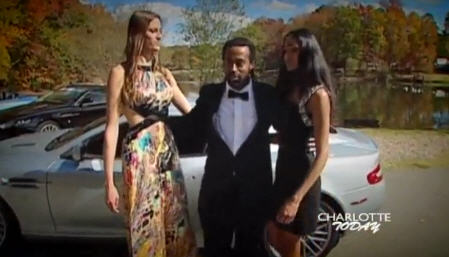 I was at an after-work mixer last week when I guy comes walking in wearing a tuxedo. I thought, man, isn't he overdressed? But he wasn't. He was Bond, James Bond.
Actually, he's Larry Cornwell and he was out promoting his weeklong Charlotte celebration of the 50th anniversary of James Bond and the latest movie in the 007 series, Skyfall, which opens in theaters November 9. Leading up to that highly anticipated release, Cornwell, of Speedracer Syndication, a marketing and promotional agency, has some exciting events planned, featuring movies, exotic cars (those iconic Aston Martins), beautiful women (Bond Girls), parties, giveaways, and more.
Here's a quick rundown of the 50th Anniversary Celebration of James Bond in Charlotte.
Saturday, November 3
Bond Car Show
Showcasing cars such as Aston Martins, BMWs, Ferraris, Jaguars, Land Rovers, and Lotus.
Movie Feature: Dr. No.
2-9 p.m. Free. Regal Stonecrest Piper Glen 22, 7824 Rea Rd. Followed by a reception at Cosmos Café, 300 N. College St.
Sunday, November 4
Bond Target Practice
Cost includes instructor, bullets, lane rental, and a complimentary digital image.
Movie feature: Die Another Day.
1-8 p.m. $30. Firepower, 1200 Industrial Dr., Matthews.
Monday, November 5
Casino and Martini Night
Movie features: Casino Royale and Quantum of Solace.
6:30-11 p.m. Free. Cosmos Café, 300 N. College St.
Wednesday, November 7
Red Carpet Reception and Movie Screening
Guests will receive gift bags, a movie ticket, and entry into the VIP after-party.
Advanced screening of Skyfall.
6 p.m.-until. $50. Dinner beforehand at Cosmos Café; movie at Regal Stonecrest Piper Glen 22 at 8 p.m.; after-party at Cosmos.
Visit nemoproductions.com for more details on these events and to purchase tickets.
In the video below, Cornwell appears on Charlotte Today describing the mission he's on in support of Bond (shout out to WCNC reporter Dayvee Sutton).
Be sure to bookmark www.charlottemagazine.com/Blogs/Dusk-Till-Dawn to stay plugged into Charlotte nightlife. Follow me on Twitter @HollidayInk; email me at jarvish@grownpeopletalking.com.