Welcome Reception Thursday for Young Professionals of the DNC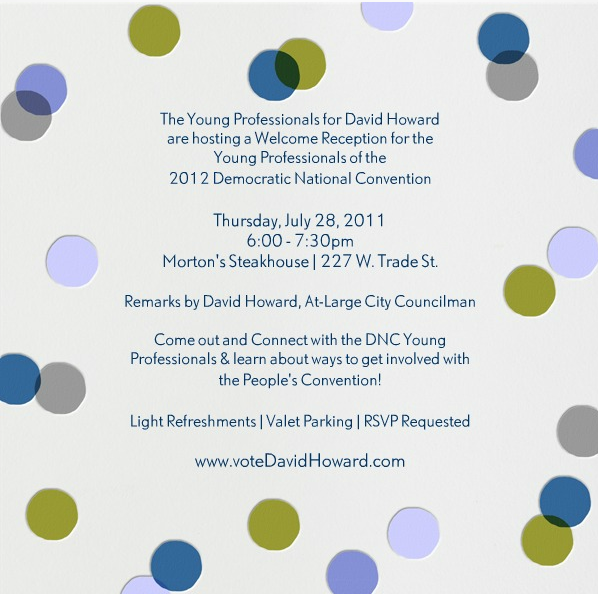 Until these last few months, most of us didn't even know what a debt ceiling was. But since Congress can't seem to raise the roof, you can this Thursday, July 28. Okay, it's not exactly that type of party, but if the Democrats are your party or if you want to get a little closer to the Democratic National Convention, you might be interested in this mixer taking place Thursday at Morton's Steakhouse.
The Young Professionals for David Howard, a Charlotte City Councilman who's seeking reelection this fall, are hosting a Welcome Reception for the Young Professionals of the 2012 Democratic National Convention. They invite you to come out and connect with the DNC and learn about ways to get involved with what's being dubbed "The People's Convention." Staffers from the Democratic National Convention Committee will be in the house, and David Howard will also make remarks.
In addition to the networking, you can enjoy light refreshments and great drink specials from Morton's bar. Valet parking is provided. If you have a LinkedIn account, you can RSVP at events.linkedin.com/Welcome-Reception-Young-Professionals/pub/734788. And in keeping with social media, if you're going to attend and are on Twitter, you're asked to use the hash tags #cltvotes or #DNC.
6-7:30 p.m. Morton's Steakhouse, 227 W. Trade St., mortons.com/charlotte, votedavidhoward.com.
Here on Dusk Till Dawn, we don't endorse any political party. We simply endorse your right to party, mix, and mingle. Check back on this blog and I'm sure I'll have a couple of suggestions of places for you to hang out later in the night on Thursday, if you so choose.