Wesley Heights: On the Dividing Line
Neighborhood straddles the line between uptown and the west side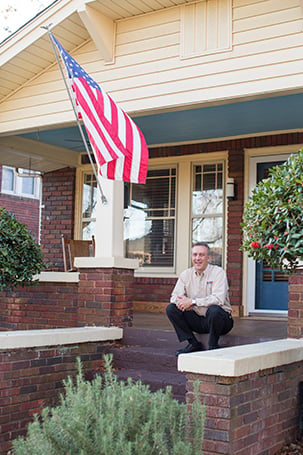 To get home from work, Shannon Hughes takes West Morehead Street east toward uptown, past the WBTV studios and down a steep slope. He takes in Charlotte's skyline, which gleams like the best bet he ever made.
He turns left onto Grandin Road, into the heart of Wesley Heights, and pulls into the driveway of his brick bungalow. He takes stock of what's around him—affordable, historic homes on oak-lined streets, good restaurants, a greenway he can use to walk uptown in 10 minutes—and marvels how Wesley Heights hasn't acquired the cachet of Elizabeth, NoDa, or
Plaza Midwood.
"There's no reason," he says, "for this neighborhood to not be further along than it is."
No good reason, anyway.
"When a lot of native Charlotteans think of the west side, they think of a really bad part of Charlotte. It's stigmatized," says Hughes, who's served as president of Wesley Heights' neighborhood association for a year. "But I like the diversity of Wesley Heights. I like the slow growth. I don't want this to be Dilworth. I certainly don't want this to be South End."
Wesley Heights, home to about 1,200, is the gateway to the west side and the only west side neighborhood the city has designated "historic." It's a literal and figurative crossroads.
You can stand at West Morehead and Freedom Drive, turn your head left and see one kind of Charlotte, then glance right and view another. Up Morehead is uptown, the gleam, the money, Bank of America Stadium. Down Freedom is the disillusionment of the west side: mainly minority, poor, crumbling, and crime-ridden.
Nowhere is the seam that separates Charlotte's haves and have-nots so distinct—and Wesley Heights straddles the seam.
As west-side native Anthony Foxx repeatedly said during his two terms as mayor, Charlotte has to develop long-neglected minority neighborhoods on the west and east sides
to raise enough tax revenue to keep the property tax rate low and city services solvent. That development will hinge largely on attracting professional people to neighborhoods like Wesley Heights.
Hughes is 42, a chemist who works at MetroTech Chemicals on Wilkinson Boulevard, less than a mile from home. He's originally from Graham, near Burlington, but relocated to Charlotte for work and lived for a few years in Ballantyne until the uniformity and distance from uptown started to chafe.
So he scouted neighborhoods near Center City. Cherry was affordable, also with great skyline views, but "unwelcoming." Dilworth was "overpriced." Wilmore was "overpriced." Plaza Midwood was "overpriced and sketchy."
Then he came across Wesley Heights: diverse in age, class, and race—50 percent white, 45 percent black, with a median age of 41—close to uptown and his job, and affordable too. He paid $265,000 for 1,700 square feet in 2007. A similar home in Elizabeth or Dilworth would probably cost twice as much or more.
Hughes isn't interested in living anywhere else. "The only way they're going to run me out of here," he says, grinning broadly, "is by act of God." If city officials want to fill in development dead spots with vibrant neighborhoods that inspire pride as surely as they generate tax proceeds, they could do worse than look to Wesley Heights as a model.