What a New S.C. Facility Might Mean for Panthers' Charlotte Future
Could practice fields' move south signal appeal for public stadium funding?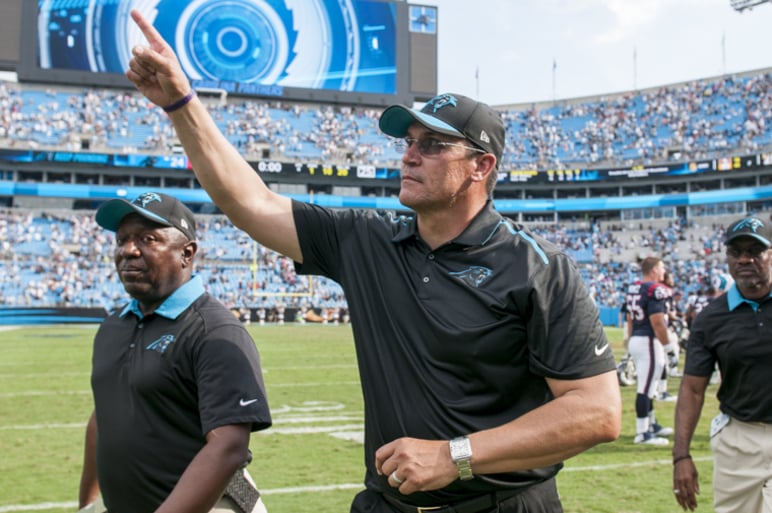 True to their name, the Carolina Panthers have never been satisfied confining themselves to just one Carolina. Founder and owner-until-recently Jerry Richardson was born in North Carolina but earned his degree at Wofford College in Spartanburg, where the team has held preseason training camp from its founding. The Panthers played their inaugural 1995 season at Clemson. The snarling-panther helmet logo was designed to form the rough shape of the two states fused, ignoring the state line. In an era when money and resources have migrated afresh to city centers—and even with a center-city stadium in Charlotte—the Panthers have clung to a willful pan-Carolinism.
So it wasn't a complete surprise Wednesday when The Post and Courier in Charleston published a report with the breathless headline, "Carolina Panthers plan to build team HQ, practice facility in SC." A close reading of the story reveals that the Panthers organization is merely exploring that option, not necessarily moving ahead with a firm plan, at least not yet; York County government and economic officials said Wednesday that the team hadn't contacted them about a new practice complex there.
Still, people in the organization's orbit have been dropping hints in recent weeks. New owner David Tepper openly craves an indoor practice space to succeed a cramped and outdated set of fields behind Bank of America Stadium. In November, team radio play-by-play announcer Mick Mixon teased the crowd at a York County Regional Chamber of Commerce luncheon with an imagine-if reference to a land purchase and "a state-of-the-art practice facility with restaurants, shopping, banking, condos, apartments …" Random hypotheticals rarely come with such detailed blueprints.
From the Panthers' perspective—though not the taxpayers'—it would make a certain sense: far less expensive and expansive land, plus the prospect of a bidding war between a southern neighbor renowned for its hyper-generous incentive packages and a home state that recently granted the team a monster property tax break. If it happens, it wouldn't be a colossal economic loss for Charlotte, although 300 jobs and the taxes they produce are nothing to scoff at.
The more pertinent question is whether this is the opening hand in a game that leads to the Panthers demanding public money for improvements to Bank of America Stadium or an entirely new one, site—and side of state line—to be determined. Just as the Panthers' practice fields are subpar by current NFL standards, 23-year-old Bank of America Stadium is perfectly serviceable but an office building compared to the new crystal palaces in, for instance, Dallas and Atlanta. The city committed $75 million to stadium improvements in 2013 in return for a "hard tether" to keep the Panthers in Charlotte for six years. Those six years have almost expired.
None of that's to say there's some imminent risk of Charlotte losing the Panthers, or that Tepper—whom to this point has been a straightforward and conscientious owner—would play the money-for-stadium-or-else extortion game. But business is business, and leverage suits up for the side with the least to lose. In the coming months, we should find out, for better or worse, just how committed Tepper is to the Charlotte core of his Carolina team.