What Dad Really Wants: Smoked Brisket
Chef Drew of Stagioni shares a recipe inspired by the time spent grilling with his dad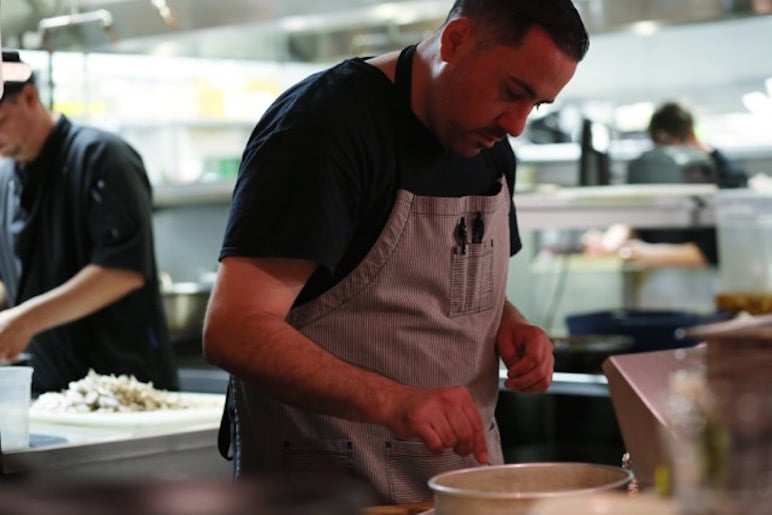 Chef Drew Dodd of Stagioni: Four Seasons of Food learned how to cook from his father. They spent many weekends together smoking and grilling meats. Even today, when he's away from the kitchen at work, Dodd is often in front of the grill at home. Here, he shares his recipe for smoked brisket. He makes his using a Big Green Egg, but you can your grill or smoker and follow the instructions for time and temperature. If using a grill, be sure to set it up so the meat is cooking over indirect heat. Dodd likes to keep the whole affair simple, serving the brisket with nothing but white bread and pickles.
No way another tie stands up to a low-and-slow brisket.
CHEF DREW'S SMOKED BRISKET
Rub ingredients
3 tablespoons kosher salt
1 tablespoon chili powder
1/2 teaspoon ground black pepper
1/2 teaspoon cayenne pepper
1/2 teaspoon smoked chipotle seasoning
1/2 teaspoon Chef Paul's Blackening seasoning
1/2 teaspoon rubbed thyme
1/2 teaspoon onion powder
8 tablespoons light brown sugar, tightly packed
1/4 teaspoon cocoa powder
Remaining ingredients
6 pounds brisket (size may vary)
1 cup unfiltered apple cider vinegar
3 pounds wood chunks (mix of 70% Hickory, 30% Apple)
2 pounds hard wood charcoal
Supplies needed
Meat Injector
Smoke deflector plate for Big Green Egg (if applicable)
Mix rub ingredients together. Take half of rub and steep with vinegar. Set in refrigerator to cool. Take other half of rub and massage into brisket for 5 minutes. Once vinegar solution has chilled, begin injecting into brisket in 1/2 inch intervals until it is gone.
Start fire using the hardwood charcoal in Big Green Egg (or your grill or smoker). Bring ambient temperature to 225°. Smoke at this temperature for approximately 7 to 9 hours (about 1–1.5 hours per pound). The internal temperature of the brisket should reach 190°; this is more important the the amount of time it has smoked for. Wrap brisket in foil and rest for 45 minutes.
Slice and serve (with white bread and pickles!).