What Do We Do About LaWana Mayfield's Truther Moment?
Charlotte councilwoman trafficks in 9/11 conspiracy theory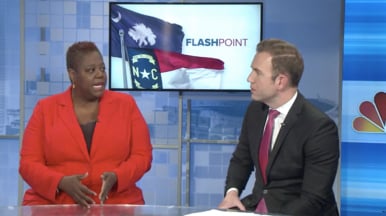 Let's try to unwind this whole LaWana Mayfield-Truther business. The Democratic Charlotte City Council member last week shared on her Facebook page a link from an outfit called awarenessact.com, which in its headline announced breathlessly, "It's Official: European Scientific Journal Concludes 9/11 Was A Controlled Demolition." The article is dated September 11, 2017 and is tagged with the designation—no joke—"Rabbit Hole."
A click on "Rabbit Hole" takes you down, well, guess what: stories about an octogenarian dentist who cured cancer with cannabis oil, a prediction about the onset of World War III from one Baba Vanga ("Baba Vanga for those who do not know is considered to be quite wise."), and other examples of airtight, hard-hitting reportage. Awarenessact.com links to 911blogger.com, which appears to have settled on its design in or around 1997. That site links further to the original source of the "information"—europhysicsnews.org, "The magazine of the European Physics Community."
The article in question was published in 2016 to coincide with the fifteenth anniversary of 9/11. It was published toward the end of the magazine under the headline "15 Years Later: On the Physics Of High-Rise Building Collapses." Its four authors conclude that because "fires have never caused the total collapse of a steel-framed high-rise before or since 9/11," the evidence indicates "overwhelmingly" that the World Trade Center towers fell in a controlled demolition. That no other high-rise towers have absorbed the impacts of large commercial aircraft filled with jet fuel goes undiscussed. But that's what Mayfield chose to reference, posting on Facebook, "I am still waiting for someone to produce pieces of the alleged plane that opened the doors for US Citizens to loose [sic] all privacy rights (from the conspiracy theory in me)."
Since then, Mayfield has apologized, sort of, for the "hurt and pain" her post may have caused, suggesting in a follow-up email to her constituents that the backlash to it—including a change.org petition calling for her resignation that as of midday Tuesday had collected nearly 1,500 signatures—was in part racially motivated. She also deleted the word "alleged" from the original post. "I DO NOT FEEL ANY SAFER today in America after giving up our privacy," she wrote.
Fair enough. But the premise on which her point was based is unalloyed crud, which Snopes demonstrated convincingly back in October 2016. All of this is enough to make you scream in frustration. What's most infuriating is that Mayfield's ultimate argument—that the American security state's erosion of privacy rights since 9/11 has especially harmed racial minorities—is perfectly valid. So why undermine the argument by claiming, falsely, that Americans have lost all their privacy rights? Why insist that someone produce pieces of the planes, ignoring the discovery of pieces of the planes, several on display at the 9/11 Memorial & Museum? (Would Truthers believe any pieces you produced were genuine?) Why suggest that 9/11 was an inside job? Why go there?
Mayfield didn't return my call Monday. But she had a ready explanation Sunday on WCNC's "FlashPoint." "It was me sharing a partial thought," she said, "and then I went to sleep." One thing she did not do, notably, even when asked specifically, is say she believes what is true beyond a reasonable doubt: that the Twin Towers collapsed after planes flew into them.
What do we do with this? The charitable response: Well, that's LaWana, and what she thinks about 9/11 has no bearing on city business. Mayfield is known for being something of a pot-stirrer on social media, and she hinted on "FlashPoint" that she needs to be more careful in what she posts and tweets; don't we all? She's in her fourth term on the council, representing District 3, which covers much of the west side and part of South End. Overall, she's represented her city and constituents conscientiously and passionately. There doesn't seem to be any need for her to resign, which she says she won't do anyway. It'd be different if Mayfield was a member of Congress.
Mecklenburg County Democratic Party Chair Jane Whitley told me Monday that she doesn't know yet whether Mayfield's post will affect the party's support for her in the 2019 council elections. "Clearly, she does not speak for the party. I think it's a distraction," Whitley said. "These remarks were a complete surprise to me. I would like for her to acknowledge that what she said about the planes on 9/11 is in fact not the truth. It's an alternative reality."
A pair of her council colleagues, Republican Tariq Bokhari and fellow Democrat Larken Egleston, criticized her Tuesday on their podcast, "R&D in the QC," but didn't call for her to step down. "It was a puzzling post to most of us," Egleston said. "Obviously, the content of the story that was linked to is absurd, and I completely disagree with the decision to make the post. I do respect my colleague. I do appreciate that people have the right to free speech, but I do think as elected officials, we do have an obligation to be mindful of the things we post. It was a mistake."
And that's the nub of the matter, isn't it, whether spreading demonstrably false information disqualifies anyone for public office anymore? That notion, once axiomatic, seems almost quaint now in the Age of Trump. Too many citizens, whether Democratic or Republican, still misunderstand (perhaps deliberately) what free speech actually means. It means the government can't use what you say as cause to charge you with a crime. The First Amendment doesn't protect you from facing public backlash, including loss of your job, over something you say. The backlash is free speech, too.
So this episode really isn't about free speech or, as Mayfield has suggested, creating a dialogue about privacy rights, or whether her comments caused anyone pain, or acknowledging the victims of 9/11, or whether the hijacked planes were the creation of Pixar. It's about whether voters are willing to tolerate their elected officials publicly trading in bullcrap, or whether we've reached the stage, in Charlotte and everywhere else, at which believing the crap is just one more way elected officials can demonstrate that they represent the views and values of their constituents.