What Happened With the Cross Charlotte Trail?
The City Council thought $38 million would pay for the project. That estimate was short—by a lot. What happened?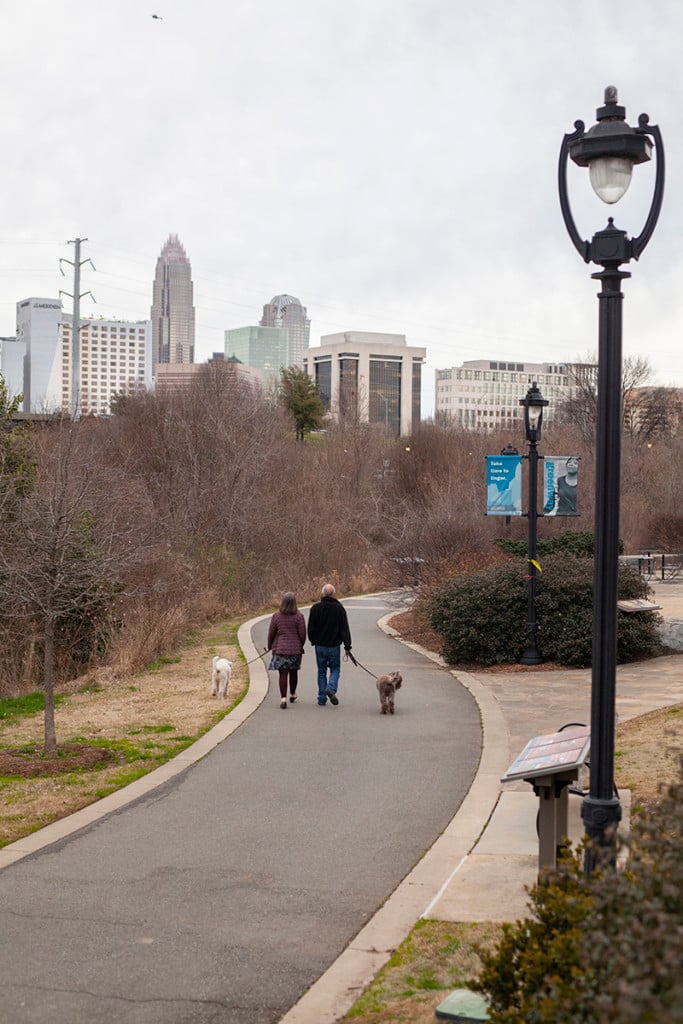 THE CROSS CHARLOTTE TRAIL, as an idea, has always been bigger than 31 miles of greenway park from Cabarrus County to the South Carolina line.
Proposed in 2012, the trail, abbreviated as XCLT, was meant to be a practical pedestrian thoroughfare that would link already built greenways and provide people along the route more options for getting around an increasingly traffic-choked city. It would place park land within walking distance of 140,000 Charlotteans, boosting the city's low ranking for access to parks. It promised to be an easy win for the city, a big-idea project that lent itself to buzzy terms that developers and economic development types adore, like "value add" and "green" and "pedestrian-friendly."
That was before January, when city staffers informed the City Council that the $38 million in voter-approved bond money, assumed to be the total project cost, actually would pay for about a third of it. Finishing the project, City Engineer Mike Davis told council members, would require an additional $77.7 million. "In plain English," an astonished council member Braxton Winston blurted during the meeting, "we don't have the money to finish the Cross Charlotte Trail?"
The $38 million is enough to finish about 18 miles of trail from Pineville to NoDa. A 10-mile stretch from there to UNC Charlotte hasn't even been designed yet. (The county is responsible for completing the section from UNCC to the Cabarrus line.) In February, council members decided to search for other funding sources, establish a "bike boulevard" with bicycle lanes along the unfunded part of the route, and put up signs along the route that identify it as part of the future Cross Charlotte Trail.
This solution did not make council members happy—or anyone else. An aggravating factor: The funded section runs through some of the wealthiest neighborhoods. The unfunded part navigates some of the poorest. "We need to be very cognizant of the fact that people will not be satisfied with a bike boulevard through Hidden Valley, for instance," says council member Larken Egleston, whose District 1 covers nearly a third of XCLT's track. "We need to be clear that's a temporary solution and not a long-term fix, and that's not going to be what they're left with for eternity—that we're going to do what we promised to do."
THE ROOTS OF THE PROBLEM lie in superficial estimates of land and construction costs that neither city nor county officials ever bothered to update or correct. Parks are a county function, but officials imagined XCLT as a joint city-county project that would cover urban and rural areas. Early in the process, county officials estimated the cost per mile of building its section of the trail, City Manager Marcus Jones explained to council members in January.
City planners used that estimate—for rural land, and coming out of a recession that depressed land values—as the basis for its calculations for the rest of the trail, Jones said: "If you extrapolate that and put it toward the city, there's a bit of a flaw there, because much of the section we're talking about is not too easy to replicate when you have clear-open space, versus what we're trying to do." Those estimates informed the amounts of the bond packages, totaling $38 million, that voters approved for XCLT in 2014, 2016, and 2018.
Jones told council members that he first learned about the shortfall after he replaced Ron Carlee as city manager in December 2016, shortly after his staff prepared XCLT's master plan. (Neither Jones nor Carlee returned calls for this story.) From there, though, it appears that the ball wasn't so much dropped as never picked up. During the January meeting, Mayor Vi Lyles, elected along with five new council members in 2017, observed that the first indication from Jones' office of a XCLT shortfall came in early 2018, more than a year after Jones was hired as city manager. A presentation to council members on the city's Community Investment Plan in February 2018 included information about an estimated $62 million shortage.
Jones told the council during the February meeting that he wasn't interested in assigning blame. "What we're going to do tonight is try to start over, focusing just on the Cross Charlotte Trail, how we have gotten to where we are, and we're not talking about who did what (and) when," he said. "It's just this is where we are today in terms of funding, and in terms of opportunities to move forward."
That solution doesn't sit well with council members, either. Winston tells me he worries about more than 100 current taxpayer-funded projects in various stages of progress. Jones and his team told the council at a budget workshop in February that they'd identified only a handful of shortfalls on other projects, none as drastic as XCLT. But Winston says the city needs to plan and estimate costs better, especially when it frequently asks voters to approve millions of taxpayer dollars in bonds to cover them.
"I don't know how you value a house if you haven't figured out how many bedrooms that house is going to have, or what kind of materials you're going to build that house with," he says. "I'm trying to figure out, how do we deliver a project? How do we understand why this happened, so we don't fall into those same traps? But all I get is, 'This is the way things were done in the past.'"
***
HERE'S WHAT XCLT LOOKS LIKE for now: The $38 million is enough to finish the southern section, starting in Ballantyne and curving west to Pineville, then north to NoDa. From there, city officials hope to squeeze out one more mile along the Blue Line Extension and entice developers to pitch in another mile. North of that will be eight miles of bike paths and road signs, what Egleston has referred to as an inadequate "Band-Aid" approach.
Winston has floated the idea of using hotel-motel tax revenue to help pay for the rest, reasoning that XCLT is a marketable attraction for out-of-towners. Council members haven't discussed that idea in detail. But he's more focused on the bigger implications of large-scale city projects and whether citizens can trust public officials to shoot straight with them on what public money will pay for.
"There's a relationship here in government … The voters vote, they say, 'Yes, you can use our tax dollars,' and we say we're going to deliver a project," he tells me. "As we go through this reimagination, my colleagues and I, and people that are invested in developing this city, are going to have to find ways to bring confidence to our voters to continue to provide us with that end of the bargain."
AARON GARCIA is a writer in Charlotte.