What Happens to Charlotte's 'Drug Babies'
Every three weeks, opioids kill as many Americans as did the 9/11 attacks. Even more users cycle between addiction and treatment, their lives defined by the blurry, shaky minutes that fill the gap from one hit to the next. When addicts relapse, go to jail, or overdose, what happens to the kids left behind?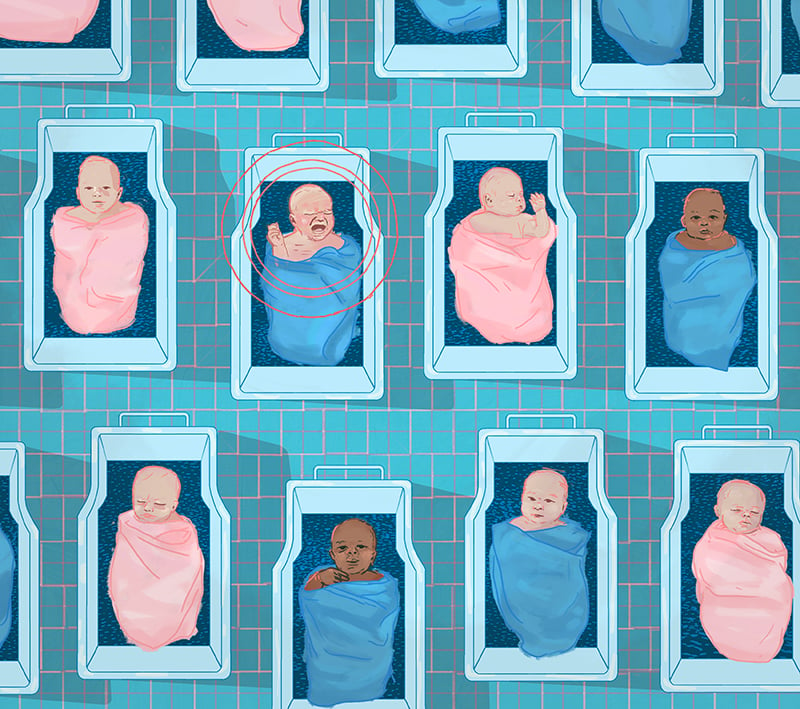 STEWART LAY ON A GREEN and white striped hospital sheet in the last bed at the end of the hall, up against a wall. His eyes were closed—clenched shut, really—and he shook with tremors. He sneezed some, and when he wasn't doing that, he cried. Wailed. It was agonizing to hear.
His family watched, helplessly, inside the intensive care unit at the Medical University of South Carolina in Charleston on that fall afternoon in 2012. They'd come as soon as they heard. For days, they watched for any sign of improvement, anxious to bring him home, desperate to do anything to ease his suffering.
"You could just see how much pain he was in laying there," his mom, Elisabeth Watts, recalls. "You could tell that he didn't want to be touched because he was in so much pain." She and her husband, Bryan, drove down from Charlotte in such a rush that they weren't sure where they'd sleep. "We threw stuff in a bag, hopped in the car, and just left," she says.
Every so often, when Stewart was in the worst pain, when his arms and legs quivered violently, Elisabeth could stand by his bed, push a button and deliver a dose of morphine to Stewart's veins. It helped some.
Stewart also had something called Suboxone in his system, a pharmaceutical used to help drug addicts handle the symptoms of withdrawal—the tremors and sneezing and pain.
He was only days old, a newborn whose body was dependent on, as Elisabeth puts it, "everything but meth." His biological mother, a woman named Rebecca who'd given birth to two other drug-addicted babies before Stewart, was curled up in a bed in the same hospital complex trying to detox. The Suboxone in Stewart's system came through his mom, passing through Rebecca's body and into his. She was off heroin, at least for now. She still smoked a carton of cigarettes every few days, just as she did during her pregnancy. She missed the taste of alcohol.
For an hour each afternoon, she was allowed to visit Stewart in the neonatal intensive care unit (NICU). They cuddled in a rocking chair, mother and trembling son, the recovering addicts.
***
MUCH OF THE ATTENTION given to this nation's opioid crisis—the deadliest drug epidemic in American history—is placed on the users: how to keep drugs out of their hands, what the courts should do with them, whether we should revive them when they overdose.
Nationwide, the number of fatal opioid overdoses quadrupled between 1999 and 2015, according to the Centers for Disease Control and Prevention. During that same period, deaths from opioids in North Carolina grew more than 600 percent. Mecklenburg County's opioid fatalities grew from 11 in 1999 to 61 in 2015.
Those statistics shouldn't surprise anyone with a television; last year, President Trump declared opioids a national emergency. The draft report from his opioid commission likened the death toll to suffering a 9/11-scale loss of life every three weeks.
But the numbers and reports often overlook opioids' collateral damage, a generation of kids whose lives have been altered, irrevocably, by their parents' drug use.
Between 2004 and 2015, the rate of North Carolina newborns hospitalized with symptoms of drug withdrawal, a condition known as Neonatal Abstinence Syndrome (NAS), jumped nearly 900 percent. Across roughly the same period, cases of NAS almost quadrupled nationally.
"They weigh on us a lot," says Dr. Gerald Berkowitz, a Novant Health neonatologist who has practiced medicine since 1979 and has cared for tens of thousands of newborns, including many with NAS. "An adult person, I guess, can do what they want to ravage their own body. But you've got an innocent baby. It's hard to be objective."
I meet Berkowitz at Novant's hospital in Matthews on an afternoon in August. It's quiet in the NICU. There are playful moon and star shapes set into the floor. Berkowitz introduces a nurse, Stacy Vaught, and neonatal nurse practitioner Courtney McDaniel, who often care for babies in withdrawal, and asks them to explain the symptoms they see in these newborns.
"They'll have this relentless cry," Vaught says. She's tall, with an easy smile and energy that defies the long shifts spent holding restless infants.
McDaniel nods. "You can recognize it. It's not 'I'm hungry' or 'I'm tired.' It's screaming." NAS babies sweat profusely, sneeze and yawn more often than other newborns, shake, have gastrointestinal distress. And they cry. "It sounds like pain," McDaniel says. "Like someone is in a lot of pain. And there's nothing you can really do other than just try some different comfort techniques."
In the worst situations, doctors will prescribe morphine to ease the pain, although that presents challenges of its own—the child can become addicted to that drug, on top of the others, and have to be weaned off of it, too.
***
ELISABETH AND BRYAN WATTS had two biological children and went through an adoption process that fell apart at the last minute. Then they were introduced to a woman in Columbia, South Carolina, who facilitates adoptions for women with unplanned pregnancies.
The woman matched the Wattses with Rebecca, a 30-year-old heroin addict who was seven-and-a-half months pregnant. "She was addicted to all these things," Elisabeth remembers. "And she checked herself into rehab with nothing."
After Rebecca gave birth to Stewart, he stayed in the NICU for 12 days. While in rehab on the same hospital campus, Rebecca told the people adopting her son how guilty she felt for making Stewart an addict. "She was like, 'How could I do this to him?'" Elisabeth recalls. "'I want to be clean. I don't want to do that anymore.'"
Unlike a lot of the babies in the NICU, Stewart wasn't hooked up to a bunch of beeping machines; there was no tangle of tubes hanging beside his bed. But it was clear he was in tremendous pain. He didn't want to be held. Bryan tells me he doesn't remember being angry at Rebecca, at the person who sold her heroin, or at the system that enabled an opioid crisis instead of combating it. "You knew (Stewart) was going to be OK," Bryan says, "but it was just sad waiting for that process to take place."
While the family waited for Stewart to recover—and for a South Carolina judge to finalize their adoption paperwork—they met a pediatrician who suggested using caution with medication as Stewart got older. "His birth mom is an addict, and her birth mom was an addict," Elisabeth says. "It would be very easy for that genetic switch to turn on and for him to be an addict. The caution was to be very careful because he could start asking for things that make him feel good, like Tylenol or something, when he was very young."
The conversation jolted Elisabeth and Bryan from their relative naiveté. "We went into this so much from a place of calling, that this was what we wanted to do," Elisabeth says. "But I hadn't thought through the details. Like, what if there were developmental delays? What if there was brain damage from the alcohol? What if this, what if that?"
***
BEYOND AN INCREASE in drug-addicted newborns, like Stewart, the opioid epidemic has created a glut of older children who are removed from their homes, separated from parents who can't break their addiction. Of the 5,721 North Carolina children who entered foster care last fiscal year, parental drug use was present in about 38 percent of the cases. When discovered, the county social service department steps in, and on a judge's order, puts the kids into foster care.
The foster care and adoption communities are small, and in conversations with those caregivers, I repeatedly hear that the situation in less urban counties such as Gaston and Rowan is tenuous—many foster children, but few homes in which to place them. One person put me in touch with Susanna Kavanaugh, who runs a nonprofit called Least of These Carolinas that supports children who are in foster care with everything from shampoo to scholarships.
On a 100-degree Friday this summer, I drive the half hour to Gastonia to meet Kavanaugh at the organization's headquarters, an unremarkable brick building that used to be a video poker parlor. Inside a cluttered office with framed prints of Bible verses on the walls, Kavanaugh tells me Gaston County's foster care network is overwhelmed. Since she started Least of These almost five years ago, the number of kids in the county system has almost doubled.
"It used to be that you couldn't get a baby," she says as she twists in an oversized black leather office chair. "Babies were hard to come by. Now there are so many mothers coming in addicted, the babies are addicted, and they can't take them home."
Kavanaugh has a nuanced understanding of the crisis. She and her husband adopted their youngest daughter, who's now 6, from foster care in 2013. She was born prematurely at 29 weeks, addicted to opioids and moved straight from the NICU to foster care. The Kavanaughs brought her into their family when she was a toddler. "There's nothing a doctor could have told me that would have changed my mind," Kavanaugh tells me.
But there have been challenges: doctor appointments and medication, therapy and uncertainty. It's a lot. Kavanaugh understands why it's hard to find foster parents and adoptive homes. "Heroin is a tough thing to break," she says. "I think people want to hate these biological parents for what they're choosing or what they're doing. But we've learned to love them."
Kavanaugh walks me through the office, past a room with a couple of metal, glass, and wood department store racks haphazardly set just inside the threshold. The local J.C. Penney was closing and Kavanaugh sent some volunteers to pick up a few pieces of surplus furniture. The desperation of it all—a shuttered department store, a nonprofit scraping together cheap furniture, a county with too many foster kids and not enough foster parents—is overwhelming.
We step into a storage room, about the size of a small bedroom, stuffed with supplies that Least of These uses for a program called Bags of Hope. On one wall, tiny plastic hangers of little girl outfits, pinks and purples and pastels, are smushed together. There's a similar rack for boy clothes. Travel-sized toiletries fill a stack of shelves. A cardboard box of Elmo slippers sits on a folding table. When Least of These hears of a child brought into foster care, volunteers pack a duffel bag, maybe $150 worth of stuff, for the child to take to his or her new home. They embroider the kid's name on the outside. "We just want them to have something that belongs to them," Kavanaugh says. "Usually they come into foster care with nothing or a trash bag."
The day I visit, volunteers have taken over parts of the office to help with the organization's shoe giveaway. Foster parents stop by with their kids and fit them for new sneakers. Boxes of donated khaki pants and navy polo shirts are set to the side for parents to sort through. School starts in a couple weeks, and Kavanaugh wants the foster children to feel like normal kids—with new kicks and fresh outfits for the first day of class.
Upstairs, in a room unfurnished save for a couple of metal racks piled with shoes, Kavanaugh introduces me to a middle-aged woman with a gentle smile and soft pink lipstick who's busy unboxing donated tennis shoes.
"You need to talk to her," Kavanaugh says. "She's had so many drug babies."
***
A COUPLE WEEKS later, I pull into the driveway of the woman's brick house in a spic-and-span development in southwest Charlotte. It's raining, but the downpour doesn't drown out the sound of planes overhead. "This was supposed to be my retirement house," she says as she invites me into a living room with a grandfather clock that chimes on the quarter-hour and empty baby bottles stacked on a changing table. I've agreed to use an alias, Sharon, and withhold certain identifying details so she can speak candidly.
Sharon moved to Charlotte in 2009 for a financial services job, ran the mortgage division for a large bank, and had nearly 400 people reporting to her. In 2011, she became a licensed foster parent, and since then she has cared for more than two-dozen children from Mecklenburg, Gaston, and Iredell counties. Most of those children, Sharon says, came out of drug-related environments.
Her involvement with foster care escalated in early November of 2014, when she heard a guest speaker at church talk about the shortage of foster parents in this region. Sharon transferred her credentials from one county to another, where she heard there was a greater need.
Her first placement, in mid-November of that year, was for eight-month-old twins. Then, the first week of December, the county asked her to take in two boys not yet in preschool. Their mother abused them. Her version of discipline was to put the older boy in the dryer and turn it on. A few days before Christmas, social services called again: Could Sharon handle two girls? Their mother was an addict whose boyfriend, when he wasn't buying drugs, repeatedly raped the early elementary school-aged children.
Within a span of six weeks, Sharon went from being a self-described "workaholic" without children of her own who traveled as often as she could, to the foster parent of six children under the age of seven. She walked into her boss' office at the bank and told him she needed to take some time away from work. "I said, 'I don't know what I'm doing or how I'm getting into this, but I feel God calling me to do this and I've got to say yes.'"
Since then, Sharon said yes again and again. To baby girls who arrived weeks apart, both in withdrawal. To a little boy who was born addicted to five different types of narcotics. To an infant girl whose mother abandoned her with a nine-year-old sibling and nothing to eat but instant mashed potatoes.
She's turned her garage into a foster parent supply closet. There are pack-and-plays and baby swings, cribs and car seats. One wall is stuffed with storage tubs containing clothes and bedding, all sorted by gender and season and age. "A lot of the times they come in the middle of the night. So you gotta have stuff on hand to get them to bed, if nothing else."
The children stay with Sharon for varying lengths of time. Some infants have grown into toddlers in her house; other kids stayed only a couple of weeks. Sharon reminds me that the goal of foster care is reunification, to place the child back with his biological parents once their home is safe. That doesn't make the goodbyes any easier. "It's horrible. Gut-wrenching," she says. "There's no guarantee things are going to stay calm."
There are plenty of people, I suggest, who would be overwhelmed by this—late night visits from social workers holding a baby, the stories of abuse, having to send a child home after you've developed a bond. All that would be too much to handle.
"It was too much for my husband," Sharon says. "He left… He was like, 'This is not what I want to do.' He's a grown man, and he can take care of himself. I couldn't turn my back on children."
***
STEWART WANTS to talk about dinosaurs.
He teeters on a wooden bench, just across from me against a skinny red metal table outside of Free Range Brewing in NoDa on a sunny afternoon in October. It's been five years since his stay in the NICU, since he was addicted to everything but meth.
He's still learning to pronounce the letter "R," and he furrows his brow as he tells me about "the T-wex and the bwontosauwus."
I had asked the Wattses if I could tag along on a family outing so I could meet Stewart, who just started pre-kindergarten. Their biological children—nine-year-old Camden, seven-year-old Eliza, and two-year-old Haven—crowd around the table, along with a few friends.
Stewart has short, curly hair and deep brown eyes; if you ask about them, Stewart will tell you they are his "choc-o-late eyes." Developmentally, he is normal, although Bryan and Elisabeth do worry about behavioral conditions such as attention deficit hyperactivity disorder that might show up once Stewart is further along in school. They continue to limit medications, opting to treat minor ailments with natural remedies, including essential oils. Stewart's birth mother, Rebecca, relapsed and is addicted to drugs once again. The Wattses have a way to contact her and say they want Stewart to have a relationship with her—if she gets clean.
The Wattses have explained to Stewart that he came from someone else's tummy but is part of their family now. They've told him that his birth mommy was sick and how that made him sick. One day, they'll tell him that he'll have to be careful not to get sick again.
"I think that's the nagging worry," Elisabeth says. "There's always that thing in the back of your mind that wonders when he's 16 and someone offers him a drink or a drug or something, what's going to happen from that."
For now, though, Stewart focuses on a motorcycle racing game on his dad's smartphone and occasionally looks up to answer a question from the grownups. He tells us his favorite color, "bwown-ish," and his favorite snack, "ceweal baws and cookies," and makes sure the other kids get their turn at the game. He's energetic: always moving, tugging at his striped polo shirt, his eyes and cheeks bursting into new expressions every few seconds.
It's as if all of the trauma he's endured—entering the world an addict, those 12 days in the NICU—somehow infused this little boy with extra life. Over the course of an hour, I have to remind myself that he's a "drug baby," the expression often used to describe children born addicted.
"I guess it was a big deal when he was born," Bryan says. "But since then (he holds up two fingers and barely puts space between them), I've given it this much thought."
As if to underscore that point, Stewart sets the phone on the table and pushes himself up on the bench. "I can jump off chairs!" He turns to his siblings. "Can you jump off chairs?" He hops down, cackling with joy, his chocolate eyes wide open.
ADAM RHEW is this magazine's senior editor.