What Moves Chef Ryan Allen of LittleSpoon
The answer definitely includes music.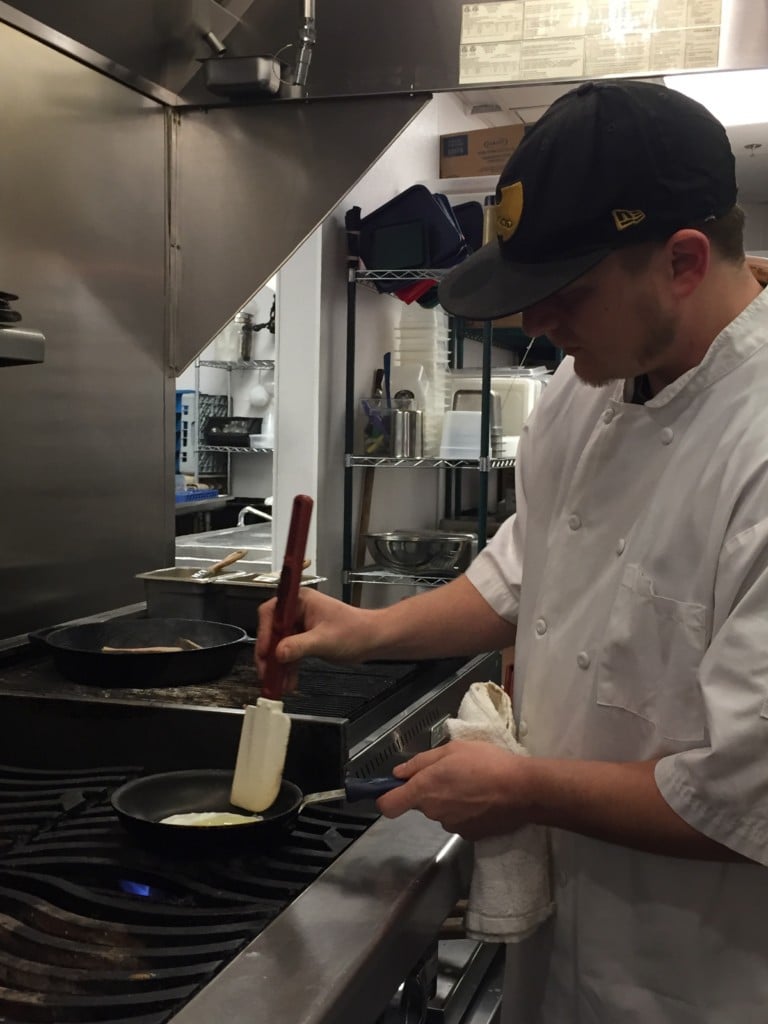 Ryan Allen took so many Home Ec classes in high school that they had to add courses to the curriculum just for him. His teacher, Miss Beasley, even tried to recruit him for the school's competitive cooking team, but the wrestling team member remained conflicted until his senior year, when he finally said yes. That year, the team took first prize in regionals.
Ms. Beasley understood Allen's potential. So did her best friend, another teacher at the same school (and Ryan's mom). The two secretly hatched a plan to get him enrolled at Johnson and Wales University in Charlotte.
He immediately jumped on the idea, one that had yet to take shape in his own young mind. "I wanted to get out so bad," he says. Allen had lived in Valdosta, Georgia, his entire life, a place he describes as "your basic football town."
These days, the new Executive Chef at LittleSpoon is more than comfortable with an identity that is tied to the kitchen. After receiving his associate's degree in culinary arts, he worked in tour catering while maintaining his internship with Compass Group. During this five-year span, Allen continued to study on his own, getting his thoughts provoked from cookbooks written by chefs like Thomas Keller, David Chang, and Edward Lee.
In particular, Allen gravitated towards Chef Lee's interpretation of American cuisine, one whose nascence and diversity allows it to more freely adopt flavors and textures from many traditions. Lee's experience as a Brooklyn-born Korean-American who moved to Kentucky eventually led to him to pair collards with kim chi and Korean BBQ with grits. This redrawing of boundaries through food resonates with Allen, who has only lived in two places his entire life, both in the South.
He compares this kind of cooking to his favorite kind of music: hip-hop, making note of the way it samples music from all over, borrowing from other genres and revisiting past eras to create something altogether new, yet familiar.
Lucky for him, LittleSpoon owners Alesha Vanata and Kyle Stegemeyer share his taste in music and, as he puts it, "dared to be a little bit different." Guests of the casual eatery will likely find themselves brunching to the musical styling of Biggie, Tu-Pac, and A Tribe Called Quest. "Music is a huge part of my life. Getting to hear it while I'm working makes it more fun." says Allen, who regularly suits up for work with a baseball cap bearing the hallmark "W" of the Wu-Tang Clan, a popular hip-hop group.
Lucky for him again, Vanata shares his affinity for combining local ingredients with flavors and textures from all over. To Allen, getting to work with local farmers is personally gratifying; he and his father raised hogs and grew corn, okra, potatoes and snap peas. "I didn't appreciate it when I was a kid, because I deemed it work on weekends," he says, laughing.
So what's next for the Selwyn Avenue eatery? "I really want to stay true to Alesha's idea: simple, bright flavors, local ingredients, and flavors from around the world," says Allen, adding, "I'd like to put a little bit of my Southern twist on things. Cornbread is going to be showing up." And, for those of us who missed them, rumor has it that the hot pockets and pop-tarts will soon return to the weekend menu.
Allen also plans to take full advantage of the opportunity presented by LittleSpoon's Test Kitchen, which he describes as "a way for a chef to rejuvenate his batteries." The menu for the Thursday night affair changes weekly, with the most recent one resulting from a collaboration between Allen and sushi chef Mike Le. (Think agedashi tofu with nameko mushrooms and a duck tataki with orange ponzu sauce to get an idea of what you might have missed.)
Allen's thoughts on the immigration debate inspired the one prior to that, going around the world with its African braised quail with coconut and turmeric, fried anchovies with vegetable ragú, and potato risotto with seared foie gras, serving as gentle reminders to people that America's diversity is a strength.
Even with the upbeat music and ample room to test boundaries, the thing that Allen might appreciate the most about his new position is feeling like he is part of a family. He leads what he describes as a "very, very simple life," one where a handful of loyal friends and an exciting job provides greater satisfaction than say, traveling to far-flung corners of the earth. Says Allen about LittleSpoon: "I've never felt so welcome. And I've never felt so eager to work."