What Should Charlotte Say About What Happened in Charlottesville?
Odd council kerfuffle reveals the tense world, and city, we live in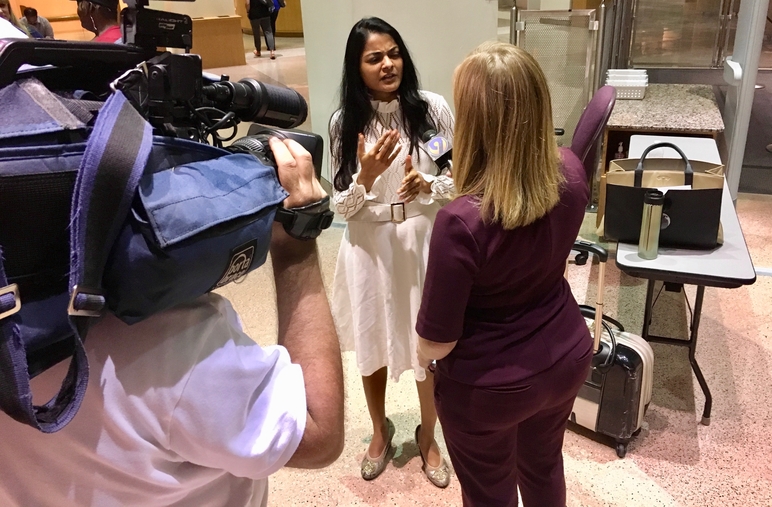 Near the end of Monday's Charlotte City Council meeting, with the council chamber nearly empty and members wilting after five hours of the city's business, Republican Councilman Kenny Smith proposed a truce.
"I'm 100 percent confident that we can have something crafted that reflects our values and will be the appropriate statement to the people in Charlottesville, the people in our community that want to know we're listening, and I'm confident we can do it in a manner that will bring us all together," said Smith, the District 6 representative and GOP frontrunner for mayor. "Tonight got a little heated. We all recognize that. But I'm confident, after what I've been through with this body, that we will get a resolution that says we don't like people using violence to promote politics, especially when they're politics of supremacy."
Anyone wandering in at that moment, or just tuning in on television or via streaming video, would have been deeply confused. Politics of supremacy? What was he talking about?
Smith was referring to an earlier 25-minute discussion that was strange even by City Council standards. The back-and-forth on the dais reflected the pressures of this disturbing season in American history; the turbulent term of this particular mayor and council; and the most competitive municipal election season Charlotte's seen in years. Party primaries are September 12. Of the 12 elected officials on the dais, 10 are running for re-election, several against each other.
It began an hour into the meeting, when District 5 council member Dimple Ajmera, a Democrat, brought up a draft resolution she'd earlier included in an email to her colleagues. (Copy shown.) The draft decries the abuse of free speech rights "in the service of hate, discrimination, bigotry, and violence, and when so abused it is incumbent on leaders in the community and all persons of good will to call out such abuse," and makes plain that "those who so abuse these rights are not welcome in Charlotte."
Ajmera, who's running for an at-large council seat, asked for the resolution to be placed on a post-primary agenda—"to take politics out of what I believe is a moral issue"—and for the rest of the council to suggest changes before voting on it.
"This is the first time we have met as a body since the events in Charlottesville on August 11 and 12, and it's also the first event of this kind since I joined the council earlier this year," Ajmera said, reading from prepared remarks. "This is a matter of safety and trust in our community, and we cannot act as if nothing happened in Charlottesville, and we cannot let our silence be perceived as tolerance of hatred and bigotry." (This was the second time in as many months that Ajmera had issued an impromptu public statement condemning the evils of bigotry and discrimination and proclaiming that they should not exist in Charlotte.)
Under council rules, such a resolution can be added to a future agenda without a vote—unless a council member objects, in which case the full council has to vote on it.
You can guess what happened.
"I think it has inflammatory language in it that is unhelpful, and therefore, if that's what it's going to look like, I'm adamantly opposed—not to the idea of a resolution, but to that one," said District 7 councilman Ed Driggs, a Republican. Furthermore, Driggs said, the draft resolution is "written in a style that I think is unbecoming of a city government." He'd have no problem, he said, with a replacement draft "that conveys with suitable decorum the message that we would like to distribute."
And so it began, a mildly stupefying tug-of-war with substitute motions, questions about procedure, further objections, and objections to the objections. Democrat Patsy Kinsey, the most experienced council member, noted wisely that a Charlotte City Council resolution condemning evil would look bad if it passed with a split vote. Smith accused Ajmera of using the draft as a tool to win primary votes. Mayor Jennifer Roberts castigated Smith for impugning Ajmera's motives. Then Democrat Julie Eiselt accused Ajmera of the same thing Smith had. Driggs objected yet again, this time in far stronger language. "In my mind, it contains hate speech," he said.
Finally, a proposal by Eiselt won the evening: Have City Manager Marcus Jones prepare a draft resolution making it clear that the mayor and CIty Council of Charlotte condemn white supremacy and violence committed in its name, or something similar; have council members discuss it until everyone is satisfied; then vote on it. Eiselt's motion passed unanimously. Everyone moved on.
Except Smith, who had some more to say on the matter, as noted above. But even then, he wasn't quite done. Noting that he'd wanted to get home early to tuck his children into bed after their first day of school, Smith referenced the council battles over Charlotte's nondiscrimination ordinance, the impetus for House Bill 2, back in early 2016. On the council dais, Smith, a straight, white, male Republican, sits next to LaWana Mayfield, an openly gay, black, female Democrat.
"I look at LaWana—and this is something I will remember as long as I serve—at the height of one of the ordinance hearings," Smith said. "LaWana leans over to me, and she says, 'Do you think I'm part of some radical LGBT conspiracy?' I said, 'No. Do you think I'm a bigot?' She said no. And then LaWana gave me a fist bump"—right then, to illustrate, they bumped fists again—"and we proceeded to disagree … We came back and sat at this dais the very next week and we got back to the people of the city's work."
And that tied the bow on things. Mayfield, next in line to give a report from her District 3, said she'd wrap it up as quickly as possible so Smith could get home to his kids.