What Should #discussCLT Discuss In 2018?
We could use your help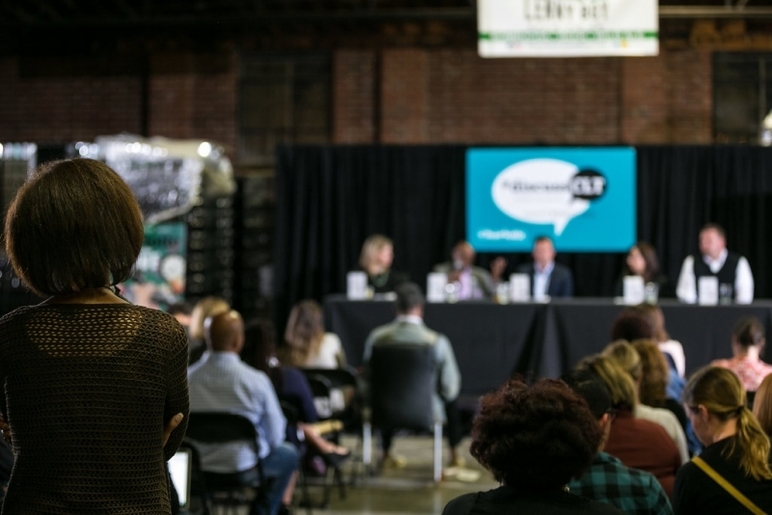 Charlotte magazine started the #discussCLT series a couple of years ago as a spinoff of our annual Charlotteans of the Year, which we'd begun only two years before. The COTY honorees were invariably wonderful, civic-minded people we knew would keep doing their work long after we honored them in December. But we thought they should be part of the ongoing discussions in and about this city, too, and we thought the magazine could help set that up.
We figured #discussCLT would grow. We didn't expect that it'd boom like it did in 2017—with a dedicated content stream that earned tens of thousands of page views, a kick-ass twice-a-month podcast, and five well-attended events on some of Charlotte's most important issues: the local food and restaurant market; the urban-rural divide; the gap between haves and have-nots; media; and the nonprofit sector. Thanks to all who attended—especially those who sweated through that one in August—and to the brilliant folks who sat on the panels.
As the discussions unfolded throughout the year, it became clear that we'd stumbled onto something unique in this city. There's no shortage of formal discussions in this town, as frustrated activists often point out. But #discussCLT events have turned out to be a little different.
Audiences are diverse, in age, race, and social class. They're usually well informed, and they're not afraid to ask hard questions of the panelists or themselves. A lot of people are talking about a lot of things in this town, but no one's talking about them quite like this. I think about activist Patrice Funderburk asking aggressively about why, during a discussion of "The Two Charlottes," only the affluent Charlotte was represented on the panel. I think about Glenn Burkins of Q City Metro, during our media discussion, candidly admitting that niche publications are the wave of the present, never mind the future, and that the days of content that can appeal to everyone across every line are gone.
For me and most of the folks at the magazine, the best part always came after the discussions, when members of the crowd would bum-rush the panel to talk, exchange ideas and contact information, and introduce themselves. That's what #discussCLT is there for, and that's why we'd like to hear from you about what you'd like us to talk about as topics in the coming year. They could be broad, such as crime, or narrow, like what bike-sharing services tell us about the way people get around in this town. (Man, they're popping up everywhere, aren't they?)
You can leave a suggestion in the comments below, or tweet to us at @CharlotteMag, or post a note to our Facebook page, or, if you're really desperate, email me at nestpoke@gmail.com. It's only right that we talk about what you think we ought to be talking about. You, the readers, are who #discussCLT is for.