What the Home Office Boom Looks Like in Charlotte
Overnight, the personal office has become the primary place of business. What does that mean for the people who build them?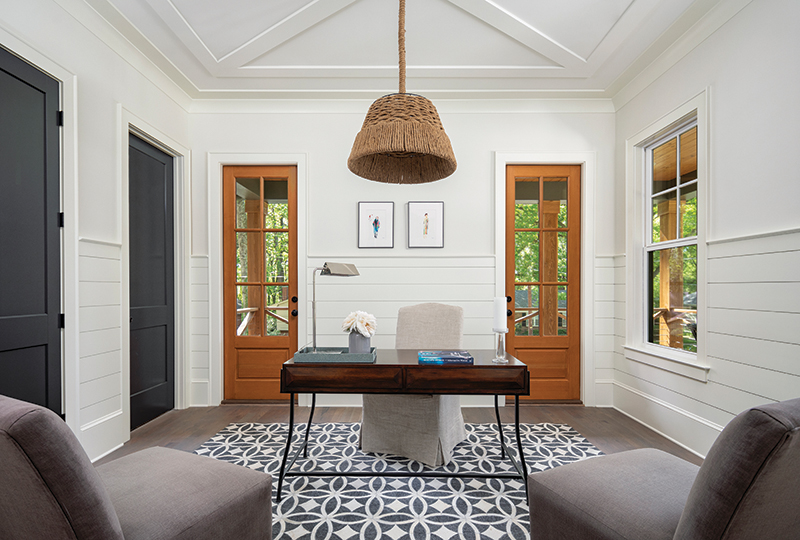 Anthony Moore and Matt Connolly met as students at Northeastern University in Boston and transferred to UNC Wilmington together in the early 2000s. They founded the building company Pike Properties in 2008 and began to flip small starter homes in the midst of a financial crisis that depressed home prices. Over the past 12 years, Pike Properties has grown with the Charlotte housing market, and the homes Moore and Connolly build now sell for an average of $1.3 million. And many of their local clients skip the classic starter home and go straight for the house of their dreams.
This year, with COVID-19 and deserted workplaces, the dream includes home offices with full automation and pre-wired CAT6 cables for smooth internet connections. Oh, and natural light that doesn't sentence buyers to eight hours in a dungeon—and don't forget a connected bathroom.
People have to work somewhere, and traditional offices increasingly seem like relics. In August, San Francisco-based Pinterest paid $90 million to escape its 18-month-old lease on nearly 500,000 square feet the company hadn't fully built out, USA Today reports. Around the same time and nearby, Stanford University researchers announced that COVID had forced 42% of the U.S. labor force to work from home.
The real estate research firm Real Page listed Charlotte as a top-10 city in new apartment construction last year, and the units are full of young professionals with six-figure incomes who approach companies like Pike when they're ready to move into homes of their own. "Most of our buyers are dual-income families, and many if not both of them previously had the option to work from home," Moore says. "But COVID kicked all of that into overdrive. The number-one feature when we're designing our plans now is that we have to make those spaces larger."
The home office's place on the checklist isn't going to budge anytime soon, Moore says. He's already forecasting new trends, like soundproofing: People are tired of barking dogs and bickering children interrupting Zoom calls. Buyers also want space for Peloton bikes and other workout equipment in additional bonus rooms, and open concepts with indoor-outdoor spaces and cascading doors, and also rooms that allow for privacy—there's no shortage of family time these days.
The National Kitchen & Bath Association, in a fall 2020 survey of 700 design pros, registered a spike in demand for bathroom extras like bidets and self-closing lids. For many of Pike Properties' clients, that includes bathrooms attached to home offices. The minimalist trend that dominated HGTV programming for years has evaporated.
"Before this, tiny homes were so big," meaning popular, Moore says. "Now we're seeing homes getting larger because of all the spaces we're talking about. Home sizes are moving in the opposite direction. That's not something I would have anticipated 12 months ago."
Laura VanSickle laughs about what she was considering then. She and her staff discussed whether Closets by Design's home office line was becoming obsolete. The company designs and builds closets, pantries, laundries, and home offices that need organization; VanSickle bought its Charlotte franchise with her husband, Eric, in 2004, when home offices were trendy. By last year, the trend was wearing off. "People no longer had these big towers for their home computers," she says. "They took their laptops to the living room or kitchen table as a temporary surface for working at home." But when COVID hit, "we saw a massive resurgence for those wanting to go back into their (home) offices."
Closets by Design's employees scrutinize every inch of their clients' workplaces. They measure drawer depth and ask questions like, "Do you keep legal letter-sized documents in there?" or "Where do you keep your bourbon?" They assess workspaces in guest bedrooms. (Murphy beds, the fold-out wall beds popular in tiny homes, are growing more popular in all types of houses, VanSickle says.) More than ever, she says, clients request specific, uncommon additions to other rooms, too, like team-themed man caves, climate-controlled wine bars, shelving for Transformer toys, and hobby rooms for music and visual art.
The more time clients have to dwell on these projects, the more they want to make them happen, VanSickle says. In July, the home-improvement company Porch.com reported the results of a national survey of 1,083 homeowners: Three in four had completed at least one major home improvement project since March, and even more had planned one. Home-improvement stores like Home Depot and Lowe's have reported record quarters last year. Those who can afford it seem to have run out of excuses for finally finishing those bonus-room projects, and interior designers and builders are happy to put them in the queue.
"So many of those in the corporate world had already gone down to a cubicle," VanSickle says. "The days of the nice, big office are gone. Now we have an opportunity to create the work environment again."