What We Lost When Price's Chicken Coop Closed
The humble, venerable fried chicken joint told us something essential about ourselves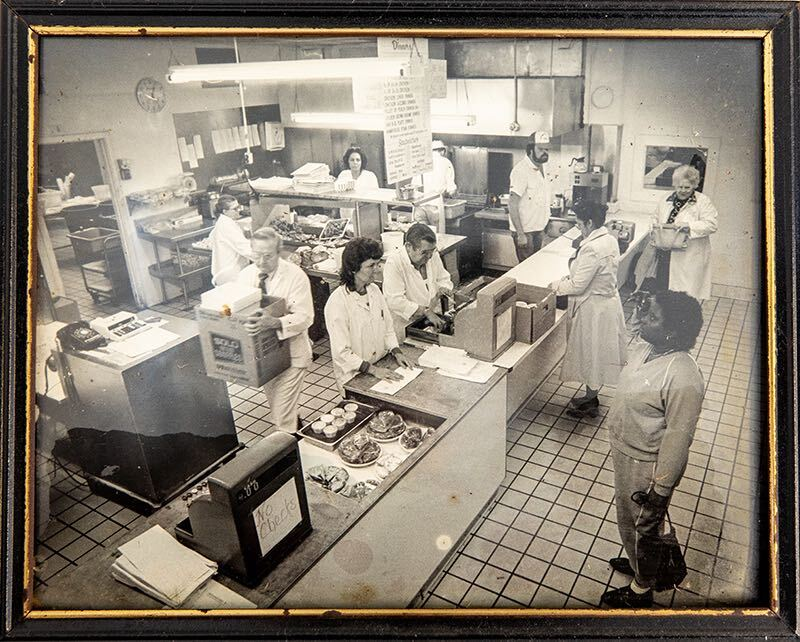 There will always be more fried chicken. There will always be debates over the best fried chicken. But the announcement that Price's Chicken Coop was closing in June after 59 years is about more than dark meat vs. white or whether you'll sneak in an order of gizzards on the side. The loss burns a deep-fryer-sized hole in Charlotte's soul.
No more standing in line with a cross section of humanity—Black, white, business people, nurses in scrubs, street people. No more obsessively reciting your order to yourself so you don't get a black mark for holding up the lines. No more parading into your office with that grease-stained white takeout box with the unmistakable red writing.
No one really knows when, or if, we'll parade back into offices again. The pandemic that shuttered many of us in our houses has made office culture feel as vanished as tales of the Old West: Commute times, vending machines, coffee dregs, all gone.
In the 15 months of the lockdown, so many things have changed completely about our food life. The list of closed restaurants keeps stretching (Mr. K's, Bill Spoon's Barbecue, Carpe Diem, Nova's, just to name a few here in Charlotte). The scarcity of employees keeps a lot of places from being able to fully reopen. Food costs rise into the stratosphere. Even Maine tourists pay up to $30 for a lobster roll.
It's not happening just in Charlotte: The vulnerabilities of the businesses that feed us have been laid bare. We're finally forced to see the inequity of restaurant jobs that reward back-breaking work with hourly pay that doesn't cover living costs or health care; the shock of high food prices; and the weak spots in our truck-reliant supply chains.
The official announcement from Price's this summer encompassed all of those things. It even, bizarrely, blamed a coin shortage. (Come on, Steve Price. I have a whole jar of quarters I would have sent over to get you through.) Knowing Charlotte's business patterns, restaurant watchers will also suspect real estate values are part of it, too. Rumors that Price's would sell its chunk of property in South End have flown like hen feathers for years. Properties that close to light rail and within sight of the skyline are too hot to hold.
The loss of Price's is about all that. But it's about more than that. It's the loss of a touchstone, an indefinable flavor, a place you could point to and say, "That's us."
I used to have an editor who would treat the writing staff at The Charlotte Observer to what he called "Big Box of Chicken Day." He would foot the bill and send someone over to the Coop to pick up a cardboard box lined with aluminum foil and piled with parts: breasts for the virtuous, thighs for those in the know, wings and legs for those who weren't willing to commit to the larger pieces. If you got there too late, you were reduced to grabbing crumbs of golden crust that rattled around the bottom of the box.
Even as we dove into the box and claimed our pieces, we knew it wasn't just about eating fried chicken so moist, the juices would spurt. It was about shared experience, not which piece you picked.
Charlotte used to be a two-chicken town. Over the years, I've indulged in many debates over the superiority of the skillet-fried chicken at the Coffee Cup vs. the deep-fried chicken at Price's. Now both the original Coffee Cup and Price's are gone.
Talmadge Price, who started the restaurant with his brother, Pat, originally sold raw chicken to restaurants and local cooks. The Price brothers started frying the chicken on the side to sell to factory workers back when the area we now call South End had auto body shops and warehouses instead of boutiques and breweries.
The Price's story is a familiar one in Southern cities. Birmingham, Atlanta, Richmond—they all have food places that have never pretended to be more than they are, where brusque service, affordable food, and the defiance of cholesterol are bragging rights. The Varsity in Atlanta, Prince's Hot Chicken in Nashville, and Gus's World-Famous Fried Chicken in Memphis all have histories as long as (or longer than) Price's, which officially opened in 1962. Eating there isn't about the taste of the food so much as the lack of pretension, the chance to show you're a common person at heart.
"The closing of Price's closes a chapter in the working-class history of the South," John T. Edge told me by text Thursday. He leads the Southern Foodways Alliance, which has spent the last 20 years documenting and codifying the meaning of food in the South. "Two generations from now, Charlotteans will still tell the stories of those greasy boxes and those long-tenured cooks and those long queues for great chicken."
Marcie Cohen Ferris, the retired UNC Chapel Hill professor and author of books like Matzo Ball Gumbo and The Edible South, sees the closing of Price's and another institution, Crook's Corner in Chapel Hill, as part of a sea change that the receding pandemic is only beginning to reveal. "They're both North Carolina institutions," she told me by phone. "This moment is impacting a wide range of dining. Beloved institutions have been knocked over."
So, yes, you will still be able to get excellent fried chicken in Charlotte. You will still be able to go to the Shell stations at Eastway and Shamrock or South and East Boulevard for your fried chicken fix. You can still debate the delis at Publix vs. Walmart. But you won't have that box that tells the world you're treating yourself for lunch. You won't have the best fried gizzards in the world to nibble on while you drive back to your office. And you won't be able to point at that red brick building on Camden Road and say, "That's us. That's who we are."
KATHLEEN PURVIS is a longtime Charlotte writer who covers Southern food and culture.