What's Happening: Cottage Chic Tent Sale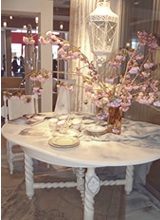 Just when you thought all the good sales ended after Memorial Day Weekend Cottage Chic comes to the rescue with their annual Tent Sale, which is taking place this Saturday, June 5th. If you have even a spare minute between 9 am – 4 pm on Saturday day, you need to be there (I will be at 9 am sharp–coffee in hand) and here's why:
They're taking 50%-75% off original prices in a variety of exciting categories. The biggest selection they're offering at this year's sale is in some discontinued bedding from brands like Serena & Lily, Bella Notte, and Pine Cone Hill. They've got more than ever this year, with enough shams, duvets and quilts in all sizes to stylishly dress a full bed (or a super stylish dorm room).
The sale will also include beauty products from Fresh Cosmetics and Elizabeth W., candles from Vie Luxe, cute stationary, and of course, clothing from Joe's Jeans, James Jeans, Vince, Tibi, Skirtin' Around, and Elizabeth McKay. Not to mention cute clothes to dress your baby, nursery decor, purses, fabric by the yard, and jewelry from various designers. And, as if that wasn't enough, there will also be a bargain table where everything on it is only $5! (That's practically less than your morning latte!)

I'll see you there.