What's Hot: An Interview With Renowned Wedding Planner Colin Cowie
We pick wedding planner extraordinaire Colin Cowie's brain on everything wedding!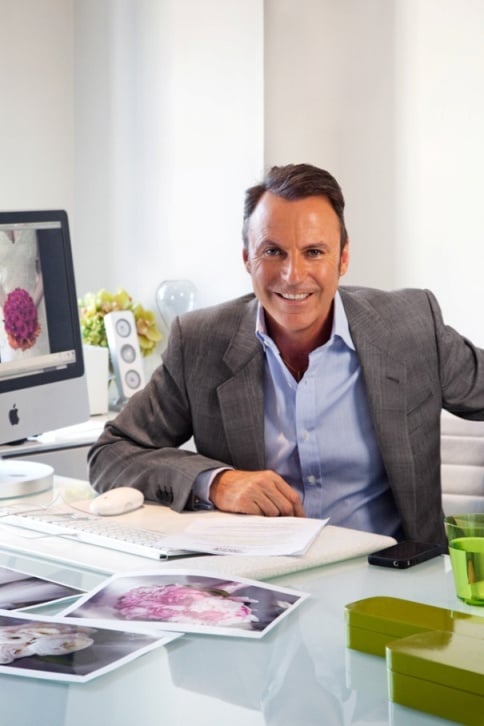 If you're planning a wedding or a big event Colin Cowie's name is likely to have already come across your radar. He is a widely respected and talented wedding and event planner, whose clientele is rather remarkable with names like Oprah, Tom Cruise, Demi Moore, J. Lo, and many, many more A-listers. Quite the renaissance man, Cowie has knowledge about everything ranging from decorating, recipes, design, and, of course, weddings.
One trend he's noticed is the inclusion of pets in weddings (stars like Miranda Lambert have participated in this), so in light of this he's working with Fancy Feast to create the perfect wedding for the lucky couple, Sean and Lisa*. Cowie has selected 3 different options of dresses, bouquets and earrings for viewers to vote on. ("like" Fancy Feast's page on Facebook then click on the Love Story tab to vote–you could win a New York celebration shopping spree prize package, which includes a $10,000 gift card to a major retailer; also check out the youtube videos)
I was lucky enough to pick his brain about our favorite topic: weddings.
What bridal trends have you been noticing recently?
Obviously, the biggest trend is the wedding dress, but this season I'm seeing a return to simple elegance instead of big jewels and extravagance and I think that this is a result of the royal wedding. It's all about timeless elegance where the bride wears the dress instead of the dress wearing her. Also, the trend before was strapless gowns, but Kate [Middleton's] wasn't and it's created a new idea for brides.
What kinds of flowers are you seeing this season?
Peonies are very romantic flowers and you can't go wrong them. Also, the lily of the valley and other white flowers are popping up due to the royal wedding as well.
What color combinations for weddings will be hot this fall?
Monochromatic is coming through as a big trend; royalty has paved the way for tradition (which I know you love in the South!). A few combinations have been common: royal blue and silver, emerald green and gold, burgundy and gold, and chartreuse green—very chic and elegant. There really is a trend towards formality going on.
Where do you draw inspiration from when it comes to planning an event or wedding?
From everywhere. I travel 270 days a year, so wherever I am I find inspiration. I draw inspiration from runways, stores, flea markets, just everything around me. But usually what we see on the runway makes it in into weddings and stores a year after I see it on the runway.
What are your thoughts on brides wearing two gowns for their wedding? One for the ceremony and one for the reception?
I've known some to wear three, but it's all about the bride, it's her day. Some choose a gown with a detailed back for the ceremony because they're showing us their beautiful backs the whole time, then they change into something comfortable for dinner, and then something short and flirty for the reception. But two might be more reasonable than three.
How do you think someone should go about picking the right florist, caterer, planner, etc. for their wedding?
It's very important to get recommendations. You would never pick a random doctor without doing research first so, it's the same kind of concept. Poll around and question a few friends, ask to see portfolios, pictures and things like that. A well-informed bride is a good bride. Also, it's important that when you go to your vendors, you have magazine images to best articulate what you like, and what you don't like (don't get them mixed up!). Just like you would if you were taking your hairdresser a picture of the haircut you want.
Do you have any dos or don'ts when it comes to planning a wedding?
My biggest do is to enjoy the journey, and not lose sight of why you're getting married. It's not about being perfect, you're not on show; it's about making your guests feel comfortable.
What are your tips on making the event or wedding fit the personality of the host?
Nothing should be out of a textbook, it needs to be as personal as possible. It's the couple's first opportunity to make a joint statement of style about who you are, and what you're about. Everything from the colors, wines, foods, and recipes you choose are all 100% about the two of you. For the first time you will be representing yourself as a quintessential host and hostess, so it's very important how you treat your guests.
How are you able to balance the needs of your bride with your own vision?
It's all about bride. Good wedding planners are good listeners. We listen to all the ideas, and it really is better to have more ideas than a few. Then after we've discussed that, some ruthless editing takes place. Also, we consider what ideas work where, some ideas you can put other places besides the actual wedding; like a bridal shower, a bridesmaids luncheon, or even the bachelorette party.
*fictional chararacters