What's It Like to Drink a 166-Ounce Moscow Mule?
Our writer and a friend take on one of Charlotte's most massive drinks (over several hours)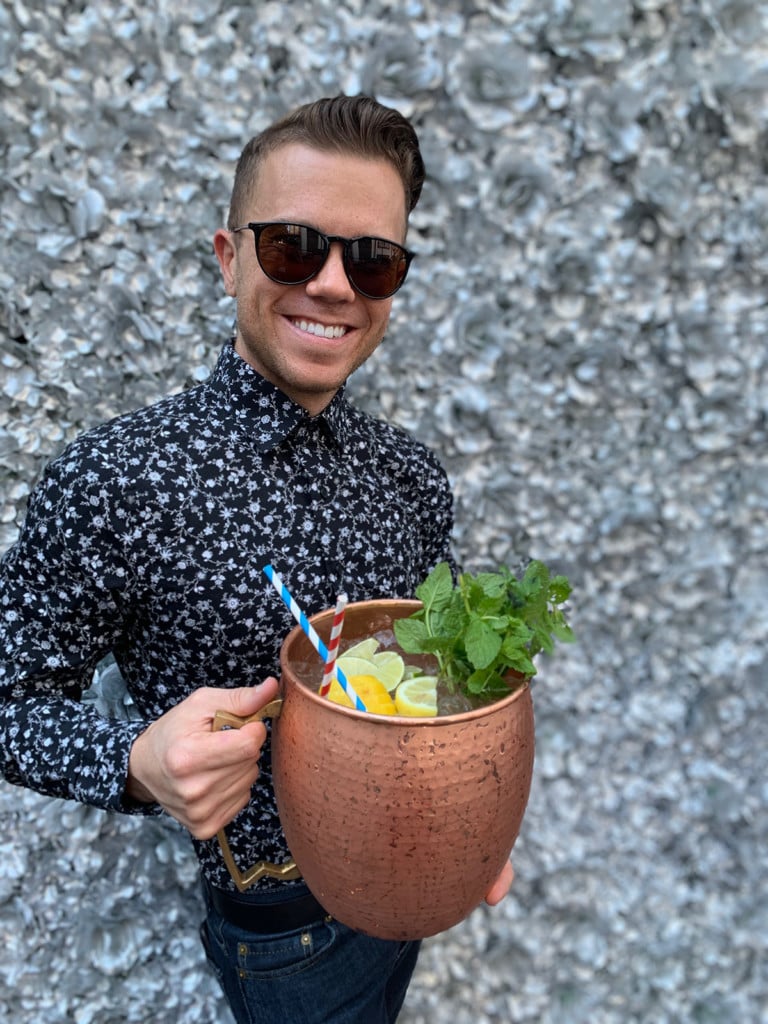 (Editor's note: As a disclaimer, The Imperial has created this drink to serve four or more people. Charlotte magazine does not encourage or recommend tackling it as Jared and a friend did below.)
SOME PEOPLE climb Mount Everest. I am not one of those people.
But I still like a good challenge. This is how I find myself on a Saturday afternoon at The Imperial in Uptown, drinking a 166-ounce Moscow Mule.
This is my Everest.
For context, 166 ounces is 10.38 pounds. It is 1.3 gallons. It is 8.24 percent of my entire body weight.
It is, in other words, terrifying when I tell my mother I'm going to drink this by myself. If I'm going to embark on this liquid journey, she says, you must have a guide. So I enlist my longtime friend Kelsey, a 30-year-old mother of two who has been known to double-fist vodka-sodas and, presumably, has experience holding humans that weigh about 166 ounces.
This is the story of our Everest.
5:01 p.m.
Kelsey and I enter The Imperial. We are the only ones here. I first question if we are foolish.
Kelsey and I look over the "Sharing is Caring" menu, a quintet of options for 1.3 gallons of "Pure Mule Bliss (serves 4)." We order the cucumber mint botanical version because we, after much debate, think the peach and orange blossom version would be too sugary.
Let me repeat: We are drinking a 166-ounce Moscow Mule regardless.
5:05 p.m.
Our bartender makes our Everest. He pulls down the jack-o'-lantern-sized mug ($74.97 on Amazon) from the wall and fills it with ice. He pours Ketel One vodka into the mug for a full 15 seconds and then, wondrously, opens four cans of ginger beer and pours them simultaneously, two in each hand, into the drink at once. He finishes the drink with nearly an entire sliced lemon and what, under any other circumstance, would be a hearty season's bounty of mint.
He, with two hands, pushes it toward us and then, in what will be the first of many instances of incredulity, says, "Just the two of you?"
Yes. Yes, sir. It is just the two of us.
5:08 p.m.
The drink is physically too heavy to carry to our table with just one hand on the handle. I'm forced to cradle this drink in my arm like I would a baby.
5:09 p.m.
We take our first sip. It is delicious. It is delightfully botanical. I feel like I'm drinking a garden.
I muse for a moment: "You know, this isn't really all that much alcohol."
Kelsey blankly stares at me as she sips from our cup that is seven inches across and eight inches high. (I brought a tape measure.) "Yes, Jared, yes it is."
For some reason or folly, 12 to 14 shots of vodka in this drink seem more manageable than drinking 12 to 14 vodka-sodas.
We continue on.
5:14 p.m.
I pass off the drink to Kelsey so we can take photos of us with the drink outside. She, the mother of two children, who, presumably, often holds these children, physically shakes when she attempts to pick up the drink. "I'm scared," she says.
I take the drink from her.
5:22 p.m.
The drink is still very good, but I say to Kelsey that it feels like we have made no progress.
5:27 p.m.
I am exhausted. I feel like the boulder-pushing Sisyphus if Sisyphus bought his drinks from Costco.
5:40 p.m.
My leg is wet. The enormous amount of condensation from the drink has seeped through (not over) the wooden table and is now dripping on my jeans. Will this drink break the table? Will I break The Imperial? Would I be proud or ashamed of that?
5:51 p.m.
We order our first glass of water. It is narrow and laughably small. It is a suggestion of a serving of water. The juxtaposition of our water glasses next to our cauldron of vodka is jarring, ridiculous, and worrying.
6 p.m.
We start doing the math of 166 ounces and realize it is 1.3 gallons. Kelsey grows worried.
"It takes me a week to go through a gallon of milk," she says, eyes popping. "And I have a 2-year-old."
We will finish this drink in one sitting.
6:16 p.m.
The condensation is now so forceful that is seeping through the table onto both of our legs. I ask the bartender for a towel. I place the towel under our drink. The towel is instantly soaked and useless.
6:20 p.m.
We have been here for almost an hour and a half, and we need a change of scenery. We move upstairs to the rooftop portion. I am very nervous about traveling upstairs with this drink, which costs $84.36 with tip.
6:28 p.m
A couple walks by us, sees the drink and gasps.
6:34 p.m.
A different couple walks by with regular-sized Moscow Mule mugs. I instantly feel a sense of both pride and jealousy, a mixture of scorn and yearning.
6:37 p.m.
Kelsey FaceTimes her children. In the bathtub, her son, Luca, informs us the drink is "big." I wonder if I'm a bad influence.
I continue drinking while she sends her children off to bed.
6:48 p.m.
The drink's ice has melted, so I cradle the mug and bring it to the bar for an ice refill. The temperature change with the ice is refreshing, but with the added volume it now looks like we're back to where we started at 5:09 p.m.
Why are we adding instead of subtracting? I begin to question my choices.
6:58 p.m.
We discover one of our old straws in the drink. The drink is so cavernous that it is like a shipwreck, complete with its own flotsam and detritus.
7:02 p.m.
I am physically upset at this drink for being so large.
7:20 p.m.
Kelsey begins to hiccup. "This isn't good," she says, shaking her head.
7:24 p.m.
Kelsey refers to the drink as, "this stupid f—— drink."
7:40 p.m.
Our second batch of ice has completely melted. With the mishmash of herbs and citrus chunks paired with the sheer diameter of the mug, it looks like we are eating pho.
7:51 p.m.
We have been drinking for almost three hours and with precious little to show for it.
I order burritos from Sabor. I pick them up and feel like I'm being released from prison early for good behavior.
7:55 p.m.
On the way back, Kelsey texts me that a man has fallen off his barstool. She continues to drink.
The man says he is OK. I eat my burrito, relishing the short respite from what I'm forcefully sending down my gullet.
8:14 p.m.
I refill the drink with ice for a third time.
It is a terrible choice but is the better of two options. The drink becomes significantly worse the warmer it gets. But we do not want more to drink. Still, we refill it with ice, hating ourselves and our choices.
8:25 p.m.
A family next to us is conspicuously talking about us and our drink.
"Is that one drink?" one of them asks, incredulously.
We tell them yes. We are American heroes.
8:26 p.m.
I do not tell my editors, but I text two friends for reinforcements. I am falling off Everest, and I'm not sure I can finish it. These friends deny my "pity invite." We are alone.
(Editor's note: We would have been fine with it. Jared is crazy for doing this.)
8:40 p.m.
We are hate-drinking at this point, groaning and grimacing with every sip. We don't want to be here. We regret our choices. But quitters we are not.
8:57 p.m.
Kelsey burps. Loudly. Many people look at us.
9:12 p.m.
We are now downstairs again. A group of six across the bar has ordered one of these drinks. One of the men at the table picks up the Mule and puts it to his face.
I cannot fathom how or why anyone would do such a thing.
I feel like a cartoon water balloon that begins to burst at its seams.
9:26 p.m.
I write the following sentence in my notebook: "Stop taking notes. Just finish, please."
9:36 p.m.
With each sip, I have to suppress the urge to vomit. The monotony of the drink is overwhelming.
9:41 p.m.
We take the final sip. We are not drunk. We feel, all at once, bamboozled, cheated, vindicated, angry, and victorious. After 4 hours and 40 minutes inside The Imperial, we leave, our stomachs transformed into swashbuckling vestibules of ginger beer and vodka.
We go to Fuel Pizza, where there is a line.
We leave. Who has time for that? We've already climbed our Everest.
Jared Misner is a writer for this magazine. His work has also appeared in The Chronicle of Higher Education, The Knot, and Logo.