What's the Future for Newspapers?
Like the Observer, the N&O adjusts to digital demands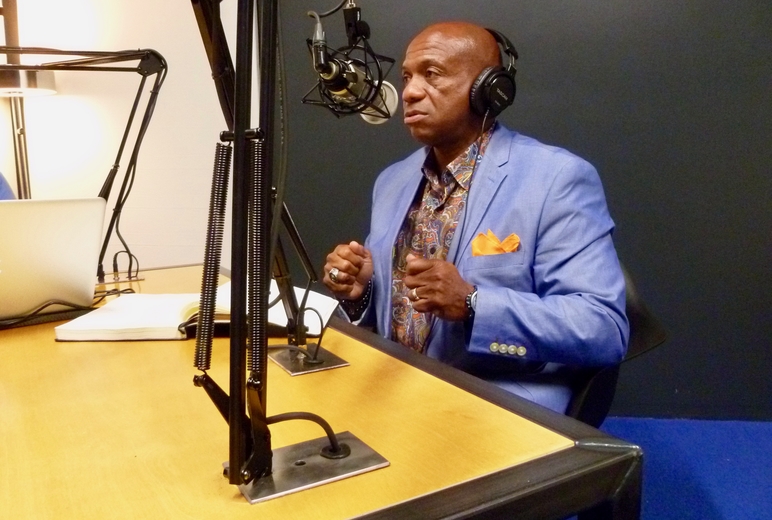 Retired Charlotte-Mecklenburg Police homicide detective Garry McFadden was kind enough to join us for the latest #discussCLT podcast recording Tuesday night. We wanted to talk to him about Charlotte's unusually high 2017 homicide rate—the city just hit 55, putting us on track for 90-plus for the year—but he ended up talking more about relationships, and people, and how any effort to solve the problem without genuine relationships between cops and citizens is an empty box.
The episode will be out Friday. Watch this space.
Our panel discussion on Charlotte media approaches quickly. It's next Thursday at Lenny Boy Brewing Co., and it's free, but you have to register. We've augmented our panel of four with Helen Schwab, a longtime editor at the Observer. It would have been strange to have a panel discussion of Charlotte media without someone from the O, and the paper's metamorphosis from newspaper to multimedia platform is a central aspect of the changes we'll be discussing.
As it happens, the Observer's McClatchy sibling in Raleigh is adjusting its approach to covering news, as detailed by Executive Editor John Drescher—another former Observer editor—in the video below. The video explaining the changes is a tidy illustration of the changes.
"Starting this week, we'll be working harder to answer your questions and present the news in a way that is more relevant, with more video and more focus on topics that we know you care about," Drescher says in the accompanying column. "When most of our readership was of the print paper, we never knew with precision how much each story was read. Now we know how much digital readership each story has, and we've used that as a guide for which stories we will cover."
Charlotteans have heard this message before—from former Observer Executive Editor Rick Thames in May, just before his retirement. The basic argument is the same: Digital traffic helps us better understand what you want and guides what we choose to cover—but don't think we'll be seeding our website with clickbait. "The ink-stained traditionalists worry that we'll publish nothing but click-bait stories about cats," Drescher writes. "They (the traditionalists, not the cats) underestimate the intelligence of the readers in this region."
Fair enough. Both papers (I'm still calling them "papers" in lieu of a more accurate term) continue to cover the traditional beats of a city newspaper—crime, government, business—and the N&O, with help from the Observer, does fine work during sessions of our illustrious General Assembly. The McClatchy team still publishes good deep-digging investigative packages, such as the Observer's June series on corruption in North Carolina's prison system and the N&O's series, running this week as a kind of sequel, on deaths in the state's county jails.
That's all welcome. Yet traditional print publications are beginning to wake up to the hazards of chasing the mechanical rabbit of digital revenue. "Data have turned journalism into a commodity, something to be marketed, tested, calibrated," writes former New Republic editor Franklin Foer in the September issue of The Atlantic—and the effects at TNR, that venerable publication, led to its implosion.
I'm not suggesting that's going to happen to either McClatchy paper tomorrow, or the next day, and of course local newspapers and national magazines are apples and BMWs. But I hope, for the sake of the publications and their readers, that they keep doing the hard work that matters and minimize the easy, clickable work that doesn't.
Another media-related piece was just published in The Atlantic—I'm not on their payroll, I swear; I wish I was—that touches on what for me is the defining American issue of our time. It comes from Kurt Andersen's cover story, titled "How America Lost Its Mind":
For most of the 20th century, national news media had felt obliged to pursue and present some rough approximation of the truth rather than to promote a truth, let alone fictions. With the elimination of the Fairness Doctrine, a new American laissez-faire had been officially declared. If lots more incorrect and preposterous assertions circulated in our mass media, that was a price of freedom. If splenetic commentators could now, as never before, keep believers perpetually riled up and feeling the excitement of being in a mob, so be it.
It's just one part of Andersen's examination of the assorted paths that pitched the world's most powerful and developed country toward a state of madness: a twisted conception of American exceptionalism; the development of a garish, profit-driven entertainment-media complex; Americans' inherent religiosity and superhero complex; the postmodernist relativism of the '60s embraced, starting in the 1990s, by the far right wing even more than the far left.
I don't necessarily buy all of Andersen's conclusions. I think he elides three critical events that, together, pushed a good portion of the country past the point of psychotic break—9/11, the 2008 financial crisis, and the election of a black man as President. It's a long essay. But it's worth a read, and some close examination, and some discussion. The problem affects, and threatens, all of us.