What's Up With The Blake Hotel?
The DNC is Charlotte's time to shine, but one delegate hotel is rubbing visitors the wrong way. Here's what went down when I spent some time at the Blake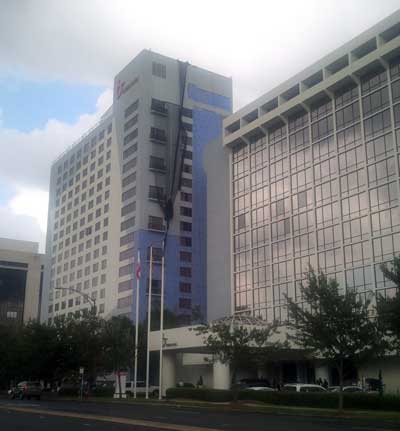 Driving home from work last Friday night, I was stopped at a red light. Off to my right, firefighters were high in the air on the ladder of their firetruck, tending to the side of the Blake Hotel on McDowell Street. The side of the building was falling off.
Yeah, probably not great that chunks are falling off of the side of the building scheduled to host California delegates just before the DNC, I think. I hope they get it together.
Then, some rooms were deemed unsafe.
Apparently it's become a constant punchline for the delegates during speeches.
Now, I've never been to the Blake. I live in Charlotte, but I've just never had any reason to go there. But if you've been following DNC news, you've likely come across some drama going down at this place, just a few blocks removed from all the bustle of the convention.
Earlier in the week, a delegate who was acting a fool was asked to leave.
Turns out, a friend of mine is working with the California delegation. She has spent a lot of time at the Blake and said the delegates have had problems left and right. I find this crazy. This is the biggest, well, most high-profile event to hit my hometown ever. It's showtime. Lines should be learned, makeup on, hair done. What's going on?
Yesterday, I decided to swing by and pay her a quick visit to see what was up:
It's just after 4:00 p.m. as she greets me in the lobby, which is really swanky and modern. Black-and-white tones dominate, and pops of orange and funky light fixtures add interest. So far, I'm pretty impressed.
Within a minute, a dapper-looking man buzzes past us on a mission for the door. "Thank you so much for all your help," he tells my friend. "He's a VIP," she whispers. "He had debris from the side of the building on his balcony and his view was that netting stuff–he's leaving."
One minute down. Good start.
Here's what went down in the next twenty-nine:
I walk in to the vast restaurant/bar. It seems clean, up-to-date. I pull up a plastic orange-tinted stool to the bar and just about fell on the ground—the legs were uneven. I slide another one over, same issue. Maybe it's the floor. I decide to sit with one foot touching the ground.
A few guests (like seven) munch on food—it looks pretty good and fresh. Staff members hustle by. One is sweeping what looks to me like a pristine floor. Others run food. Another one sweeps the floor a little more. They're all about sweeping here. Nothing wrong with keeping a clean restaurant.
I'm greeted by a young female bartender. "Hi, what can I get you?" she asks. She's friendly but flustered.
I try to order a Yuengling.
"It's not ready yet, I mean, you can try, but we're not ready," the bartender says.
Yeah, I don't know what that means. Yuengling was just the first beer I saw on tap. You know, at the bar.
I must have just looked confused and obviously didn't speak, because in a flash, she was rushing to some other task.
"Do you know if they have a gift shop here?" a man asks me. "Hmm, I'm not sure," I say, "I just know that the beer isn't ready at this bar."
He's a "VIP" from California. It says so on the credential around his neck. He's dressed in a nice suit, looks important. He shakes his head and starts telling me that he's been staying at the Blake for the DNC, and that when he originally checked into his suite, the hum-and-buzz of the air conditioning unit was out-of-control loud. He asked to be moved. They moved him four floors down. "So was that room any better?" I ask. He says it wasn't relaxing by any means, but it was a little bit better.
And it turns out, other visitors have experienced similar issues, from flooding to missing shower heads.
He stands at the bar next to me, waiting on food he had ordered. "They don't have room service here," he says with a bit of an eye roll.
A second baby-faced bartender makes his way back over to me a few minutes later and asks if he can help. "I'm just waiting on the other girl to find out if you have Yuengling? Looks like it's on draught there," I say, pointing to the seven or eight taps that apparently don't work yet.
He turns to walk over to her to ask what the status is—he's only been working here two weeks. The first girl walks back over to me to help. She grabs a pint glass and holds it up to the Yuengling tap. Beer flows. "Do you want to be the first to try? I mean, you can," she says. "It isn't really ready."
I rephrase: "OK, so what drinks do you have right now—like in a bottle?"
"Bud Lite. We have Stella …" she starts. "OK, yeah. Stella works," I say, cutting her off.
"Yeah, sorry," she says, clearly frustrated. She starts telling me about how she was forty-five minutes late to work this morning because of the DNC road blocks. She lives five minutes away and it took her more than an hour to get in. "They were supposed to give us passes, but …" she says. She explains that they were supposed to get passes to avoid the road blocks, but that never happened.
Babyface comes back over to bring me the beer. Same issue. "They bomb-checked me this morning," he says. He rode his motorcycle in and the police officers would not let him through for nearly an hour.
Meanwhile, "VIP" has left with two sandwiches on plates. They were supposed to be to-go, but he was fine taking them on the plates back up to his room. The waitress had been hesitant but handed over the meals.
A few minutes later, a waitress comes out with two sandwiches. The bartenders are confused because a man just left with two sandwiches—they think he took the wrong ones.
It's been about twenty-five minutes. I need to get moving, so I thank them and head to the lobby. It's pouring rain. I have a long walk. I ask the concierge if I can borrow an umbrella just for the afternoon. I explain that I live here, was meeting a friend, and I can bring it back later. "No," an employee snaps. "You can buy an umbrella. Thirty-five dollars."
Guess I'll be getting drenched. I could stay at the Blake and wait it out, but I think I'll brave the rain.