When A Sporting Event Is In Our Ten Best Bets …
... You know I lost a fight with my editor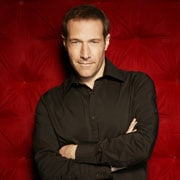 I owe readers and Jim Brickman an apology. But, I'll get to that in a sec.
First, I hate sports. I don't understand them. In a sports-obsessed world, there was a time I tried to feign an interest. I'm beyond that.
Over the years, acquaintances who know I went to Wake Forest have said to me, "How 'bout those Deacs?" I've wanted to ask if they were referring to football or basketball.
A nine-year-old friend of my nephew's recently told me he had a doubleheader. I congratulated him. Someone who overheard whispered, "Um, that just means he played two games in one day."
I was surprised to learn that my part-time job as arts and culture writer at Charlotte magazine entails keeping up with the professional and collegiate sports calendar. No one could be less qualified. But, I've managed.
Back in October, when I submitted my suggestions for the December best bets, my editor told me he agreed with nine out of ten. He asked (which was nice; he could've just outright demanded) if we could omit one of the pianists. (I had included concerts by both Brickman and David Benoit.) And, then he went on to say that he wanted to replace one of the pianists with (gulp!) a college basketball game.
My editor allowed me to choose which pianist would vanish from our best bets list. "That's a Sophie's Choice," I told him. He volunteered to write the blurb about the UNCC-Davidson men's basketball game. "That's good," I told him. "I wouldn't have the first idea what to say about it."
Sports are part of the cultural life of a city. Even I know you can't think of New York without thinking of the Yankees. And, who knows anything about Green Bay, Wisconsin, other than that they have a football team that Brett Favre used to play for? Teams come to embody the very spirit of the cities they represent. Getting an NBA team way back when helped give Charlotte some street cred. And, I hear this Cam Newton fella is one to watch.
But, I don't suspect people say to themselves, "Hmmmm, my entertainment dollars are limited. Wonder if I should go to a Bobcats game or to a play at Queen City Theatre? I just can't decide."
I think the two are separate, but that may be because of my total lack of interest in anything athletic. I discard the sports section from my newspaper each day, and I look at the arts section first each Sunday. When I treat myself to the Sunday New York Times, it's the arts and entertainment section I want.
But, what do I know? My editor emailed me last week to say, "Last night, I went to a Davidson basketball game. About midway through the first half, several people came in dressed in black tie. They had come from a classical music event." So, there you go. I suppose he was right about including a basketball game in the cultural best bets for December.
Sports teams get lots of attention and — even during a losing season — may still be able to fill the stands. Many arts groups struggle to find an audience, even when they're having the equivalent of "a winning season."
But, putting together a magazine is a collaborative effort. And, the editor is boss. (And in this case, the editor's been at this a long time. He knows what readers want and expect.) However, I want to go on record as saying that Jim Brickman practically owns Christmas. If it were up to just me, his show on Dec 18 would be a best bet.