Where, and What, Is Charlotte's Culture?
It may well lie with people like David Butler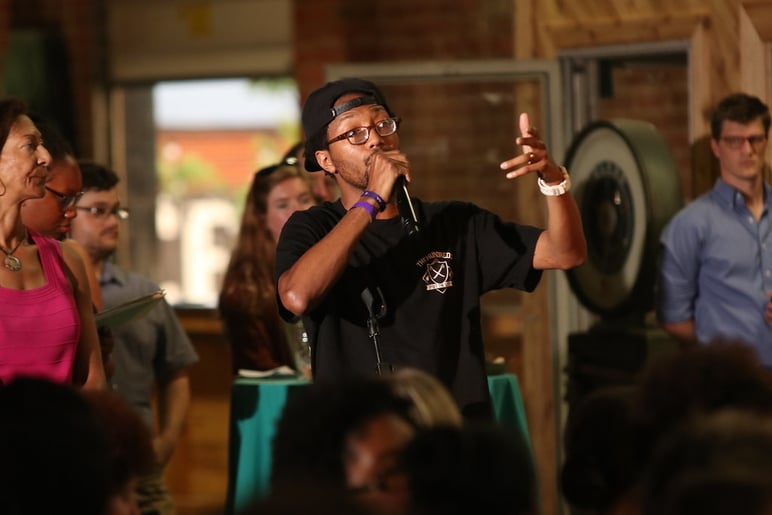 David Butler, a Charlotte e-commerce manager, photographer, and nonprofit leader, tweeted something in May that made plenty of people around town—and the City of Charlotte—take notice. "#Charlotte is like the nerd girl in a cliché high school movie," Butler said, "that could be bad if she took the glasses off and let her hair down."
It was an "assessment of the culture," as #discussCLT podcast co-host Andy Smith labeled it during the latest episode, and the response to it suggests that Butler, a 26-year-old Charlotte native, nailed something essential about the city's cultural character. "There are a lot of people who share the same sentiment. I think everybody loves Charlotte for the potential of Charlotte," he said during the episode. That means, of course, that the potential remains unrealized.
"We're terrible ambassadors for ourselves," Smith said.
"I think Charlotte has trouble telling its own story," Butler responded, "because we've erased so much of it."
That's one of the most common complaints about Charlotte, although it's an oversimplification and not entirely true: that it's a town so busy embracing the new that it's ignored the value of the old—the kind of established culture that can lend a city its own unique character. Leaders in the city have taken steps to correct that—the Levine Center For the Arts is one example—but cultural advances in this town, especially in the last few years, have often occurred amid the noise of front-end loaders and underneath the shadows of construction cranes.
If Charlotte has a more nuanced, more culturally aware future, Butler is likely to be a big part of it. He says he lives and works "at the intersection of creativity, problem solving, and good business," three areas that don't automatically connect. But through his involvement with the arts and education nonprofit A.Bevy Inc.; the fashion company The Whitaker Grp; and a range of community activities in Charlotte, Butler's trying to dissolve the hard lines that have sometimes separated arts and culture from business and both of them from community activism. They're all connected. Why not carve out a space in all of them?
It's "a matter of intentionality," he said. It's something he's familiar with. David W. Butler High School in Matthews is named after Butler's father, a career teacher and coach who 20 years ago died after he rescued his wife and young David from a house fire. Butler's mother is a career educator as well—but the younger David Butler chose another path, graduating from Winston-Salem State in 2013 with a degree in business administration and management.
Artists who depend on their art to make a living, he said, can benefit from an understanding of how business works. But a city that depends entirely on business growth for its identity misses out on community character, history, and quality of life, things that don't necessarily produce Return On Investment you can spreadsheet and produce at a quarterly shareholders' meeting. "ROI doesn't always have to be sold as a feeling," he said. "You can quantify it, and value doesn't always have to be monetary." And business, you might add, doesn't have to concern itself solely with making money. It can help build a culture in which the business, and employees and consumers, can flourish.