Where, and What, Is Charlotte's Music Scene?
In a city of closing music clubs, where does that leave the music?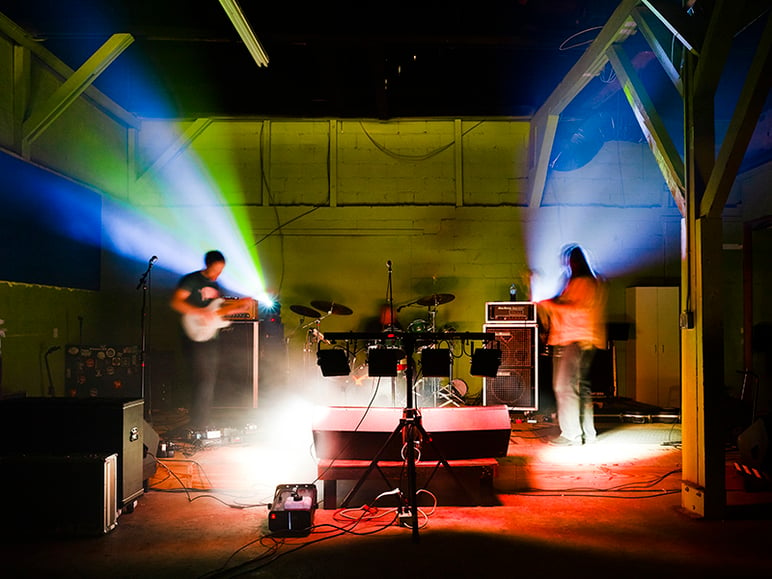 Our first #discussCLT event is coming up next week. Hope you've reserved your ticket. We'll be discussing Charlotte's food scene, as previously mentioned. When people talk about cities' cultural offerings, they discuss the arts, sure, but food and music come into play, too. (You can quibble with me and say music falls under the arts umbrella; I won't argue, but for now, let's keep them separate.) You can find plenty of parallels: Cities have certain local "sounds" just as they have local cuisines, and the trick is to sustain them without selling out or watering down—if the cities have them at all.
I've lived in cities at both extremes. I hail from New Orleans, a city that requires no explanation of food and music scenes, which commingle freely. You eat while hearing live music; you hear live music before, during, and after you eat, and while walking to a place where you plan to eat; you attend a music festival where you buy food from vendors and eat it; you get brunch at a place with a live jazz quartet. You drink through all of it.
Then you encounter a place that, horrors, does not seem to appreciate a mélange of music, food, and drink as vital sustainers of the good life. At 22, I moved from New Orleans to a small city in Mississippi. A buddy of mine visited me a few months in.
He asked, "What's the local music scene like?"
"Both bands suck," I said. I wasn't exaggerating. One of them, Easy Eddie and the Party Rockers—one does not forget such traumas—had as its lead singer the mayor of a neighboring town; they were miles past atrocious. The other looked and sounded like .38 Special if that act had spent the previous decade under a bridge. They played Sunday nights at the bar across the street from my apartment, so I endured more than once their dismal efforts to rock. They played a hideous, off-key version of Bob Seger's "Main Street" twice per gig, in case someone wandered in late and missed it the first time, I guess. It was their crowd-pleaser. I was at least able to drink heavily. I spent a lot of time with my CDs that year.
Charlotte, thank goodness, is not quite so bereft. But where is it? There's talent out there, for sure. There are still places where bands can play, although in the last year, beloved independent music clubs like the Chop Shop in NoDa, Tremont Music Hall in South End, and the Double Door Inn in Elizabeth have shut their doors, squeezed by economic and development pressures. Another longtime local music club, Amos' Southend, closed because owner John Ellison wanted to expand The Gin Mill, the bar he owns next door.
But to hear Jason Michel tell it on our most recent #discussCLT podcast, Charlotte's music scene is on the rise. "The scene itself is spectacular," Michel, the co-owner of Snug Harbor in Plaza Midwood, told co-hosts Andy Smith and Andy Goh. "It's more vibrant than it's ever been."
True, but that's not necessarily saying much. The standard isn't so much Charlotte now versus 10 years ago as Charlotte versus its rival cities, Atlanta, Nashville, Raleigh, Durham. The clubs that remain in Charlotte can't book every night of the week because people won't come out on a Tuesday or Sunday night. The city lacks a regular music festival. Two of the biggest music venues, PNC Music Pavilion and The Fillmore (and accompanying amphitheater) at the AvidXchange Music Factory, are run by Live Nation and rarely book local acts. The company has opened another club, The Underground, at the Music Factory, for mid-level shows. But gaps remain between talent and venue, and venue and profit.
"It's important to have places that are dedicated to a good sound, so that the bands sound great and they're able to pay the bands well because of good turnout," Michel said. "There's nothing better than when we have a sold-out show with a decent ticket price, and the band just like—their eyes just explode when they see the wad of cash we give 'em. … Everybody's walking out having had a great night, and the people in the bar are all abuzz and excited … I'm just saying, when it works, it's beautiful."
So what can make it work consistently? There's no formula. It takes time and the proper mix of musicians, promoters, and fans who care enough to make support of live music a priority. Charlotte's arts scene has grown tremendously, in large part because of public support to get museums built in the center city. Might it be time to devote a similar level of money and energy to local music, or can a local underground carve out new spaces where people can play and others can hear?