Where Are They Now?: Jim Bakker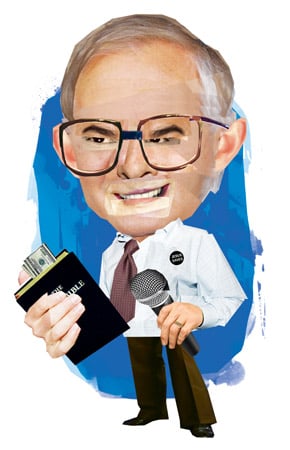 THIS MAY BEWILDER or bother plenty of people, but here goes anyway:
Jim Bakker hosts a religious TV show with his perky wife.
At age seventy-one, he preaches God's love while peddling Jesus pendants and the like from a new Christian retreat in Blue Eye, Missouri, which looks a lot like his old Christian retreat in Fort Mill. More than twenty years after he rose to fame and fell to shame at PTL ("Praise the Lord"), he's doing pretty much the same thing, but without nearly the same following and without overselling lifetime memberships. We'll get to that last one in due course.
It's hard for anyone who moved to Charlotte after, say, 1987 to fathom how big Bakker was way back when. With his loveable wife, Tammy Faye, giggling and crying at his side, he commanded a religious TV empire that mesmerized millions. Clearly a lot of Christians bought what he sold — that God loves us, and that He also wants us to be prosperous. In 1986, in the heart of the glory days, 6 million visitors flocked to his Disneyland-like retreat near Carowinds to watch the TV show live, browse the Christian shops along Main Street, and gawk at the Christmas lights strung across the vast complex.
It all came crashing down in a cloud of sex and money, the Wikipedia-style version of which is this: he had a fifteen-minute affair with church secretary Jessica Hahn, paid her hush money, then spent nearly five years in federal prison for overselling lifetime memberships to his Heritage Grand Hotel, which has never been finished. He got out of prison in 1994, his ministry in ruins and his wife gone, Tammy Faye having divorced him after thirty years. She married family friend Roe Messner.
So where are they all now?
Bakker and his second wife, Lori, cohost The Jim Bakker Show from the Morningside residential/retail complex twenty miles south of Branson, Missouri. A developer who credits Bakker with saving his marriage years ago bankrolled the development. The show's not available on Charlotte TV nor in most other markets — though, like nearly everything else these days, you can catch it on the Internet.
Bakker didn't return two calls. He pretty much soured on the serious media after The Charlotte Observer won a Pulitzer for bringing him down. He did, however, show up from time to time on Larry King Live to answer softball tosses about the good old days, even appearing with his first and second wives.
Tammy Faye died of cancer in 2007. She was sixty-five. While her ex went right back to what he figured he knew, she reinvented herself to the point that she became a pop culture icon. There was the short-lived syndicated TV talk show, The Jim J. and Tammy Faye Show; a critically acclaimed documentary, The Eyes of Tammy Faye; and those T-shirts declaring "I ran into Tammy Faye at the shopping mall." She became popular with many in the gay community—maybe it was the heavy mascara, the cancer-can't-defeat-me feistiness, or the way she kept coming back from scandal, ridicule, prescription drug addiction, and whatever else life threw at her. By the time she appeared on, yes, Larry King Live days before her death, looking like a ghost, her place in modern American consciousness seemed cemented.
Jessica Hahn appeared in Playboy before slipping into obscurity.
The Bakkers' daughter, Tammy Sue, did some Christian singing after PTL. Their son, Jamie Charles, goes by Jay. He founded Revolution, a ministry aimed at those who feel scorned by mainstream Christianity. Awash in Jesus tattoos and body piercings, he preaches Sundays at Revolution New York City, which meets in a performing arts space called Pete's Candy Store in the Williamsburg section of Brooklyn.
MorningStar Ministries, little known in mainstream Christian circles, purchased some of the PTL complex and uses it today for conferences and a school. It's trying to market the still-unfinished Heritage Grand Hotel to retirees. The water park's gone. So is the swimming pool in the lobby of the hotel. You can close your eyes and try to recall what it once was in the glory days. But it's hard to imagine.