Where The Art Is
A gallery owner's bold Chantilly bungalow goes with the flow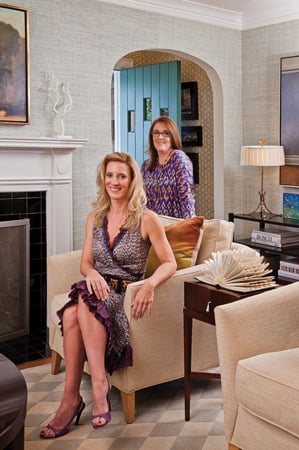 Rebecca Brooks makes decisions about interior design the same way she selects art. "In my business, I usually tell people to go with your gut, your first instinct," she says. "I really think your first response, typically, is what you really love." In Brooks's case, her gut said that she needed more color in her life.
The co-owner of Hidell Brooks Gallery started out with the intention of tweaking her 1940s Chantilly bungalow—a pillow here, a splash of paint there. But a "tweak" quickly turned into a complete overhaul. "Once you change one thing, especially in old houses, it makes the other stuff look so bad," she laughs, describing her design domino effect.
Smart yet daring design choices have Brooks's home feeling much larger than its 1,000 square feet. All new lighting by Worlds Away and Currey and Company was thoughtfully selected to connect throughout the house, while fabrics from Osborne and Little and various pillows from Lucy and Company provide bursts of color.
It all began with her favorite work of art, an abstract painting by California artist Chris Hayman that hangs in her living room. Instead of the existing "builder's beige," Brooks wanted a livelier look for her home that wouldn't take attention away from her art collection. Loving the play of pattern on pattern, Brooks hired interior designer Beth Keim of Lucy and Company to help her create a clean space that would display her collection without feeling cluttered. "I was more than excited to be working with another small business owner, and more importantly, a woman with such great taste," Keim says. "She has such an eye for art, which is showcased so beautifully in her home." With a focus on the art, Keim was careful to choose wallpaper that brought out the paintings' colors.
A grasscloth wallcovering from Phillip Jeffries makes the paintings pop, while new pillows and accessories breathe renewed life into the living room. Inspired by the Hayman painting, Keim chose peach, turquoise, and shades of green for her punch colors, which "bleed" into the other rooms. In a home where you can see from room to room, flow is integral for Brooks. She points to a stack of art books displayed on the dining room shelving unit, "I like how those books are stacked; I see pattern and cohesiveness in that," she explains. "There's a cohesiveness that I really crave in life—that one thing flows to something else, that it's not disjointed."
Keim decluttered the dining room, replacing high-backed chairs with benches to open up the intimate space. "I love the fact that they give it a more casual feel," Brooks says of the benches, which Keim designed herself. Two of the original chairs have been repainted and moved to the corners flanking the windows, while Selena Beaudry cutouts hang in pairs on opposite walls. "To me, the artwork on this pattern … you'd think it would be too much, but I love it. I think it works beautifully."
The biggest transformation took place in what has become Brooks's favorite space—her bedroom. "I always thought cozy had to be dark," she says. But an all-white peaceful retreat has Brooks seeing the light. Keim kept the dressers but painted them white and added new hardware. The chair, bed, and hanging nightstands are also new, while a soft wallpaper print adds a vintage-modern feel. "The size of my home makes me very selective on what enters it … that and my dog," Brooks laughs. She never imagined as a dog owner that she'd have a cream shag rug, but as a fellow dog owner who happens to own the very same rug, Keim convinced her to take the plunge.
A vibrant, tactile hallway anchors what Brooks jokingly calls her favorite "wing" of the house, with doors to the bedroom, bathroom, den, and kitchen. "I had fun with the kitchen ceiling as well as the den with bold patterns and colors," Keim says.
The den received a makeover that took it from matchy-matchy to funky-chic, featuring Brooks's favorite color, purple, on repainted shelves. Two chairs and an ottoman offer cozy seating, and Keim covered the TV table—a flea market find—with snakeskin-like wallpaper. In the kitchen, a wallpapered ceiling makes the small space feel bigger, while a rug blankets the floor. Once again, Brooks was hesitant to add a rug due to heavy paw traffic, but the durable indoor/outdoor material makes for easy cleaning.
The art lover's haven is now just as pleasing to even the most diehard design junkies. At once chic and accessible, it achieves Keim's goal of reflecting Brooks's warm personality—while also showing off her art. "I feel like this is me," says Brooks.