Where to Eat Easter Brunch in Charlotte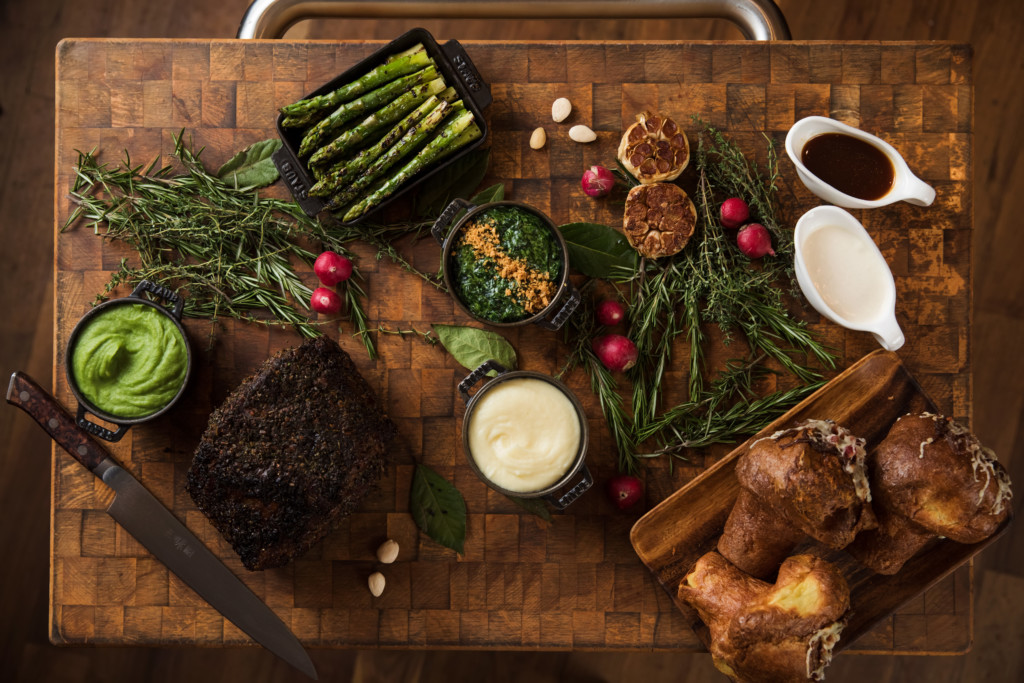 Easter Sunday may fall on April Fool's Day this year, but there are no jokes about Charlotte's brunch scene on this holy holiday. See below for the restaurants around town hosting an Easter brunch on Sunday, April 1.
For $42 per person, this Mediterranean bistro that ranked as one of Myers Park's best restaurants is holding a three-course Easter brunch from 11 a.m. to 2:30 p.m. The team suggests making your reservation soon because tables go quickly—snag your seat at either aixenprovenceclt.com or OpenTable. See the Easter brunch menu here.
From the same team at Aix en Provence comes Le Cochon d'Or in Waxhaw. The Easter brunch at this new French bistro includes three courses for $38 per person (plus tax and tip). Brunch will be served from 11 a.m. to 2 p.m. Call 704-256-5382 with any questions, and reserve a table here.
Inside Marriott City Center at Stoke, Chef Chris Coleman and his team are offering a family-style brunch menu for Easter as well as a la carte Easter specials. The regular brunch menu will also be available. For the Easter brunch, served from 7 a.m. to 3 p.m., expect Coleman's takes on familiar holiday and Southern favorites such as Spiral Ham with a Bourbon-Apple Pan Gravy and Shrimp and Geechie Boy Grits. The family-style feast is $28 per adult and $14 for children under 10. Reservations can be made here.
Opening at 9 a.m. for Easter Sunday, this Uptown favorite will be offering the regular brunch menu as well as a few of the new items that recently rolled out. There will also be a family-style brunch option from groups of four or more. Make reservations on the 5Church website.
From 10:30 a.m. to 3:30 p.m, enjoy an Easter brunch buffet featuring pork loin, prime rib, ham, short rib ravioli, shrimp tacos, kale and apple salad, charcuterie, and more at Essex. It's $35 per person and $15 for kids ages 10 and under. Call 980-406-3857 or head here for reservations.
Known for its brunch specials, Bistro la Bon will be offering a special Sunday smorgasbord for the holiday with their new chef. At $35 per person, you can eat anything from potato gratin to lamb chops to kielbasa and cabbage. Many familiar foods such as chocolate waffles, eggs benny, and French toast also complete the Easter menu. Bistro la Bon typically serves brunch from 10 a.m. to 2:30 p.m. on Sundays, along with $3 mimosas and $5 Bloody Marys. Call 704-333-4646 for more information.
At this Uptown spot that opened in 2016, a chef-inspired brunch menu will be served from 11 a.m. to 4 p.m. Reservations can be made online here, or you can call 704-333-3747.
Another option with attractive Sunday drink specials, BLT Steak pours up half-priced bottles of wine and $5 mimosas and Bloody Marys for brunch. Accompanying those, the Easter all-inclusive brunch features a roast of meat selected by Chef de Cuisine Matt Slezak ($49), a special Easter popover with Gruyere, caramelized onions, and bacon, and other brunch favorites such as the Country Style Blueberry Buttermilk Pancakes and Tenderloin Wedge Salad. Easter brunch is served from 11 a.m. to 3 p.m. Reservations can be made online here.
For a laid-back holiday, Rusty Bucket in SouthPark will be open for brunch and lunch on Easter Sunday from 11 a.m. to 4 p.m. Guests can stick to their favorites from the Bucket's weekend brunch menu, or they can pick from the lunch menu, which will also be available. Think chicken and waffles, braised short rib hash, or a citrus-roasted salmon. Book a spot online here.
A four-course Italian feast awaits at Aqua e Vino from 11 a.m. to 3 p.m. For $50 per person, the first course is a family-style spread, followed by risotto, followed by an entree such as lasagna or capretto (classic oven-roasted suckling goat), and then assorted mini Italian pastries. Seating is limited, so call 704-364-4445 for a reservation. Mangia!
​​
Highlights of the Easter menu at WP Kitchen + Bar include Smoked Salmon Pizza and Korean Fried Chicken and Waffles. Easter brunch goes from 11 a.m. to 3 p.m. You can make a reservation here.
At Sullivan's, $39 per person gets you a three-course meal showcasing innovative takes on classic steakhouse dishes. Try the Crab & Basil Stuffed Shrimp drizzled with Cajun Lobster Sauce and the house-made Bananas Foster Bread Pudding. The featured wine is a $99 bottle of Flora Springs Napa Valley Cabernet Sauvignon. Reservations can be made online here.
From noon to 4 p.m., The Ballantyne Executive Chef Garrett Merck is presenting a brunch with contemporary Southern elements. Fresh salads and regionally-inspired sides and entree selections will be complemented by mimosas and Bloody Marys as well as a dessert selection by Pastry Chef Noelle Gogg. There will also be live music during Easter brunch. It is $95 per person, $40 for ages five to 12, and free for children aged four and under (plus tax and a 24-percent service charge). Reservations are required; call 704-248-4100 to snag your seat.
Try the new spring brunch menu at ROCKSALT on Easter—the holiday's dining runs from 11 a.m. to 4 p.m. In addition to the new menu, Chef Shane Graybeal has also whipped some Easter specials. Call 704-503-9945 or head here to make reservations at this seafood spot in the back lot of the Park Road Shopping Center.