Where to Eat in South Charlotte
The best places in Ballantyne, Waverly, and The Arboretum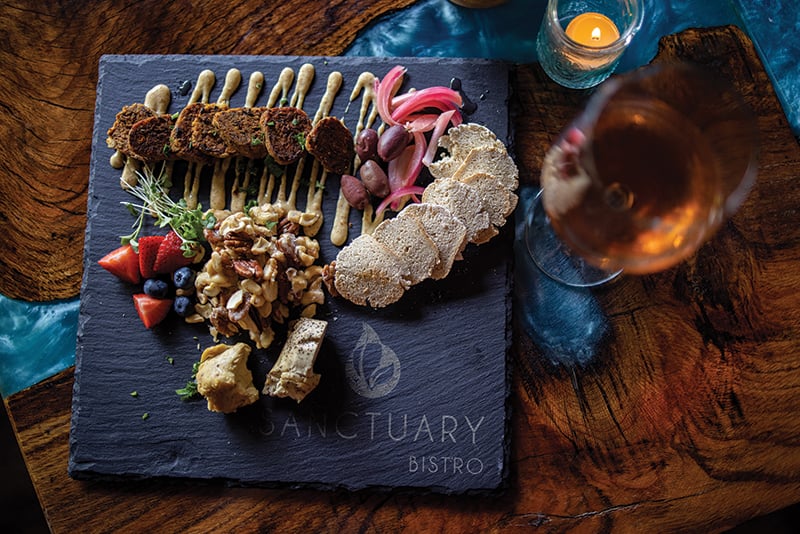 The whole city's exploding now, but the far southern part has been a magnet for people, money, and restaurants since Johnny Harris and Smokey Bissell developed Ballantyne in the early '90s. Through the decades, dining options have gotten better and more diverse: breakfast, lunch, dinner, drinks, and everything in between. —Taylor Bowler
14819 Ballantyne Village Way, 16th Floor
This sleek rooftop restaurant serves a range of Asian cuisines, including omakase menus, oysters, maki rolls, A5 Wagyu, and Tomahawk steak.
14815 Ballantyne Village Way, Ste. 170
The sister restaurant of Copper has contemporary decor and a menu of Indian, Thai, Chinese, and Latin fare.
10000 Ballantyne Commons Parkway
Inside The Ballantyne Hotel, you'll find Southern-inspired, white-tablecloth dining with ingredients sourced from local farmers.
2127 Ayrsley Town Blvd., Ste. 103
This Steele Creek favorite is modeled after a New York gastropub. It serves burgers, steaks, and sandwiches you can pair with a craft beer—or a Manhattan if you're feeling fancy.
16646 Hawfield Way Drive
Find comfort food like Spaghetti & House Meatballs and Lasagna or savor some Squid Ink Linguine and a glass of pinot grigio on the patio.
2135 Ayrsley Town Blvd., Ste. C
Play a few rounds of pool, foosball, or yard Yahtzee and celebrate your win with Pretzel Dippers, wings, or sliders.
7417 Waverly Walk Ave.
This member of the Rare Roots Hospitality Group (Dressler's, Dogwood) is known for thick-cut steaks, modern sides, and craft cocktails.
8410 Rea Road, Ste. 100
This Asian fusion restaurant serves nigiri and sashimi platters, noodle dishes, and a variety of specialty rolls.
7416 Waverly Walk Ave., Ste. H-2
Toscana's sister restaurant serves rustic Italian fare on white tablecloths in the elegant dining room or on the patio.
7416 Waverly Walk Ave., Ste. H-1A
Enjoy wine by the glass, charcuterie, small shareable plates, or a full dinner at this wine bar and restaurant with additional locations in Dilworth and SouthPark.
9855 Sandy Rock Place, Ste. A
Head here for Eastern-style pulled pork, St. Louis Style Ribs, Grilled Salmon, and a No Pig Sandwich for vegetarians.
15235 John J Delaney Drive, Ste. P
The Pittsburgh-based restaurant serves a Southwest-inspired menu with burgers, entrée salads, street tacos, and barbecue.
11641 Waverly Center Drive, Ste. K2
This Japanese restaurant with a second location in SouthPark serves sushi, hibachi, and Asian-inspired entrées.
8128 Providence Road, Ste. 1200
This upscale gastropub, with locations in South End and Huntersville, is a fun place to grab a burger or lobster roll and linger over a cocktail. Celebrate a special occasion with a steak dinner and splurge on the 7-Layer Chocolate Cake, or come for date night and build your own Artisanal Cheese & Charcuterie spread.
8036 Providence Road, Ste. 900
Feast on jambalaya, po' boys, fried chicken, and more than 35 varieties of hot sauce in a casual, colorful setting.
8200 Providence Road, Ste. 100
This fast-casual eatery serves over-the-top biscuit creations like its namesake, The Vicious—a fried chicken breast in a jalapeño and cheddar biscuit, smothered in maple sausage gravy, and topped with candied jalapeños, aka "cowboy candy."
6414 Rea Road, Ste. C2
Owners Barry and Jennifer Horton brought their eat-healthy-and-do-good ethos from California to south Charlotte with this all-vegan, gluten-free, and organic menu.
11212 Providence Road W., Ste. B
Sit at the eight-seat sushi bar to watch the chefs torch specialty rolls and garnish sashimi with edible flowers.