Where to Find: Awesome Bolognese
Cold weather = meaty pasta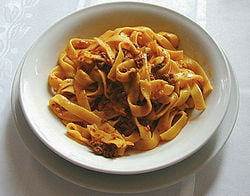 With the weather set to finally start feeling like fall this week, many of us may find ourselves drawn to heartier dishes like stews, soups, and great big bowls of carbs pasta.
That being said, one of my favorites when the weather turns chilly is pasta Bolognese — a sauce (named after the Bologna region in Italy) made from slowly simmering meat like veal, beef, and panchetta along with onions and spices, then adding tomatoes. Usually, making the sauce is somewhat of a drawn out affair, unless you go the not-so-traditional route and opt for a quick version. Not up for slaving away over a hot stove in either case? Not a problem. Charlotte has several fantastic eateries dishing up this Italian classic:
Fiamma: This hidden gem offered a killer pesto with fresh focaccia to start the meal. The Bolognese ($14.99), however, is served over wide pappardelle noodles which offer a perfect vessel for the beef, pork, veal, porcini, and tomato sauce.
Aria: The uptown Italian spot offers a bit of a twist on the Bolognese dish. A lamb-based Bolognese ($16) is paired with fresh mint (a classic match) and fresh ricotta.
Vivace: Listed as one of the top 25 restaurants for 2013, Vivace presents its Bolognese ($15) over top pappardelle noodles with a goat cheese crema, giving the dish an added tang to balance the rich meat sauce.
Luce: Although the name means "light", the house-made noodles layered with beef Bolognese, bechamal, and parmesan au gratin in the classic lasagna ($18.95) will doubtless leave you feeling warm, fuzzy, and full.
Mama Ricotta's: Having tasted the rigatoni with meat sauce ($13/$19) on a recent trip, I was enveloped in the tastes of the Scibelli family recipe featuring beef, pork, and veal along with sweet plum tomatoes.