Where to Find: Lamb Dishes
Another red meat for the carnivores out there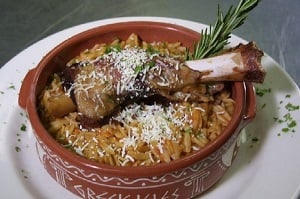 Here in the US, we seem to be all about the beef when it comes to red meat food choices. This seems like a bit of a shame to yours truly, as I think lamb is one of the most flavorful and delicious when it comes to meat choices.
Luckily for me and fellow foodies, Charlotte has quite a few restaurants serving up lamb in a variety of ways. I should also mention that lamb (depending upon the cut) is usually leaner than beef. Otherwise, lamb is more or less comparable to beef in terms of calories, protein, and fat content.
5Church: Feeling like exploring the world of lamb but a little skittish? Head to 5Church for their lamb burger. A house made sesame bun houses the ground lamb burger, sandwiched with arugula, red onion marmalade, and gorgonzola fondue.
The Blue Taj: A personal favorite of mine, this sister restaurant of Copper has one of my favorite lamb dishes: Lamb Vin d' Alho (also known as vindaloo). The Goan style curry is made from vinegar, chilies, and garlic and simmers along with the lamb resulting in a melt-in-your-mouth experience. if you're extra daring, order it Indian hot.
Copper: India's choice in red meat often seems to fall to mutton or lamb, since beef on an Indian restaurant's menu is pretty unlikely. Copper serves up lamb several ways, but the appetizer sheekh kabab "meat balls" are a delicious way to start your meal. The lamb meat balls are served with crispy leeks and karavali masala — but the richness and savory flavors are cut with a tangy and sweet grapefruit and mango salad.
Greek Isles: When it comes to lamb, I have a tendency to think Greek. The Meditteranean restaurant dishes up a variety of lamb dishes, although the Youvestsi is my personally favorite. A lean cut of lamb shank is braised with white wine, tomatoes, and onions and served up alongside dainty orzo pasta.
Soul Gastrolounge: If you think lamb, you probably have a vision of those tiny lamb lollipops – and that's what Soul has on their menu. Delicate lamb lollipops are dusted with fresh rosemary and pecorino cheese for a bite of richness. Try them along with a sweeter appetizer, as lamb LOVES fruit or mint essences.
Broaden your horizons and try a new meat this weekend!