Where to Get Fast, Healthy Food in Charlotte
With Charlotte's summer concert calendar filling up fast, plan for those on-the-go moments with "fast" food that uses fresh, local ingredients.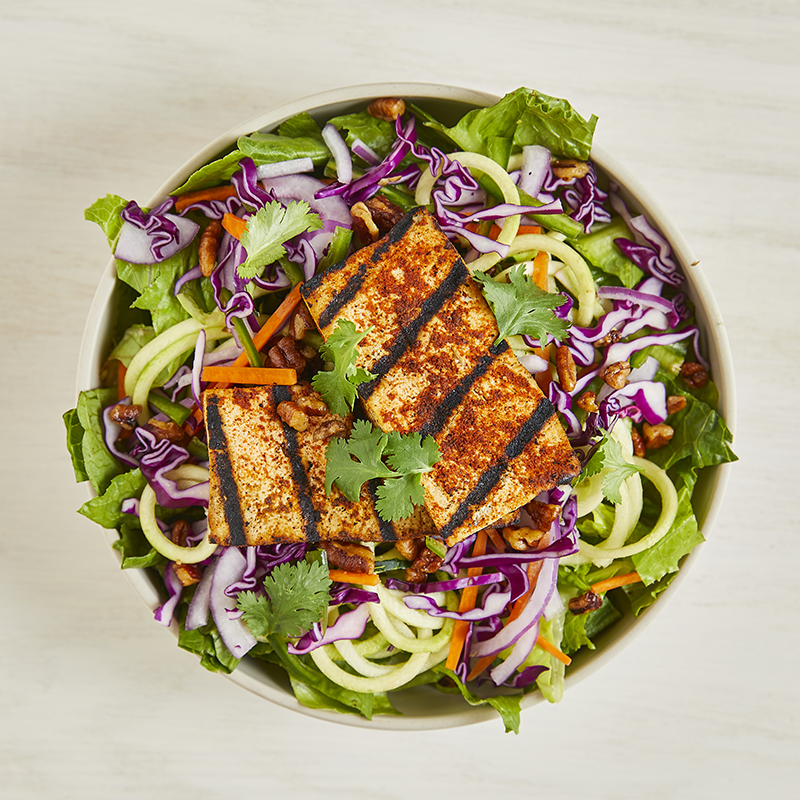 In case you haven't heard, Charlotte will be buzzing with things to do this summer. With concerts such as Khalid and the Goo Goo Dolls and more hitting stages around the city, this summer's event lineup is one that will keep any staycationer busy. Don't believe us? Check out a few of Charlotte's summer concerts this season:
June 10, Spectrum Center​: Ariana Grande
August 13, Spectrum Center: Khalid
One of the best parts about attending concerts and other similar events is that the experience extends way beyond the showtimes. Tailgating for country concerts are practically a Southern pastime, and exploring after-hours uptown after pop shows is practically a rite of passage. But a problem many Charlotteans run into is the pre- or post-concert fuel-up.
Because most of us are so busy and rushing from place to place, we forget to sneak in a protein-packed meal every now and then. And jamming out to your favorite artist for hours is not done well on an empty stomach. The biggest challenge? In a health-conscious city like Charlotte, the greasy fast food of our childhoods just won't do. We want our food to be fresh. We want it to be locally sourced. We want it to fill us up. And we want it to be something we can feel good about eating.
Well, hangry concert-goers: We've found your new favorite spot, whether you want to grab-and-go or sit down for a bite. Boasting a varied and creative yet approachable menu of sandwiches, wraps, bowls, smoothies, and salads, B.GOOD serves fresh, seasonal meals all around the Charlotte area. With four locations—Ballantyne, Stonecrest, Uptown, and Huntersville—it doesn't matter which way you're coming from; you can grab a satisfying, better-for-you bite at B.GOOD before or after your summer concert of choice. The fast-casual chain sources ingredients locally as much as possible, which means you're supporting Charlotte businesses (and you can taste the difference).
Plus, this summer, if you order food from B.GOOD either online, through B.GOOD's app, or by scanning the QR code in-store, you can win concert tickets to any of the above shows coming to Charlotte! Yes—you read that right. B.GOOD is giving away tickets to Ariana Grande, Train & the Goo Goo Dolls, Florida Georgia Line, and Khalid in Charlotte this summer. The entry period for each concert is about two weeks long and occurs the month before the concert. Simply ordering food through those methods during the entry periods gives you the chance to win! Click here to learn more.
---
Enter to Win: Order food online and pick up at the B.GOOD location nearest to you during the dates listed here
Ballantyne: 14825 Ballantyne Village Way, 780-237-8494
Stonecrest: 7926 Rea Road, 980-430-1260
Uptown: 400 S. Tryon Street, 980-265-0159
Huntersville: 16915 Birkdale Commons Parkway, 704-885-5885
---
Exclusive Look: New Menu Items Coming to B.GOOD's Menu This Summer
Beginning May 15, 2019: Changes to the existing menu will roll out, to "better serve customers' diverse dietary needs," a source tells Charlotte magazine. That means new menu items and changes to existing menu items developed with vegan, vegetarians, and others in mind. Another addition will likely make eaters happy, especially if they prefer a lighter bite to a burger. (Hint, hint.)
---
B.GOOD responsibly sources its food and keeps ingredients natural to lessen the restaurant's environmental impact. With four locations in the Charlotte area and food partnerships with local farmers and suppliers, B.GOOD provides fresh, seasonal menu offerings in a casual, welcoming atmosphere with walk-up service. Click here to learn more about B.GOOD.