Where to Splurge and Save on Home Furnishings
Home design on a dime is possible when you don't splurge in the wrong places.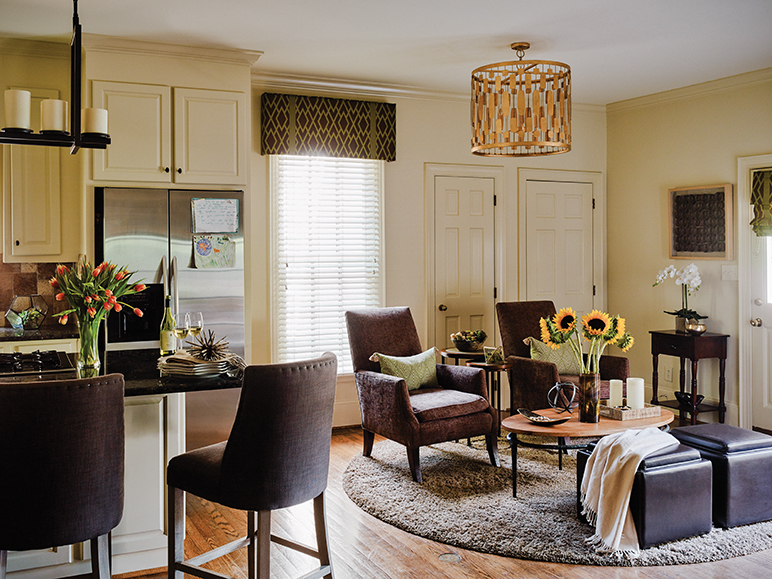 Decorating and furnishing your house can be both an exciting process and a daunting one. You go through the stage of Pinterest-ing every gorgeous room you can find, then on to perusing multiple websites, then to walking into your favorite local furniture dealer with a wide-eyed glare. Where do you start? You thought you had a clear vision in mind for your home design, but when it comes time to buy, you're a deer in headlights. Don't worry, it happens to the best of us. We have grand dreams for our ideal homes, and we want those decor dreams realized. Ideally, we want them realized without completely depleting our bank accounts. The good news is it's possible.
When sifting through scores of rug patterns and comfort-testing dozens of sofas, you peek at the price tags and find a wide range of monetary amounts. Is it worth it to splurge on this 100-percent wool rug? Can I get away with a cheap couch? These questions are all valid, and we've got the answers. There are certain departments of home shopping that you should and should not splurge on.
Splurge on the…
Don't skimp on dollars when it comes to the below items–skimping on price usually means you're skimping on quality, and some home items simply need to be high-quality if you want them to last…
Rug
If you're placing it in a high-traffic area like the living room, it's best to steer clear of synthetic materials and instead opt for all wool followed by other natural materials, as designer Wesley Mancini tells us here.
Dining Table
Since the dining table is often the focal point of your kitchen or dining room, style and quality are important factors. You'll want one either made from solid wood, topped with marble, or crafted from thick metal so that it can withstand everyday use and subsequent everyday spills and scratches.
Sofa
Usually what makes a pricey sofa better than the bargain buy is its easy-to-clean and durable fabric. Silk couches require professional cleaning and are thus not ideal for a home with pets or kids, however, leather, cotton, or wool sofas can stand the test of time and aren't too hard to clean when they get dirty. Just be sure to purchase a sofa neutral enough to transition with your changing decor tastes through the years.
Curtains/ Drapes
A lot of times, the curtains or drapes in a room can dictate how complete and pulled-together it feels. Splurging on a luxe fabric or custom-made color can be a great option. Keep in mind how rarely you change the curtains–close to never.
Save on the…
Some things are just too trendy or fleeting to drop your last paycheck on. The best places to save when it comes to home decor are the items that you plan on using to dictate the style and details of a space.
Throw Pillows
You might want to switch out your pillows as often as the season or simply pertaining to your taste as of late. It's best to keep your pillow purchases on the cheaper side so you won't feel buyer's remorse when you stash them away in exchange for new ones.
Accent Tables
Whether a nightstand or a sleek piece sitting next to the couch, accent tables are ideal objects to save money on because they don't require much use and therefore don't need to be the highest quality things you own.
Everyday Tableware
Save the nice dishes and china for special occasions and holidays. Use lower budget tableware for everyday use, because it's bound to be dropped or ruined eventually. You'd hate to hear the sound of chattering china on an idle Tuesday night.