Where We're Growing: Charlotte's Suburbs Headed for a Surge
The spots that analysts eye as high-growth spots for 2025—and beyond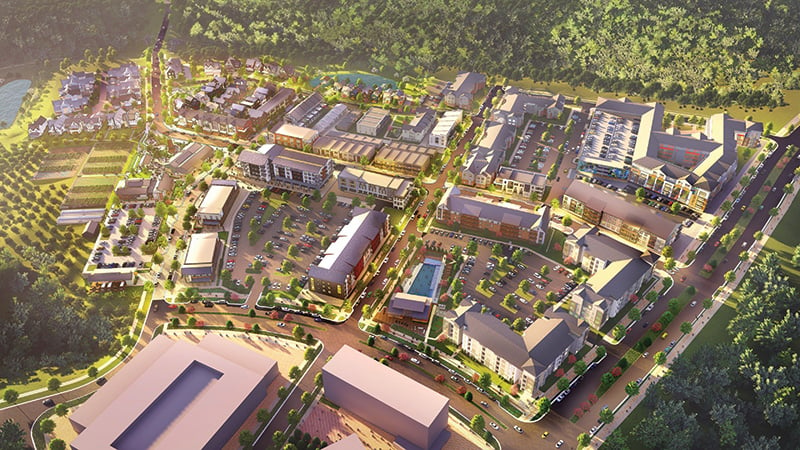 It can be as hard to find an affordable place to live in Charlotte's suburbs as in the city, and places where rents and home prices have stayed somewhat reasonable are bracing for their own growth surges. We picked four suburban communities that analysts for Metrostudy, a national firm that researches and analyzes home-construction industry data, say are primed for the next development wave. "We have to realize that with every job we add, we have to add housing," says Jenifer Gooch, Metrostudy's Charlotte-area regional director, "and we haven't been doing that."
---
Cramerton
Gaston County
Median New Home Price: $275,000
Median Existing Home Price: $173,000
Population in 2019: 51,193
Projected 2024 population: 55,011
The story: We're centering on Cramerton, but really, all of eastern Gaston County—including Mount Holly, McAdenville, and those parts of Belmont that aren't built out already—is the most obvious contender for Charlotte's next development boom. It's the product of inexpensive land and planned housing and transportation options to lure people there: a widened I-85; a new U.S. Highway 74 bridge over the Catawba River; the aforementioned Silver Line, to link uptown Charlotte and downtown Belmont; and, above all, Crescent Communities' River District project, a massive urban village on the river's eastern bank. Westernmost Mecklenburg County, between Charlotte Douglas International Airport and the Catawba, is the county's last large section of undeveloped land. As it develops over the coming decades, eastern Gaston, just across the river, will transform into prime real estate.
---
Indian Land

Lancaster County, S.C.
Median New Home Price: $373,840
Median Existing Home Price: $305,000
Population in 2019: 28,840
Projected 2024 population: 33,849
The story: Until recently, this unincorporated community just off U.S. Highway 521, in the uppermost "panhandle" of Lancaster County, was eclipsed by the overwhelming growth of Fort Mill and Tega Cay in York County to the west. That growth has been ferocious enough to compel those towns' officials to adopt impact fees on developers—which sweetens the allure of areas like Indian Land, which happens to lie just a few miles south of the state line and the O.G. big residential development in these parts: Ballantyne. (Some real estate marketers have been trying to get the nickname SoBa, for "South of Ballantyne," to catch on.) Projects underway include the 512-home Sugar Creek subdivision on Harrisburg Road.
---
Indian Trail
Union County
Median New Home Price: $329,000
Median Existing Home Price: $260,000
Population in 2019: 41,035
Projected 2024 population: 44,746
The story: This is a town just southeast of I-485 that was building in a hurry until the recession hit in 2008; an underdeveloped water and sewer system and the continuing tangle of traffic on Independence Boulevard/U.S. Highway 74 has kept development at bay ever since. But it's about to get rolling again thanks to improvements to Independence and the November 2018 opening of the Monroe Expressway—and Indian Trail's proximity to the eastern terminus of the planned Silver Line light rail line in Matthews. Among more than 3,000 lots in the development pipeline are 543 planned homes in MT Land's Poplin Village mixed-use complex next to the expressway. The company expects to finish the first of those this fall.
---

Harrisburg
Cabarrus County
Median New Home Price: $389,000
Median Existing Home Price: $300,000
Population in 2019: 22,434
Projected 2024 population: 25,070
The story: It's not exactly the sticks, squatting between University City and Concord. But small new home and lot inventories, along with delays in the completion of Interstate 485—the state finally finished in 2015—have kept a lid on Harrisburg's growth. That's changing, and fast. As of January, Metrostudy had identified 1,226 residential lots in its "future development pipeline," and MPV Properties' mixed-use Farmington project—a planned community expected to open in spring 2021—will probably catalyze as much growth for Harrisburg as, for example, Birkdale Village has for Huntersville.