Where Your Food Really Comes From
Fewer and fewer young folks are getting into farming. What does that mean for their future—and ours?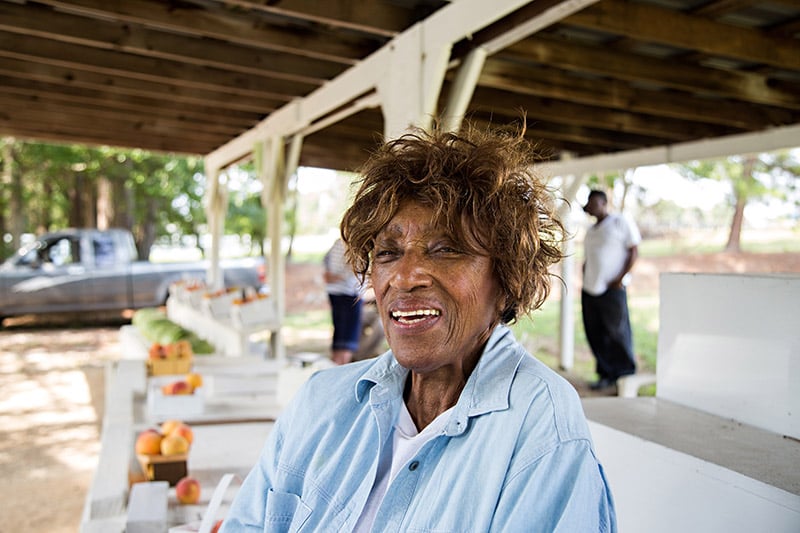 SANDERS PEACH FARM, FILBERT, S.C.
DORI SANDERS sits in a gray truck with the window rolled down, her chin resting in her hand. The long, wooden tables at her family's roadside market are bare. Her cousin, David, paces next to them anxiously.
The night before, violent storms passed through this part of South Carolina, just outside of York, turning the soil to muck and making it impossible for the family to navigate the fields. My hope of returning home with a bag of freshly picked peaches quickly fades.
To me, this is disappointing. To Sanders, this is farming.
Farming is not a profession for the impatient, or the unyielding. Over the years, Dori Sanders has learned to accept days lost to bad weather. "On days like this, I read and rest," she says.
She also writes, and what started as a way to record what life was like on their farm—which she expects will leave the family after her generation passes—grew into a second career as an author.
Sanders is sitting comfortably in the driver's seat, her long arms waving as she talks. When she laughs, which is often, she laughs with her whole, sturdy frame. She proudly shows off the Harley Davidson sticker on her back windshield. There was a bike that went with it, but she recently accepted, as she says in her best Brando voice, "an offer I couldn't refuse."
"My brother says I am tearing up the eighties," says Sanders, who won't share her exact age. "I am tearing it up, which means there's very little of it left."
I hear no complaint in her voice when she shares this, or when she talks of living on her own, or any other aspect of the life she has chosen. "The farming life is so mundane. You do the same thing, year in and year out," she says.
A simple cycle, yes, but the Sanders family and other farmers must constantly adapt it to the circumstances. Planting went slowly this spring because of unrelenting rain. Replanting followed, to make up for what was lost. Sanders sells the produce of local gardeners next to her own at this market, at no charge, because it helps her on days like this, when her own offerings are limited. She also hopes they'll continue to grow food next year.
This conscious pragmatism seems to define her. She eats peaches fresh when they're in season, but also loves Del Monte canned peaches and has no issues buying the canned fruit. Putting up a bunch of preserves for one person doesn't make much sense to her.
She tried organic farming, but couldn't make it profitable and it was a lot of work, so she stopped. Organic farming can yield an ear of corn with a worm in it, she notes, and "America wants beautiful, pretty produce." Yet she challenges the sustainability of large-scale poultry production, and her concern for the environment drives her to recycle religiously.
"I think it's the most marvelous thing in the world to do," she says, rustling plastic grocery bags on the passenger seat beside her. "I am so concerned for the environment that I absolutely always recycle."
She also doesn't worry about branding her bags for the peaches: "If you give 'em good produce, they will remember who you are." She draws out that last syllable as her mouth widens into a knowing grin. Most days, she's sold out by the time the summer sun sinks just below the roofline of the market.
***
"SEE RIGHT now," she says, "you're in Filbert, South Carolina. F-I-L-B-E-R-T. It's on the map!"
The map to which she is referring is from a state geological survey done in 2003. According to the survey, her farm sits atop 350 million-year-old granite. This seems fitting for a farm celebrating its 100th year.
Dori's father purchased the first 81 acres of the now 200-plus-acre farm in 1916, starting what would eventually become one of the oldest blackowned farms in the upstate. "We're a very old family," she says.
To get to the Sanders Peach Farm from Charlotte, you must pass a few Confederate flags along the way. I found this unsettling, but if such things bother Sanders, who is the granddaughter of a freed slave, she does not mention it. To her, Filbert is and always has been home. "It's where I was born, where I was raised, where I grew up," she says. "I thought the whole world revolved around this place."
Sanders calls her brother, Orestus, also known as Wreck, the CEO. Their dad, a principal of a two-room elementary school, named his son after a Greek god but changed the spelling.
The farm grows eight to 10 varieties of peaches, made juicy by rainy days and sweet by hot, dry ones. Sanders favors the Blake and a local variety called O'Henry. She prefers the peaches with freckles—dark, round spots that the locals call "frog eyes." Most of us avoid such blemishes, but she thinks these imperfections mean a sweeter peach.
Her favorite way to eat one? Straight from the tree. "The moment an ear of corn or a peach leaves its main life source, its enzymes start to break down," she explains. Sweetness is lost. Refrigeration robs the produce of its sweetness even faster, but also makes the fruit last longer. She jokes about the solution to this conundrum: "As my brother would always say, 'That's why the good Lord made sugar.'"
Her pronunciation of the word sugar has a subtle three count, ending in "-ah." She speaks with the rhythmic lilt of a practiced Southern storyteller. It hints at her alter ego as the author of four books. Her writing draws heavily from her hours at the market, where she pens her observations on sheets of paper wilted by the damp, summer air.
"I listen to the conversations that go on from my customers," she says. "I watch the highway. Just the flow of the traffic going up and down. For my first book, it was just the sighting of two funeral processions that caused my first novel, Clover."
The New York Times, The Washington Post, and others praised the book, which has been published in eight languages, and optioned by Disney, but ultimately became a Hallmark Hall of Fame movie of the week in 1997. She has since published another novel, a monograph of a speech she made, and a cookbook. Her latest assignment is an essay in remembrance of her late friend Pat Conroy. Maybe she will get a few words down today in the quiet.
One of her gardeners pulls up with some squash and cucumbers to sell. "It's a wonderful, quiet life, but very, very rapidly fading," she says.
---
NEW TOWN FARMS, WAXHAW, N.C.
IT'S SATURDAY MORNING, and the Matthews Community Farmers' Market doesn't open for another five minutes. The market has a strict rule: no sales before the bell rings at 8 a.m. A long line has already formed in front of the New Town Farms market stand. I have failed to beat the rush.
Sammy and Melinda Koenigsberg's stand is a lesson in merchandising. Today, tidy bundles of hot pink radishes and orange carrots rest on the top tier. Along the bottom are rustic baskets filled with potatoes, including a Purple Viking whose dark skin is splashed with bright ribbons of pink. Among the kohlrabi, cucumber, and cabbage is zephyr squash, a yellow variety whose blossom end looks as if it were dipped in pale green paint.
"It's designed to make you buy more," jokes Sammy, who holds a degree in architecture but began farming in 1990. It's true, though; I leave his stand with full bags. Wispy fennel fronds tickle my leg as we chat. He hands me a petite head of lettuce called Little Gem, his favorite. I don't even know where to put it.
New Town was selling goods when the market first opened 25 years ago as one of its founders. The market was formed as a way to help bring people together in a town that was becoming increasingly divided among longtime residents and newcomers. Koenigsberg believes it's worked.
The market has also helped customers understand and appreciate the effort it takes to grow the food they eat. "This is one of the big rewards for this work that is lean in financial rewards," says Koenigsberg. "I don't know how farmers can do it week after week without that encouragement."
About a dozen miles south of the market, in Waxhaw, a hall of trees lines the long driveway at New Town Farms. At the end of the driveway is the white farmhouse, which has a large, wraparound porch occupied by a big, goofy dog named Leo. Rows of green plants roll gently down soft hills, surrounded by even more trees. Here, it is hard to remember that Charlotte is only minutes away.
The Koenigsbergs hope to do more with their property over time. Sammy has concerns about the disconnect between people and the farms that feed them. He plans to introduce educational and hospitality programs that will give guests a chance to repair that broken connection. This next step may come slowly, however. The couple has eight children, and there is already so much work to be done on the farm.
Sammy still finds time to continue exploring his relationship with the land more deeply. "I am utterly fascinated by it and feel like an astronomer discovering new stars," he says.
---
THE KRENZ RANCH, NEW SALEM, N.C.
WHEN MATTHEW KRENZ moved back to the Charlotte area from Raleigh in 2012, he planned to give up life as a chef to work full-time on his family's farm, Krenz Ranch. But within days of his move, a sous chef position at Passion8 opened up. He applied and got the job, staying there until he moved to The Asbury in uptown, where he was promoted to executive chef this past spring.
If Krenz isn't working in the kitchen, however, he's probably out working on the ranch.
The Krenzes run what is called a cow/ calf operation, meaning they keep a cow herd to breed calves for sale. "We find genetics that we're happy with and try to nourish that," Krenz explains. They also raise some cattle for slaughter.
His dad and his brother bought the first of the herd more than a decade ago. "My dad did this growing up out in Oklahoma on much larger plots of land," Krenz says. He recalls going out there to help as a young teenager.
The tradition of raising cattle goes back in this family for generations. The ranch here in New Salem, a small town north of Monroe and east of Charlotte, will help continue it.
For Krenz, time on the farm informs his cooking the way it does Sanders' writing. "It helped me appreciate certain aspects of (cooking) that others would neglect," he says. "It makes me honor the animal, too, because I understand the sacrifice that it took to get to that point."
That respect for the animal makes Krenz Ranch operate differently from most cattle operations. They slaughter only one or two cows at a time, and usually sell half of a cow to one buyer. "Most people will tell you that's a backwards way to do business, but we don't care. We don't want to just sell you a rib eye," says Krenz.
The Krenz Ranch blackboard special at The Asbury allows Krenz to extend this farming philosophy into his kitchen. These specials, which can change daily, expose guests to cuts with which they might not be familiar: beef hearts made into carpaccio, bone marrow served with crusty toast and pickles.
Time on the farm may influence his cooking, but it also gives him a needed break from the relentless demands that come with being an executive chef. "When you're in the kitchen, it's just constant noise and chaos," he says. "On the farm, you can let it all go."
---
BARBEE FARMS, CONCORD, N.C.
"ALL THE TIME." That's how often Brent Barbee says he feels pressure to sell the 80 acres of his family's farm.
We've just left the Barbee Farms pack house, where sweet corn, tomatoes, and potatoes rest in cardboard boxes and large crates, waiting in the walkin coolers to be sent to area grocery stores. I settle into the four-wheeler for a ride-along. The tour starts with a jog around the hen house, where more than 200 ladies are clucking about their daily business.
Barbee is 30 years old and a fifth-generation farmer. He and his cousin started a garden together before he had his driver's license. They took extras to a farmers' market in nearby Kannapolis. That little operation grew into an honor-system store on the farm, where people could pick up produce and leave money at an unattended stand. His dad, Tommy, tried to talk him out of farming full-time, citing its many hardships. It didn't work.
Tommy raised hogs and small grains on the farm while also working in Concord at Philip Morris full-time. Tommy's dad grew grain while working at Cannon Mills. "I'm the first in three generations to make a sole living off it," Brent says.
Barbee employs eight farm hands to help with the load. About three years ago, he started working with the federal H-2A program, which grants visas to foreign agricultural workers on a temporary basis. The four men who joined the team that first year still work on the farm. They, along with the others, arrive in March and return to Mexico in the fall.
Despite its long history and a location at the junction of Poplar Tent Road and Interstate 85 in Cabarrus County, Barbee Farms still is relatively unknown, even to locals. Most of what the farm produces goes to local grocery stores such as Harris Teeter and won't be sold under the Barbee Farms name.
Such invisibility masks the farm's importance. According to the United States Department of Agriculture's Census of Agriculture, North Carolina led the nation in loss of farmland between 2002 and 2007 with 600,000 acres gone. The latest census in 2012 saw that number drop significantly, but the state still lost 2,703 more farms and 62,560 acres.
As the most populous county in the state, Mecklenburg County consumes a lot of food. Yet the county only holds half a percent of the state's farms. We are wholly reliant upon farms in nearby counties, such as Barbee Farms, and farms elsewhere to give us the things we love most here in the South: summer and winter squashes, peaches, melons, corn, tomatoes, sweet potatoes, collards, field peas.
The smell of bell pepper floats around us as we drive. Some of the peppers will stay in the fields until they ripen to a deep red; others are harvested earlier. As many as two dozen types of fruits and vegetables can grow out here at the same time.
Being a farmer includes being a project manager, who has to stay on top of such schedules. It also means being an accountant. He knows that the farm spends between $2,600 and $2,900 per acre before ever putting the first seed in the ground, a number that doesn't include supplies. He and his wife, Dana, must be smart and, like the Sanderses, willing to adapt.
"If you don't keep changing, you're not going to be in business long," he says.
Technology comprises much of this change. The workers clock in with an app, scanning bar codes taped to the wall of the pack house office. Data recorders track temperatures inside the coolers, where the boxes of vegetables are all bar coded. Brent and Dana use Facebook and Instagram to communicate with customers. They started using Square to process credit card transactions and witnessed a jump in sales. Now, two-thirds of their retail business is done by credit card.
Some things, however, have not changed. When I ask Barbee what the most surprising thing customers are asking for is, I expect the name of some unusual vegetable in response. "Prices from 20 years ago," he says instead. I look up to see if he is laughing. He's not.
Another thing that Barbee expects won't change soon: his home address. Nationwide, only five percent of farmers are under the age of 34, according to the latest USDA Census of Agriculture. Yet Barbee can't see doing anything else.
"Both (my father) and I are sentimental enough that we aren't going to sell this property," he says. "This is home, always has been home, and always will be."
Cat Carter is a freelance writer in Charlotte who believes in the power of good storytelling. She founded Edible Charlotte magazine, a publication that discusses the region's local and sustainable food culture. Reach her by e-mail at catyicarter@gmail.com.
---
This article appears in the September 2016 issue of Charlotte Magazine
Did you like what you read here? Subscribe to Charlotte Magazine »
---