Which tomato do I want?
Take a taste this Saturday in Matthews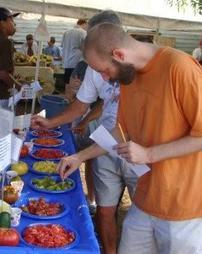 The number of tomato varieties on any summer Saturday at the Matthews Community Farmers' Market is impressive. Tiny cherries. Striped heirlooms. Oversize whoppers.
This Saturday, market customers can sample about two-dozen varieties on Tomato Tasting Day. Market Manager Pauline Wood estimates the event has been going on for eight to 10 years.
"There's a dizzying array of tomatoes at the market," Wood says. "Sometimes people are reticent to buy unusual looking ones, but they taste terrific. It gives them a way to try something they wouldn't ordinarily try."
Volunteers will cut up tomatoes and offer visitors samples on toothpicks. All tasters will receive a list of the varieties and the farmers who grew them. Then they can vote on their favorites. The winners will be announced once the tasting is complete.
The Matthews Community Farmers' Market has become much more than a place to purchase produce. With weekly tastings and chef demonstrations, live music, and cooking competitions, it's like a minifestival every weekend.
If you're looking to use tomatoes for a specific purpose, below are some suggestions. And if you go out to the market on Saturday and find a new favorite variety, we'd love to hear about your experience. Leave us a comment or send us an email (leahchughes.cltathome@gmail.com).
One of Wood's favorite varieties is the sun gold cherry tomato. They're great on a salad. Or just pop them in your mouth like a piece of candy.
Lots of varieties work for a tomato pie. If you haven't yet experimented with heirloom varieties, such as Brandywine or Cherokee purple, use them inside your next crust. For a recipe from the market, click here.
For a fresh tomato sauce, try San Marzanos or Romas.
And for an old-fashioned tomato sandwich with white bread and mayonnaise, heirloom German Johnsons are a great choice. The best part: When one thick slice covers the entire sandwich.
Tomato Tasting Day
Matthews Community Farmers' Market
188 N. Trade St. Matthews, NC 28105 Event starts at 9 a.m.