Whiskey Warehouse Opens 'Top Shelf' Rooftop Bar and Patio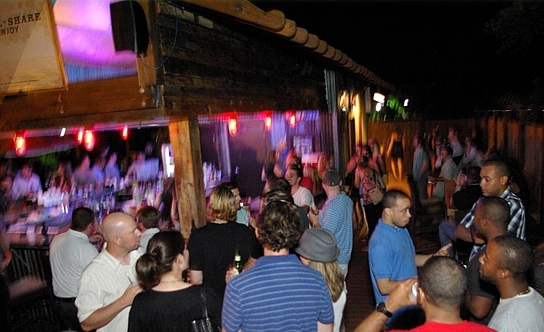 One of Plaza Midwood's most popular bars has taken it up a level—literally. Whiskey Warehouse has opened a rooftop bar and patio called Top Shelf.
Top Shelf opened last week, and I had a chance to check it out last night when I went to Whiskey Warehouse to watch my South Carolina Gamecocks win their second consecutive College World Series! (Gamecock fans packed the house—this was the location for the alumni's official viewing party. Good times.) Unfortunately, it rained so the rooftop bar was closed for the night, but one of the bartenders took me up for a tour of it.
The owners of Whiskey Warehouse have built one of the finest rooftop patios in the city—I believe the name Top Shelf is befitting of the quality of the design and layout and not just the drink selection, which features select beers, liquors, and whiskeys from the massive list offered downstairs. Climbing up the stairs, I could smell the fresh wood. The rooftop gives the place an entirely different feel. It's a huge space with wood floors, several tables (some with patio umbrellas), and dozens of bar stools and chairs. In the center is a large, wrap-around bar with a granite countertop. And since the bar area has a roof on it, there are four plasma TVs enclosed.
The space holds at least 75 people, and I was told that last Friday and Saturday it filled up. Since Whiskey Warehouse usually features a DJ on Saturday nights, management is considering having him set up on the roof if that's where people continue to flock to. Regardless, whatever music is played inside the bar downstairs is played from speakers on the roof.
Whiskey Warehouse, 1221 The Plaza, 704-334-7005, whiskeycharlotte.com.