Whiskey Warehouse Opens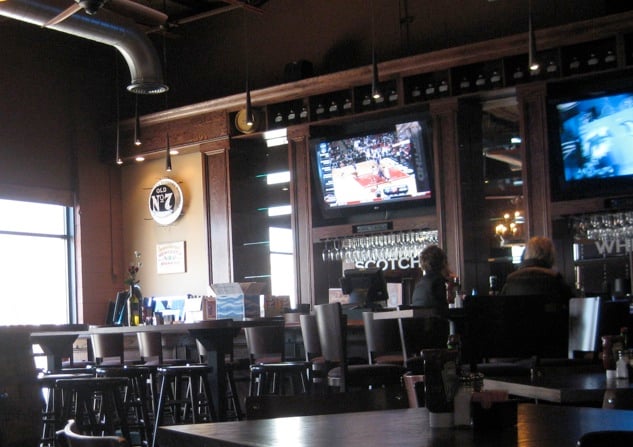 The first thing I heard about the new Whiskey Warehouse in Plaza Midwood was that the restaurant and bar would have a Jack & Coke slurpee machine. Obviously, I was intrigued because that sounds, well, delightful. And so, as a Plaza Midwood resident myself, I began to make frequent trips by Whiskey Warehouse's location (in the old Creation space on The Plaza) in hopes of it opening soon.
It has finally opened. And today I went, wondering if a workday lunch was an inappropriate time to test out that slurpee machine. As it turns out, I didn't have the chance to ponder that question for long because the machine is still en route to the restaurant—it should be there next week. However, today Whiskey Warehouse, which is owned by the same guys own the popular Brazwells on Montford Drive, got its liquor license, which means it can start living up to its name.
As this is a dining blog though, let me get to the food part: The food is good. Seriously good. Better than you'd expect in a restaurant with boxes of Jack Daniels and Wild Turkey against the back wall. Don't misunderstand, the interior is actually gorgeous with hardwood floors, exposed brick walls, high beamed ceilings, and a polished bar running the length of the space. There's even a small sitting area near the front with overstuffed leather chairs and two flat screens for game watching to your heart's content. (There are ten televisions total throughout the space.)
Anyway, back to the food. Order the mini sliders appetizer ($8). It's three tender prime rib sliders served with creamy horseradish sauce for spreading on top. It's big enough for a meal on its own, but perfect for sharing. Other apps include wings of just about any variety you could think of (buffalo, Jack Daniels BBQ, Cayenne Ranch, etc) ($8), buffalo shrimp ($9), or spinach dip with tortilla chips ($8). But, while the appetizer lists sticks to fairly typical bar food, the rest of the menu is full of pleasant surprises.
The Whiskey Glazed Salmon salad features grilled salmon over mixed greens with candied walnuts and crumbled goat cheese ($9) and the Plaza Salad offers freshly ripe avocados over a fresh salad stuffed with veggies and tossed in a citrus vinaigrette ($7). The menu's other big surprise is an entirely vegetarian section featuring the fried green tomato burger (my lunch choice today) that includes two large and perfectly fried tomatoes topped with creamy pimento cheese on a soft bun ($8). I suggest ordering it with sweet potato fries—they're thick and the perfect mix of sweet and salty.
In addition to a large sandwich and burger selection, Whiskey Warehouse also offers entrees ranging in price from $11 to $15. There are the more typical pub selections such as fish and chips ($12) or Whiskey Ribs ($16 for a full rack, $11 for a half). But you'll also find Bourbon Butter salmon ($13) and BBQ Pork Chop ($12).
Oh, and lest we forget, Whiskey Warehouse also offers forty-five different beers and sixty different whiskeys. After some serious journalistic investigation (probably not during my lunch hour), I'll write more on that eventually.
Basically, what I'm trying to say is that if you're going for the much talked about slurpee machine, wait until next week. If you're in the mood for some good food and varied drinks in a cool new spot, the doors are open now.

Whiskey Warehouse, 1221 The Plaza, 704.334.7007