White Party Saturday, Tony Awards Viewing Party Sunday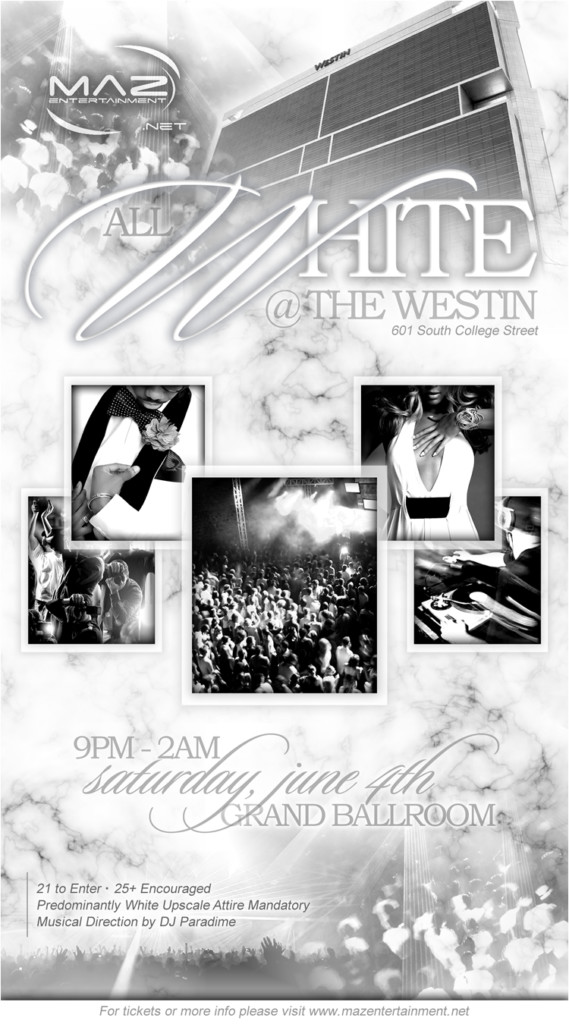 CORRECTION: Tony Awards Viewing Party is Sunday, June 12.
In my previous blog post I told you about the final First Fridays at the Mint of the season, so your Friday evening/night is taken care of. Now, you should also know about MAZ Entertainment's "All White at The Westin" party on Saturday, and the Blumenthal Performing Arts Seventh Annual Tony Awards Viewing Party on next Sunday. You probably couldn't find two events that are more different, but I like to mix things up with my nightlife.
The weather's warm so this is white-party season, and MAZ's will likely be one of the biggest of the pre-summer/summer. Unlike some white parties where you're allowed to come in wearing any colors, the promoters have said that for this event "white attire is mandatory. However, you may accessorize with accent colors as you so desire. Trim, shoes, patterns, etc. of different colors are allowed as long as the majority of your ensemble is white." If for no other reason, it creates a beautiful backdrop when you look out over the crowd and see a sea of white. Plus, a lot of women look really good in that color.
I've blogged about MAZ's parties before and these guys usually don't disappoint. They put on some of the most well-organized parties around, especially considering they draw such large crowds (check out their promo video). This party takes place Saturday (June 4), 9 p.m.-2 a.m., at the Grand Ballroom at The Westin (601 S. College St.). You can purchase tickets online—$25 general admission, $40 VIP, and you can also purchase a VIP table. There will be white carpet, a live band in the lobby, music by DJ Complete and DJ Paradime, body paint models, go-go dancers, and even a breakfast after-party.
Then on Sunday, June 12, you can switch gears (press the brakes) and attend the Tony Awards Viewing Party at McGlohon Theatre at Spirit Square (345 N. College St.). The 65th annual award show will be shown on a 10-foot by 14-foot screen inside the theater, as this is the seventh year Blumenthal Performing Arts has hosted this party.
Doors open at 7 p.m., the broadcast begins at 8 p.m., and admission is free. There will also be complimentary food served along with a cash bar. And the organizers will keep things festive as you await the announcement of winners of Broadway theatre's top awards. During commercial breaks, there will be raffling of tickets to shows in the 2011-12 Duke Energy Broadway Lights Series and a goody bag. There will also be a giveaway for a $500 US Airways gift card.
The Tony party draws a crowd of all ages, though it skews older. A friend of mine, who is in her early thirties, went last year and couldn't believe how good of a time she and a friend had, despite being some of the youngest in attendance. It's also a good opportunity to mix and mingle with Charlotte's theatre scene and their supporters.