Who The Jew Are You?
Celebrated new film showing one night only!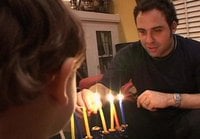 I can't take credit for the clever headline. That's the title of a movie the Charlotte Jewish Film Festival is bringing to town for one night only.
Who the Jew Are You? was written and directed by Alan Goldman, and the documentary follows him on a personal faith journey as he tries to reconnect with Judaism. After the birth of his son, when he finds out his child is technically not Jewish, Goldman goes on a mission to rediscover his faith. Rabbi Jonathan Freirich of Temple Beth-El will lead a Q&A session after the film.
Sunday, Oct 30 at 5 p.m. Tickets are available for $5 at the door of Levine JCC. www.charlottejewishfilm.com