Who wants free coffee?
Because it's Monday, and you have a few more Mondays this month ...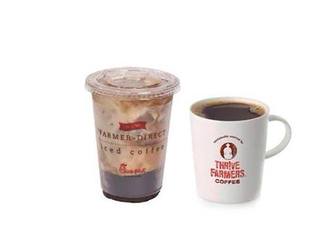 If you, like me, simply cannot get your day started without one, two, or sometimes four cups of coffee (no joke), there's help in your future.
Chick-Fil-A, the restaurant known for its commercials and billboards depicting disappointed bovine friends urging us all to eat more chicken, is offering free coffee throughout the month of February.
No, it's not a lie, nor does it require:
coupons
purchase of any other items
strange declarations of love … as seen in a particular fast-food chain's commercial recently
Just walk in (or drive up), ask, and you shall receive a 12-ounce or 16-ounce cup of hot or iced coffee.
Why would Chick-Fil-A be so willing to improve your day? Each cup of coffee will provide funds to THRIVE Farmers Network: a coalition of family farmers in Central America who will be able to earn significantly more than those outside the network for their products. The coffee via the network is considered specialty-grade, so you aren't getting some run-of-the-mill grind, either.
So improve your day for a good cause and grab a free coffee. At the very least, it'll help stave off the "winter" predicted by a small rodent in Pennsylvania.