Who's Going To Pay For Charlotte's Transit Future?
Feds' budget proposal devotes little to public transportation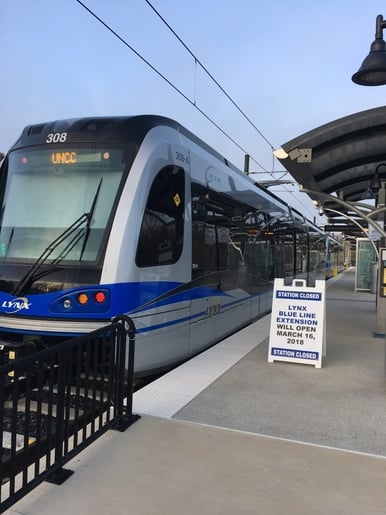 In the latest #discussCLT podcast, number 33 if you're counting, Andy Smith and I speak with Charlotte Area Transit System CEO John Lewis about the near and distant future of Charlotte's transit system.
The near is coming along: The Blue Line Extension light rail line is set to open March 16, completing the north-south connection that began with the opening of the original Blue Line in 2007. Planners expect the BLE to transform the mostly dismal North Tryon Street corridor as it has the formerly dismal South End area, and connect UNC Charlotte to the heart of the city in a way nothing ever has. For Lewis, who began work in Charlotte only in September 2015, the BLE represents the first major project opening on his watch. "I almost feel like a kid in a candy store," he says. CATS is wrapping up planning on the first phase of the uptown Gateway Station, a hub for taxi, bus, light and commuter rail, and even bicycle traffic in combination with retail and office space.
The distant future, the one that includes rail lines to Lake Norman, Matthews, and Charlotte Douglas International Airport—the holistic network of mass transit outlined in the city's 2030 Transit Plan? That's a little tougher to grasp. It's not for lack of planning or desire. Lewis explains that until the recession that began in 2008, CATS was on target for completing its five-corridor plan by 2030. The economy set everything back. Now, he says, CATS will have to develop multiple projects at once to meet the deadline. It'll be a challenge, but that remains CATS' goal.
Later in the episode, though, Lewis covers an unavoidable fact that may delay or undo CATS' best-laid plans: The buildout of the system depends on federal transit dollars that, under the Trump administration, probably won't exist. The White House, in conjunction with its 2019 budget proposal Monday, also released an infrastructure plan that relies heavily on state and private investment to build bridges, roads, and other transportation projects but includes minimal outlay from the federal government.
That's a problem for cities, which would have an exceedingly difficult time paying for large-scale infrastructure that can cost hundreds of millions of dollars or more. It's a particular problem for Charlotte, which under the Obama administration enjoyed the distinct advantage of having a former mayor, Anthony Foxx, as Secretary of Transportation; and which resides in a state where the legislature has capped spending for light rail projects at 10 percent of the total project cost. The proceeds from Mecklenburg County's half-cent sales tax for transit, which voters approved in a referendum 20 years ago, don't even come close to covering the cost of the full transit system.
"If that is the basis for infrastructure investment moving forward, I think we've got some question marks," Lewis says, referring to the Trump infrastructure plan. "Right now, we're not sure what the future holds from the federal perspective." That's a kind way of saying that without a significant federal investment, a lot of these projects simply won't get done.
Or, if they do get done, will have to fit into a model for "public transit" that turns out to be partially or mostly private. The federal infrastructure plan is constructed to encourage public-private partnerships that, in the absence of large federal subsidies, would almost certainly lead to high fees and tolls to cover their expense. One of the main arguments for a substantial mass transit system is its capacity to affordably move workers from their homes to their jobs, a growing concern in an age when urban cores are getting more expensive by the year; a transit system that prices out the people who rely on it defeats its own purpose.
There's still room for some private investment in Charlotte's system, Lewis says, but with limits. "The private sector is going to have to play a role in infrastructure investment moving forward—not that companies are just going to come in and give you free money, but I think there are things that the private sector can do quicker than we can in the government sector, a little more efficiently," he says. "But that still depends on the federal government being at least a 50 percent partner. You can't build billion-plus-dollar projects with just a half-cent sales tax."