Why Charlotte Breweries Still Tackle Traditional Lagers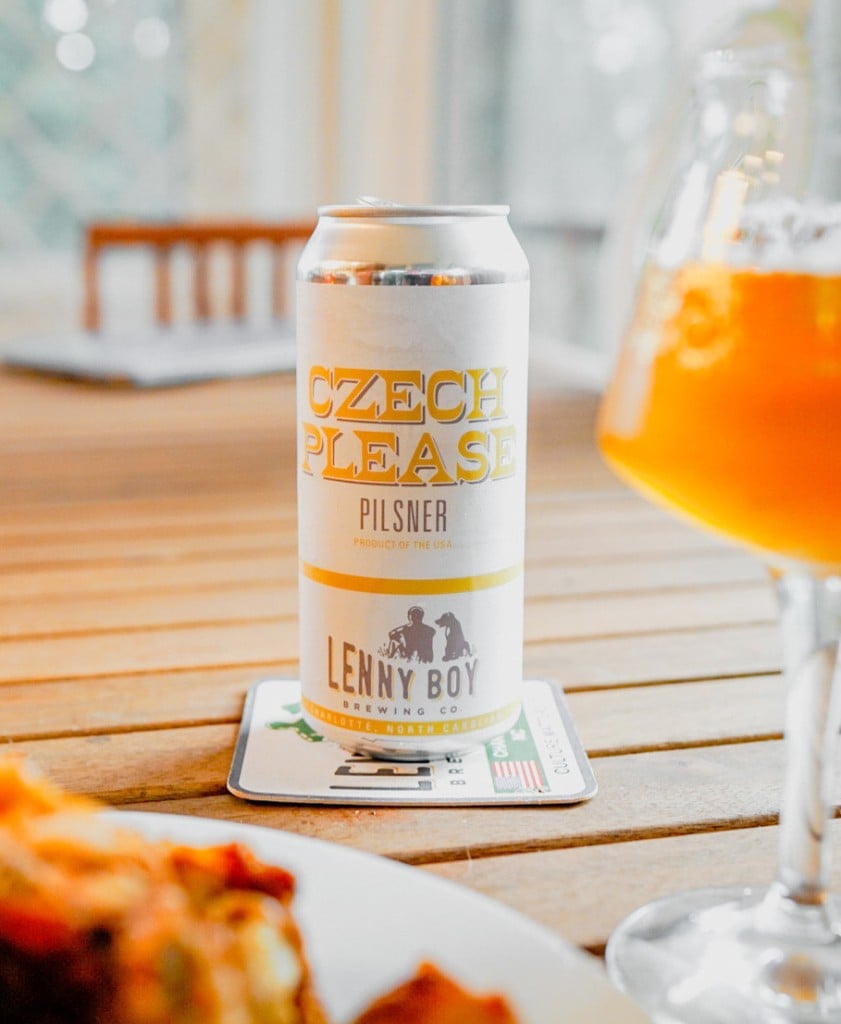 It's a crystalline afternoon on the first day of March—Fat Tuesday, as it happens. The promise of spring seems to shine on my shoulders as I stroll into Lenny Boy Brewing Co.'s taproom on South Tryon Street an hour before it opens.
"You want a pint?" John Watkins asks.
"I'll hold off for now."
"OK," he says. "'Cause I do."
John, Lenny Boy's head brewer since it opened in 2013, strides to one of his taps and draws a pint of Czech Please (ha), a Bohemian pilsner and the brewery's bestselling lager. We take a table and talk about lagers, the beer style American beer drinkers usually think of when they think of beer.
"They've always been around," he says between sips. "With lagers in general, there's no palate fatigue. You can just keep drinking 'em, and you're not going to get sick of it. So it's a nice thirst quencher. I think that's the hallmark of a good one: You want to be able to have pint after pint. It's got to have enough flavor to be interesting, but not so much that you're just done with it."
That sounds odd coming from a local craft brewer, especially at a brewery that started with and specializes in kombucha. American craft brewing was built on the popularity of high-alcohol IPAs with flavors that bulldoze your palate as you get sloppy-drunk. Why mess around with lagers? Like, what, Miller Lite? Yeah, actually. Lite, along with most of its mass-market U.S. counterparts, is an American light lager, developed to cater to traditional American tastes, John says: "yellow, fizzy, and not very flavorful."
IPAs and pale ales—the kings of hops and hangovers—still dominate the craft brewing world and probably always will. But craft brewers generally brew wide assortments of lagers, too, and across all sub-styles, from effervescent Munich-style helles to robust bocks to Czech pilsners. Pilsners are the most celebrated and common; they're variants of the world-famous Pilsner Urquell, brewed since 1842 in the Czech city of Plzeň. ("Pilsner" comes from "Pilsen," the German spelling of the city name.)
Periodically, brewing publications announce a "lager resurgence" among local brewers. "Craft Lagers Gain Momentum," read a headline last year in the alcohol industry trade magazine Market Watch. John thinks they never lost it; even with some year-to-year variations, he says, lagers' popularity remains fairly steady, especially in summer. A convenient example: Czech Please, a rebooted version of Lenny Boy's first lager, Life in the South, a pale lager that used grits in the brewing process.
In 2020, John pumped up the malt and hops—"People love hops"—and devised the beer he's happily drinking, which combines a gentle 5% ABV with the malty, pleasantly bitter notes that characterize more flavorful European pilsners. John admits to some bias on his part. "I always push for lagers," he says with a grin. "All things lager are good with me."
Here's a flight of a few other prominent local lagers. Quotes from Untappd and brewery websites:
Island Time, Resident Culture Brewing Co. American light lager, 4.5% ABV. A good place to start. "Crisp, clean, Mexican-style lager with lime. 'Nuf said."
Creature of Habit Helles Lager, Lenny Boy Brewing Co. German-style helles, 5.4% ABV. Exceptionally light and refreshing—but with an extra kick in the alcohol content.
O.G., Triple C Brewing Co. Czech pilsner, 5.3% ABV. "Sweet bready & toasty malt flavors with a mild & soft bitterness."
Czech Pils, Divine Barrel Brewing. Czech pilsner (duh), 5.1% ABV. "Everything you want on a hot summer day," and with a can label as creative and colorful as the name.