Why craft beer in cans is catching on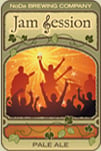 Earlier this week, NoDa Brewing Company officially announced what some people have known for a while: The local brewery will be introducing its first canned beer by the end of September.
Jam Session and Hop, Drop 'n Roll, two of NoDa's most popular beers, will be available in 16 oz. cans. This is markedly different from the usual 12 oz. can but, as co-owner Todd Ford said in a press release, "If you are going to drink a 16 oz. pint in a restaurant or pub, why accept less from your can?" It's a wise, and true, statement.
NoDa's cans will be available at local bottle shops, bars and restaurants initially and will eventually roll out to grocery stores in 4-packs in the next several months. Jam Session and Hop, Drop 'n Roll will also be sold in cans at Bank of America Stadium for Panthers games beginning in October (the two beers are already on draft at the stadium, along with selections from Olde Mecklenburg Brewery).
Again, NoDa's announcement didn't come as much of a surprise, as Cheers Charlotte first had the news almost a month ago on their podcast, and anyone who talked with the NoDa folks in the last year know that canning was a long-term goal for the brewery. However, what this does is further the realization that craft beer in cans is likely something that we'll be seeing more of—and that's a good thing.
The idea of craft beer in cans used to be taboo. Bottles were the preference; with many thinking beer in cans was synonymous with cheaper, or inferior beer. (Think Milwaukee's Best, etc.) There was also a concern with the beer having a metallic taste due to the aluminum can, killing off the flavor in the process.
But as with many things, times and technology have changed, paving the way for more breweries to can their beers.
"We have always wanted to go the can direction but in the beginning, public opinion was not favorable toward cans," NoDa co-owner Suzie Ford said. "With the improvement of the lining and the bigger craft breweries starting to can, the public has realized there is something to this."
Craft beer in cans has seen a recent rise in popularity over the past several years. For starters, Heady Topper, which many consider to be the best craft beer in the U.S., is only available in cans. On the local front, just this week, Growler's Pourhouse had its monthly "beer education" on the subject.
And earlier this summer, Terrapin Brewing Company made its entrance into canning with RecreationAle, a hopped-up session ale. The Athens-based brewery chose the U.S. National Whitewater Center in Charlotte for its release party, and it made sense. RecreationAle is marketed as a beer that can be enjoyed at outdoor activities, which the Whitewater Center has plenty of.
That's also one of the many benefits when it comes to cans vs. bottles. There are a number of places where glass is prohibited (beaches, pools, parks, etc.). And for all those who were previously worried about the metallic taste, the lining of cans has improved through the years to now make that a non-issue. In fact, when it comes to terms of flavor, cans are arguably actually the better way to go as bottles can allow light to enter through and potentially "skunk" the beer.
From a brewery standpoint, canning is more efficient (and you don't have to worry about shattered glass), while proponents applaud its environmental friendliness. It's also cheaper, with many breweries opting for mobile canning services.
The idea behind mobile canning is to keep everything simple and hassle-free for the brewery. Once the beer is ready to be canned, all of the equipment and supplies from the mobile canning service is brought to the brewery and they take care of the rest. More than 20 states have some sort of mobile canning services being offered, including here in North Carolina. Ford says NoDa is going with Asheville-based Land of the Sky, an affiliate of MobileCanningSystems. (I've also heard about local company Piedmont Canning, which looks to still be in a startup stage.)
This recent can craze can all be traced back to the pioneer, Oskar Blues. In 2002, the Colorado-based brewery went against the norm and canned Dale's Pale Ale, becoming the first U.S. craft brewer to do so. Last year, they celebrated a 10-year "Canaversary," and business is booming, evident by the decision to expand production into western North Carolina last year.
And as Suzie Ford stated, the bigger breweries are taking notice of this movement as well. Boston Beer founder Jim Koch was quoted just last year being against canning his most popular beer, saying, "I just don't want to compromise the taste of Sam Adams." And the brewery's 2004 "Beer Drinker's Bill of Rights" stated, "Beer shall be offered in bottles, not cans, so that now brew is jeopardized with the taste of metal."
Fast forward less than a year later from Koch's comment, and there was Sam Adams announcing its "Sam Can," now available nationwide.
———-
Canned craft beginner? 6 beers worth popping their top:
• Dale's Pale Ale by Oskar Blues Brewery: The pioneers into craft canning, and an old faithful that will never let you down.
• RecreationAle by Terrapin Beer Company: Described as a hopped-up session ale, this beer is perfect to chill in the river while fishing and swimming.
• Summer Solstice by Anderson Valley Brewing Company: One of my go-to choices when it's time to beat the heat. You get caramel flavored malts right off the bat, as this cream ale is perfect for the summer.
• Sculpin IPA by Ballast Point Brewing Company: I was more than excited when Ballast Point announced Sculpin was going to be in cans earlier this year. Its hoppiness can bring a slap to your palate, but in a good way.
• Gose by Westbrook Brewing Company: This sour wheat may not be for everyone (if you don't like saltiness, you may want to pass), but there's a reason this unique beer shot to No. 1 on CraftCans.com. The popularity has many crossing the state line to South Carolina to pick some up.
• All-Day IPA by Founders Brewing Company: These cans are just now hitting the shelves nationwide, and it couldn't have come sooner. All Day recently became Founder's No. 1 seller.